Google has started rolling out an update to its Camera app for Android 4.4+ KitKat devices, bringing it up to version 2.2 while adding new features and modes.
The exact changelog for Google Camera v2.2 app is not yet available, but it has been noted by Android Police (who have the Google-signed apk handy) that the update brings two new Panorama capturing modes, besides the existing horizontal and vertical Panorama modes. The two new Panorama modes are said to be fisheye mode and wide-angle mode.
Google Camera app v2.2 also gives users the option to click images in 16:9 ratio, apart from the existing 4:3 ratio, in 6-, 2.1- and 0.9-megapixel sizes. A new cropping selection screen is also present. It has been also noted that the camera app update introduces a new timer mode with 10 seconds and 3 seconds option. Users can now also easily access the camera settings option via a new settings button on Google Camera 2.2 app, accessed by swiping from left for changing the camera shooting mode.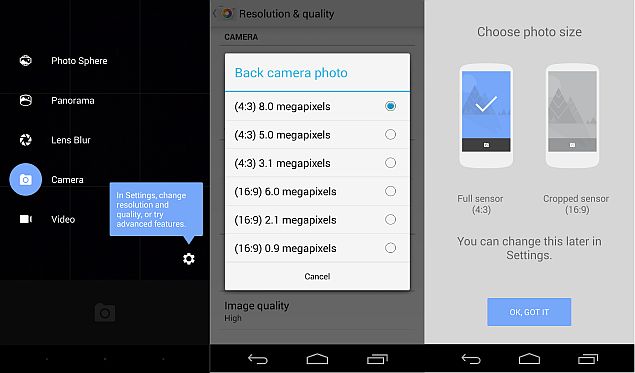 At the time of writing, the Google Play India was still listing version 2.1 of the app, despite a May 28 update visible. You can wait for Google to roll the updated Camera v2.2 app out, or you can download the Google-signed apk via Android Police.
The Google Camera app for Android 4.4+ KitKat devices was released in April. The highlight of the Google Camera app was the Lens Blur mode that the Mountain View giant claimed gives SLR-like images with shallow depth of field. The Lens Blur features in the latest Google Camera emphasise the subject while blurring the background with shallow depth-of-field. After clicking a shot, users can even change the subject in focus.
Other features in the first-launched Google Camera app included a new UI with 100 percent viewfinder and large capture button; as well as improved Panorama and Photo Sphere, which can generate 360 degree views. Notably, this was the first time when Google released its Photo Sphere app for non-Nexus devices.
For the latest tech news and reviews, follow Gadgets 360 on Twitter, Facebook, and Google News. For the latest videos on gadgets and tech, subscribe to our YouTube channel.
Related Stories