Google has finally released its stock camera app for Android 4.4+ KitKat devices, dubbed Google Camera.
Google announced the rollout of the Google Camera app via Android's Google+ page and said, "We're launching Google Camera, a new app for your Android phone or tablet that makes it easy to take quick photos and videos. And being behind the lens just got more fun with new creative picture modes."
The highlight of the Google Camera app is the Lens Blur mode that the Mountain View giant claims gives SLR-like images with shallow depth of field. The Lens Blur features in the latest Google Camera emphasises the subject while blurring the background with shallow depth-of-field. After clicking a shot, users can even change the subject in focus.
Google's Research blog explains, "It lets you take a photo with a shallow depth of field using just your Android phone or tablet. Unlike a regular photo, Lens Blur lets you change the point or level of focus after the photo is taken. You can choose to make any object come into focus simply by tapping on it in the image. By changing the depth-of-field slider, you can simulate different aperture sizes, to achieve bokeh (depth-of-field) effects ranging from subtle to surreal (e.g., tilt-shift). The new image is rendered instantly, allowing you to see your changes in real time."
Other features in the Google Camera app include a new UI that has a 100 percent viewfinder and large capture button; as well as improved Panorama and Photo Sphere, which can generate 360 degree views. Notably, this is the first time when Google has released its Photo Sphere app for non-Nexus devices.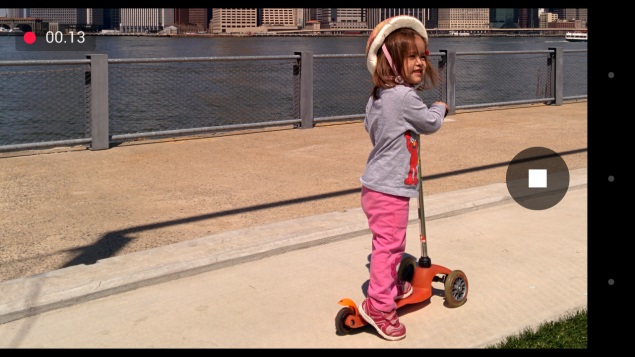 The search giant has also revealed that in the coming months, the Google Camera app will be available to more devices. However, has not detailed any time frame for the roll-out.
An earlier report had suggested that Google has been seeking third-party support for overhauling its Android camera app; though we are yet to hear anything official about this.
In addition, Android Police, after tearing down the new Google Camera APK, has claimed that Google is also offering additional features such as new modes (Advanced Camera Mode, Time Lapse Mode, and Wide Angle Mode), new video effects and allowing Photo Sphere shots to be used as live wallpapers.
(Image credit: Google's Research Blog)