Google is said to be rolling out a 'Trusted voice' feature in the Smart Lock menu for Android Lollipop, while it has also added a new Nicknames feature to search for contacts.
According to Android Police on Monday, the feature has been silently rolled out to multiple users. Just like the previously Smart Lock features - Trusted face, Trusted devices, and Trusted places - the menu now sports the Trusted voice option to unlock the device.
It is unknown that which version of the Google Play services has got the feature, but we at NDTV Gadgets at running Google Play services version 7.0.99 on Lollipop-based Nexus 4 and Nexus 5 smartphones have not received the feature as yet. Since the Play services update is subject to individual user accounts, it is possible that feature will gradually roll out over the next few weeks to devices running Android Lollipop.
Last month, Google had rolled out a new 'On-body detection' mode to the Smart Lock menu for devices running Android 5.0.1 Lollipop alongside Google Play Services v7.0.97. With the option, users can keep their devices unlocked depending upon the proximity of the device to to their body.
The 'On-body detection' feature essentially keeps the device unlocked (once unlocked) till the time user is holding it or is near the body (pocket or handbag). This is helpful when you leave the device somewhere and as soon as it goes out of your body's proximity it gets locked, even before the sleep and lock time.
Meanwhile, Google is rolling out an update for the Google Search aka Google app for Android that adds a 'Nicknames' feature in Accounts & privacy settings. The update has been rolled out to Google Play India on Thursday.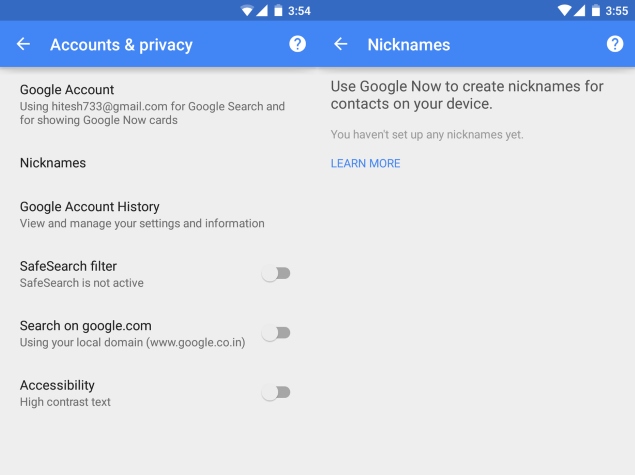 With the updated Google app, users will now be able to use Google Now to create nicknames for Contacts on their device. Users can go to Google settings, tap on Search & Now to see if the 'Nicknames' has been added for them under Accounts & Privacy sub-menu.
For the latest tech news and reviews, follow Gadgets 360 on Twitter, Facebook, and Google News. For the latest videos on gadgets and tech, subscribe to our YouTube channel.
Related Stories