Google is reportedly all set to roll out a significantly revamped version of its Gmail app for Android, with a pre-release build of the overhauled app doing the rounds of the Internet. Most notably, the Gmail 5.0 app now supports multiple accounts from different email providers.
Reported by Android Police, the new Gmail v5.0 app for Android can be seen in what appears to be a video by Google that introduces the new features for returning users. The video says the new app brings "all the features you love with a fresh new look."
The video adds, "you can access other email accounts like Yahoo Mail, Outlook.com, and more," and shows that users can switch accounts in Gmail 5.0 by swiping, or selecting the account from the dropdown.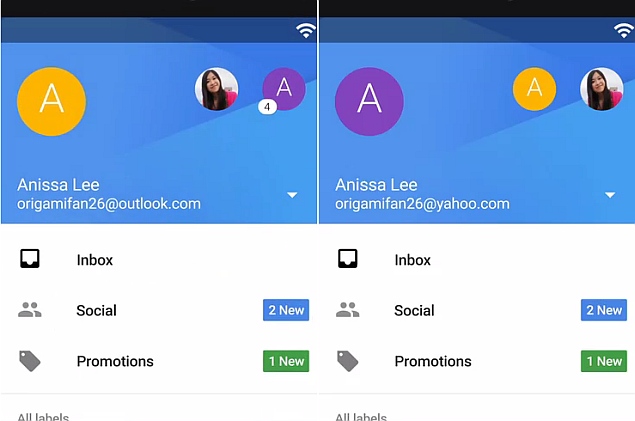 Apart from the significant new ability to support multiple email accounts from providers other than Google, the new Gmail app is seen to sport a revamped new interface, with new round compose button at the bottom of the currently open mailbox, a new send button, a new accounts menu, and new circular avatars for contacts, apart from new iconography.
The report says the new Gmail v5.0 app for Android is expected to roll out alongside the public release of Android 5.0 Lollipop early next month. The publication is not providing the apk file to download for a change, and chief editor Artem Russakovskii says it's signed with "test-keys and is pre-release."
Google in August added a new feature to its Gmail Web-interface, bringing a new Hangouts tab that allows users to see which of their contacts are online first, before the offline contacts.
The Mountain View-based firm released the updated Android 5.0 developer preview images for the Nexus 5 and Nexus 7 over the weekend, alongside the full release of the Android 5.0 SDK with final APIs.