A new collaborative word processor app called Quip has been launched for the
iPhone, iPad
and
Web
. Although, the
preview version
of an Android app is available in the Play Store, the developers intend to launch the final version of the Android app, soon.
The app, which has been developed by Bret Taylor, former head of Google's Maps division and CTO at Facebook with co-founder Kevin Gibbs, integrates a mobile-focused interface, a shared checklist and Google Drive like real-time collaboration and sharing features.
The app sports a beautiful, clean interface, with chat, document feed and the actual document displayed in different swipe-enabled panes. Collaboration is realtime and the user interface, although being a little skeuomorphic at times, makes using the app a pleasant experience.
The app reminds us of Google Wave, Google's realtime collaboration service which was shut down.
For collaboration, you need to invite users through email and text messages and after they sign up, can share and collaborate on documents with them.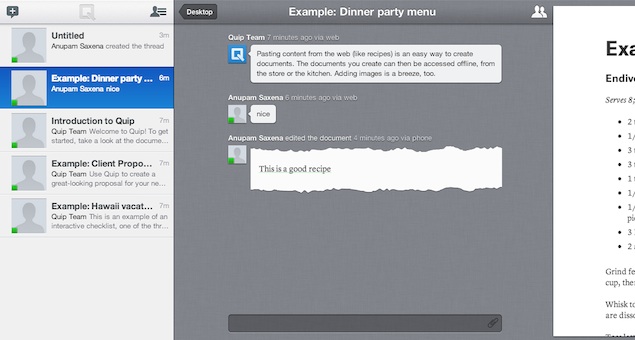 Quip also offers a dedicated chat thread for team collaboration, and folders to selectively share documents. It offers interactive shared lists through the Checklists feature and a document news feed that features all edits of a documents.
Users can even link people to documents through @mentions and get read receipts when documents have been read.
The app is a free download and can be used by up to five members of the same team. It offers push notifications for changes made by other users, offline access to documents, and cross-platform syncing, though users will need to access the documents through the browser on their Macs and PCs.
For collaboration among larger teams, Quip offers a $12 per month plan Quip Business plan covering up to 250 users.
Quip competes with Google Drive which offers more file formats and doesn't limit sharing, but doesn't sport a sleek user interface.
It would also compete with Evernote, though the latter doesn't offer collaboration with its free plan.