Popular digital flipping magazine, Flipboard has entered the video domain to offer a new TV section curated by YouTube channels. The videos are categorised in various genres ranging from News and Cooking to Music and Entertainment.
Users can now flip through videos under six new TV sections namely News TV, Music TV, Science TV, Influencer TV, Catwalk TV and Cooking TV. The company's blog post stated, "Whether you enjoy inspirational talks, science experiments or live music, these curated video sections are guaranteed to entertain and inform, wherever your interests lie."
Those interested in food, can browse through how-to cook videos or try quirky and innovative recipes with Cooking TV. Music enthusiasts can tune into NPR Music's Tiny Desk Concert series for intimate sessions with emerging artists or Pitchfork TV to catch live show moments via Music TV.
Geeks can explore surprising scientific facts and other neat experiments with Science TV while those hungry for News can search feeds from the Associated Press or ABC News with News TV. Fashionistas can parade through Fashion TV to enjoy the latest trends in fashion from Paris, Milan, Tokyo, New York and more.
Back in may, the magazine-styled app had received an update which brought audio integration through
SoundCloud
.Once users tap the Audio option under the Content Guide, they are greeted by a list of various segments from shows like NPR's Fresh Air, songs from artists of Atlantic Records and even original beats form Snoop Dogg. Existing SoundCloud users can also comment and like sounds directly from the app.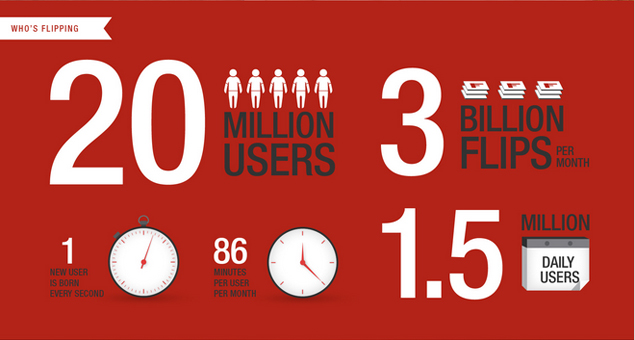 Flipboard, available for iOS and
Android
just celebrated its second year anniversary, while revealing some impressive user stats. The digital magazine app surpassed the 20 million user mark, adding one new user per second on an average. A more interesting figure revealed by Flipboard is that the app sees 1.5 million daily users spending an average 86 minutes per month.
Being an iPad-only app for about a year and a half, Flipboard had 4 million users. But after it launched for the iPhone in December last year, the app garnered an extra million users in just a week. In late june, the app debuted for
Android
as well. Since its inception, the app has debuted features like Cover Stories, audio and shopping; added seven new social networks; forged partnerships with publishers like The New York Times and localized into eight languages.