Firefox for Android got its first major update for phones since January and it brings along a whole new interface and better features. It is now available for download in the Google Play store.
Termed as Firefox 14, the browser is snappier than before with pages loading really fast. It now includes Flash support with tap-to-play plugins. Users will be prompted with a Yes/No option to play flash content on a site.
The sidebar that existed earlier with all the menu options has been done away with. Now users can tap the little plus icon on top to access Bookmarks, History and a list of most visited sites. Desktop Firefox users can also sync the desktop version of Firefox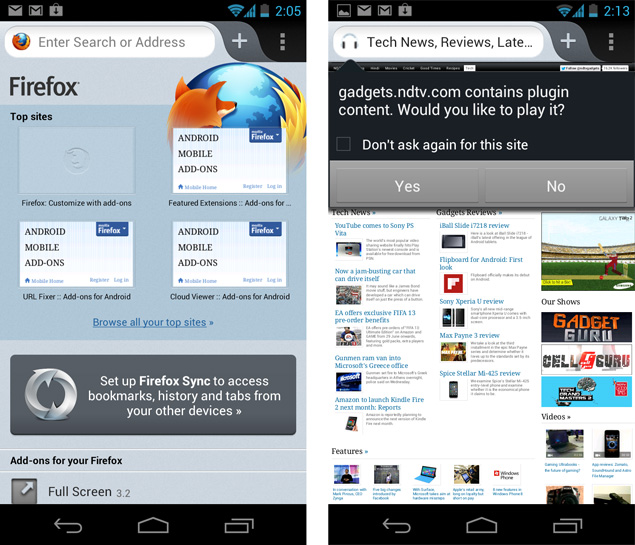 There are certain things which remain inaccessible at the moment. Users cannot select page text, use in-page search or get search suggestions while typing in the address bar.
Speaking on the omissions, Jonathan Nightingale, Mozilla's senior director of Firefox engineering said that all these will be coming soon along with a 'readability mode' that will present text and images in a much cleaner format. He stated that a tablet-optimised version of Firefox is also in the works.
Other features that have trickled down from previous versions include Firefox Sync, HTML5, CSS3 and hardware API support. Support for add-ons also stays with the new version. Apart from this, it also has Do Not Track support to prevent participating ad networks from collecting details of users' browsing habits.
For the latest tech news and reviews, follow Gadgets 360 on Twitter, Facebook, and Google News. For the latest videos on gadgets and tech, subscribe to our YouTube channel.
Related Stories