Facebook has begun testing a new feature on its iOS app that gives users more options when uploading a photo to the social network. The feature lets users easily add filters, resizable stickers, and text to their images.
Earlier this year, the company had brought a similar feature to its Android app, allowing users to add stickers to their uploaded photos as well as text. However, it didn't come with the ability to add filters beyond an auto-enhance feature.
The new feature along with filters is quite similar to Snapchat's offerings, and is being seen as an attempt by Facebook to catch up with the ephemeral messaging app. To be noted is that Facebook has tried to take on Snapchat in the past with its Slingshot app, however that effort failed to gain traction amongst users. It now appears to be adding similar features to its main app.
As reported by TechCrunch, only a limited number of iOS users will see the feature when uploading photos to their Facebook account via the app. The wand icon on the bottom left of the uploaded image will show users the enhancement options, from filters, to crop, text, and stickers. The filter section shows the photo split into two, with the left half showing the unedited image, and the right half the image with the filter applied. As users swipe to further filters, the left half shows the previous filter, and the right the new filter.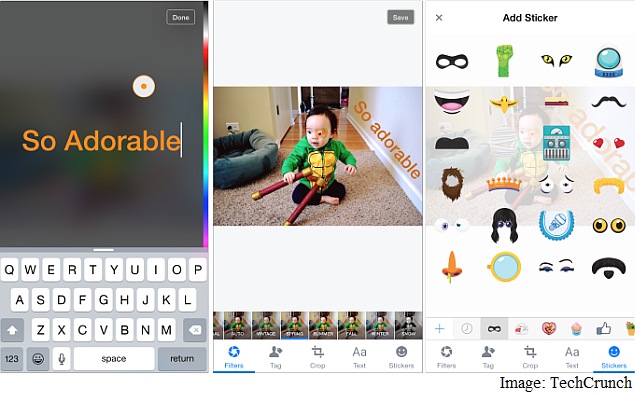 Facebook's new photo upload enhancement feature lets users add text and stickers in the much the same way as its Android counterpart and the Slingshot app, and users can change the colour of the text apart from moving and resizing the text and stickers. As we mentioned earlier, the feature is only being tested right now, and may see several changes before (or if) it makes it way to user.
For the latest tech news and reviews, follow Gadgets 360 on Twitter, Facebook, and Google News. For the latest videos on gadgets and tech, subscribe to our YouTube channel.
Related Stories