Facebook is rolling out another major feature to its standalone Messenger that will offer publicly available contextual information of first-time senders on the app. The feature can be immensely useful for
Messenger
app - which has
over 600 million users
- and its users who sometimes receive messages from strangers.
Mashable reportsthat the new feature has started rolling out to iOS and Android apps in France, India, UK, and the US. Users in these countries can expect to receive the feature in the next few weeks. The report adds that the first-time sender can be a non-Facebook friend or can be in the user's list.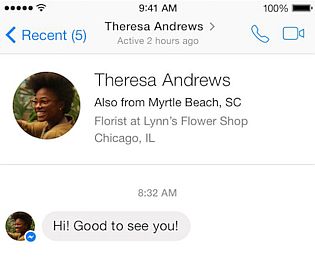 A
Facebook
spokesperson told Mashable that the new feature can act as an introduction or "a way to give you more context about new conversations in Messenger."
The new Messenger feature much like Hello, a dialler as well as a caller ID app, pulls the details of the first-time sender on Messenger app from the sender's Facebook account. It's worth noting that the information pulled only includes the "publicly available" information and doesn't bypass the sender's privacy settings.
The biggest advantage of such feature on Messenger can be for professional correspondence as the contextual information of the sender can help the recipient to understand the context of the chat.
Facebook's standalone Messenger app is expected to get major revamp with a number of features currently being tested including sending money to friends via the Messenger mobile app; also in testing is the voice transcription feature, which will enable users to send voice clips with automatically typed-out text. A recent report even claimed that the Messenger app might soon let users play games in the app itself.
For the latest tech news and reviews, follow Gadgets 360 on Twitter, Facebook, and Google News. For the latest videos on gadgets and tech, subscribe to our YouTube channel.
Related Stories