Dwayne "The Rock" Johnson - actor in the Fast and Furious franchise and semi-retired pro wrestler - is a firm believer in inspirational messages and getting up in the wee hours of the morning, so naturally he wants to extend that life motto to his fans. Or one half of it, at least.
To aid that particular mission of his, Johnson has launched a new alarm clock app for Android and iOS. It's called The Rock Clock, and it's meant to help serve as motivation for your life goals. What you get are 25 custom alarm tones "created" by Johnson himself, in addition to "exclusive daily video messages" straight from Johnson to your phone. And if you're interested in waking up at the same time as The Rock, the app can help you do that too: a feature called Rock Time will set your alarm to his choosing, which is normally between 4am and 5am.
The Rock Clock's focus is on motivation and goals, which means there is no place for a snooze button. "The Rock is not a fan of that button," the app description notes. And when you open the app for the first time, it will ask you to set a goal: be it run more, finish a novel or anything really. It's your goal, after all.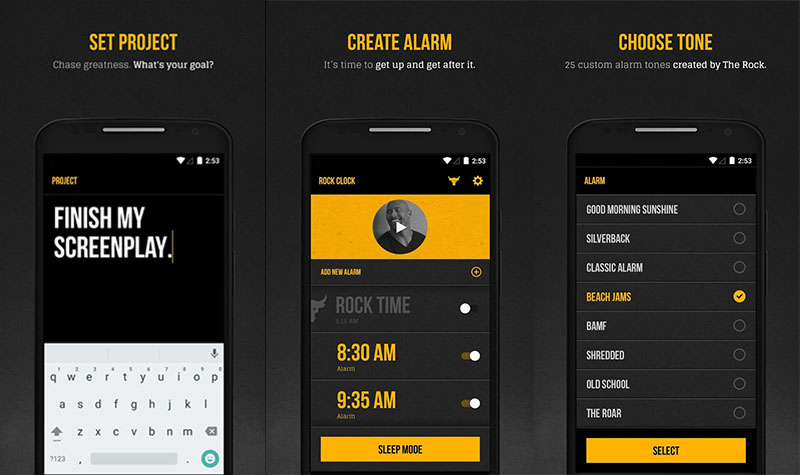 If all of that is okay by you, you can download it for free without worrying about in-app purchases, because there aren't any.
(Also see: Google Wants to Help You Find Time for What You Love)
The alarm clock app is the second thing to come out of Johnson's Project Rock venture, the first being a bag that sold out in minutes after launch and will never be made again, according to The Rock. With over 110 million followers across Facebook, Instagram, and Twitter, he has an established social following that looks up to him, helped in part by his appearances in big budget productions from Fast & Furious to disaster movie San Andreas.
For the latest tech news and reviews, follow Gadgets 360 on Twitter, Facebook, and Google News. For the latest videos on gadgets and tech, subscribe to our YouTube channel.
Related Stories