According to user reports, Microsoft has begun rolling out an update to its Cortana voice-based virtual assistant that brings fitness tracking functionality. Microsoft is reportedly also testing a Work Assistant app for Windows Phone with Cortana-style functionality internally, and is said to help users with Microsoft Office-related tasks. The app development process is understood to involve Bill Gates too.
Microsoft is said to have updated its Cortana voice-based virtual assistant by introducing a new 'fitness tracker' function under the 'Lifestyles' section, reports WMPoweruser, and is listed under the Interests section of the Cortana Notebook of user preferences. Cortana is seen in screenshots to suggest the feature to users if they select the gym as their favourite place, though we expect there will be other ways than this to trigger the 'fitness routine' prompt.
The feature is said to keep a track of user's daily workout schedule, and the prompt reads, "When you turn on fitness routine, Cortana can help you keep up with your workout schedule." Further details of the new feature are yet to be known, and are expected once a wider rollout begins.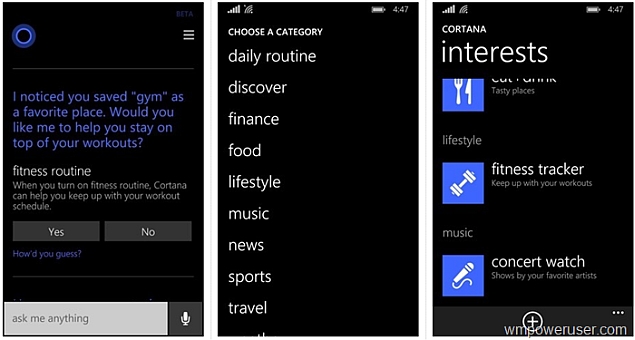 In the meanwhile, Microsoft's Work Assistant app is reportedly being worked upon by the Redmond-based firm's Digital Life + Work group, a part of Applications and Services Group (ASG), reports ZDNet. Gates too confirmed last month on a Reddit AMA that he was helping Microsoft on a 'Personal Agent' project.
"One project I am working on with Microsoft is the Personal Agent which will remember everything and help you go back and find things and help you pick what things to pay attention to. The idea that you have to find applications and pick them and they each are trying to tell you what is new is just not the efficient model - the agent will help solve this. It will work across all your devices," he said.
Furthermore, the report mention the app is currently listed on the Windows Phone Store, but cannot be downloaded by users. Sized at 2MB, and last updated on December 2 last year, the app listing suggests the proposed 'Work Assistant' will run on Windows Phone 8.1 devices. However, the details of the app and how it will work with Cortana has not been mentioned yet. ZDNet sources have added that the assistant will bring the voice-search ability of Cortana in the upcoming touch-first Office apps for Windows. This also hints Cortana could eventually arrive on Android and iOS platforms along with revamped Office apps.
For the latest tech news and reviews, follow Gadgets 360 on Twitter, Facebook, and Google News. For the latest videos on gadgets and tech, subscribe to our YouTube channel.
Related Stories