We all know that Microsoft will soon be launching its Cortana voice-based virtual assistant for Android and iOS. While the Redmond-based tech giant is yet to give a concrete launch date, an early version of the Android app has leaked to the Web. Microsoft had previously said a beta version of the app would be made available "starting July".
We tried the early version of the Cortana app for Android on the Nexus 5, and the assistant seemed to work without any glitches. Users would have to go log in their Microsoft account before the app launches. Setting reminders, alarms, voice commands for calling someone, singing a song, and even playing rock-paper-scissors are included in the leaked version. The app overall comes with a dark theme with the content is shown on white boards. Since the app appears to be an early version, users still can't give the 'Hey Cortana' voice command to launch the app. Typing at the search bar below or tapping on the icon besides it to activate the voice command feature is present. Also, commands for typing a message to someone seemed incomplete.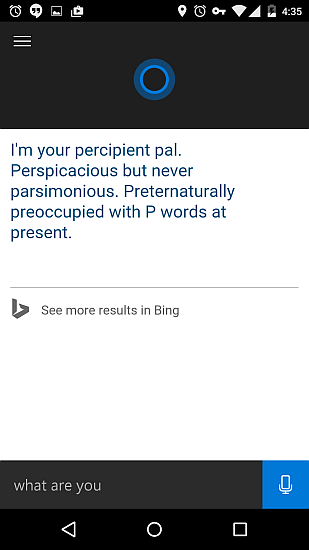 The apk file was first found by Suomimobiili website, and is available to download from a Google Drive file weighing 19MB. However, it won't be long before the link is taken down as the app's release is not yet official.
However, what is official from Microsoft is the exiting of the company's Hyperlapse app from the beta version and its availability to all Android users via Google Play. The Hyperlapse time-lapse video app since its launch in May was under beta mode and was available only via registration.
The app is not to be confused with iOS app with the same name by Instagram, which is just a time-lapse video making app. Microsoft's Hyperlapse Mobile app is meant to not just create time-lapse videos but also remove the jitter and shake associated with first-person time-lapse videos, using specialised algorithms developed by the Microsoft Interactive Visual Media Group.
For those unaware, the Microsoft Hyperlapse app lets them save videos in multiple speeds ranging from 1x to 32x and share them via social media or emails. The app can additionally create Hyperlapse videos from content imported from the device's storage. Selfie time-lapse videos can also be created. The user interface is very simple looking and without any editing features. Once video is rendered, the app asks users to save it and share it. The video can be saved at different speeds.
The Microsoft Hyperlapse Mobile apps weighs 15MB in size and is compatible with devices running Android 4.4 KitKat and later OS versions.
For the latest tech news and reviews, follow Gadgets 360 on Twitter, Facebook, and Google News. For the latest videos on gadgets and tech, subscribe to our YouTube channel.
Related Stories