Google on Thursday rolled out a new feature for businesses called Highlights in its recently introduced email management app, Inbox. The feature was announced first during the announcement of Inbox.
Highlights, as the name indicates, will let companies bring into focus key information and actionable items in an email, showing them as 'easy-to-see chips' in the Inbox app. The feature is aimed at helping developers highlight certain information in an email, and also make the messages more interactive, such as check-ins for flight bookings and hotel reservations, map locations alongside event invitations and restaurant bookings, and more.
"For example, if you're an airline that sends flight confirmation emails, Highlights can surface the "Check-in for your flight" action and display live flight status information for recipients right in the user's main list," stated the Google Developer blog post.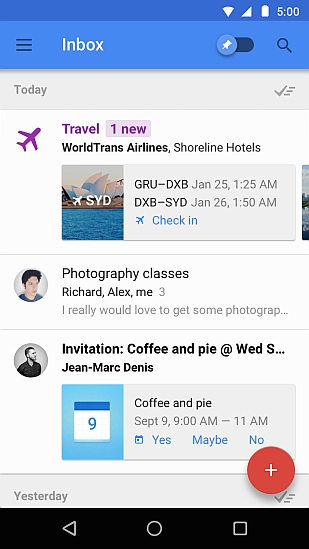 The new feature allows developers to markup certain parts of the email that they want to be highlighted in Inbox. Google is also providing sample codes to make it easy for the firm's developers, and says the markup used by Highlights can be extended for use with other Google services as well, such as Gmail, Google Now, Google Search, and Maps, across Android, iOS and Web.
Google last week unveiled Inbox for Android, iOS and Web platforms. Besides Highlights, the Gmail team-created Inbox app also features Bundles, which will group similar emails such as purchase receipts and bank statements so that users can quickly review them. The Inbox app also includes features like Reminders, Assists, and Snooze.
For the latest tech news and reviews, follow Gadgets 360 on Twitter, Facebook, and Google News. For the latest videos on gadgets and tech, subscribe to our YouTube channel.
Related Stories