When
Apple officially introduced Apple Music
back in June, it promised to release an Android version of the service by this fall. Now, a bunch of screenshots purported to be of Apple Music for Android have leaked, indicating that the Cupertino-based company may release the app for the Android platform soon.
The leaked screenshots show the Apple Music app for Android in detail and was first reported by Mobile Geeks. The website has also shared a Google community link that tips the app is currently in beta testing with limited number of users. When we tried to signing-in with our Gmail credentials, the page read, "A testing version of this app hasn't been published yet or isn't available for this account."
(Also see: Apple Music Has Over 6.5 Million Paid Users: Tim Cook)
It further added, "If you've been invited to become a tester, make sure that you're signed in to the account that was invited to the testing program. If you've been invited to a Google Group or Google+ Community as part of the program, make sure that you've joined the Group or Community."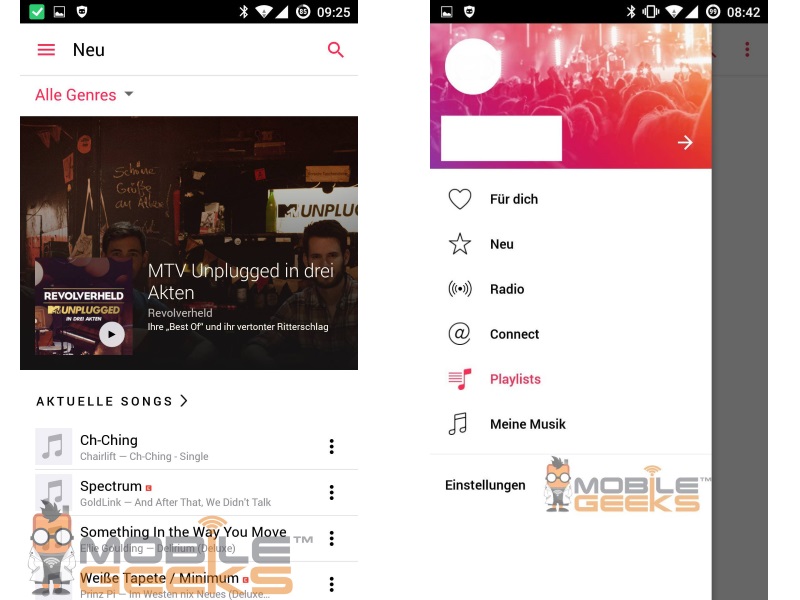 The Apple Music for Android settings can be accessed with a swipe from left menu. Majority of Apple Music features from iOS such as Beats 1, For Me recommendations page, and Apple Music Connect are available for Android users. The Apple Music for Android will also offer users ability to change size of cache for offline music stored on the device. Notably, the screenshots show that the Apple Music for Android supports the entire Apple Music catalogue.
Going by leaked screenshots, the Apple Music app for Android app retains much of the design of the iOS app, but brings new design elements for the platform such as the traditional menu access option. This could mean that Apple will try to make its Apple Music Android app look and feel like an iOS app just as Google tries to keep its Material Design alive in its iOS apps.
(Also see: Apple Now Makes Android Apps, Including One That Will Help You 'Move to iOS')
Considering that Apple had announced a fall release for Android version of its Apple Music, the company can be expected to announce it by next month.
It's worth noting that the Apple Music for Android will get some serious competition from already popular services such as Google Music, Spotify, and Rdio, among others.