Rovio's Angry Birds franchise finally has a sequel. After 15 game releases, the casual puzzle game has unleashed Angry Birds 2, which promises better graphics, in-game tweaks, multi-stage levels, boss battles and new birds.
With a 73 percent fall in operating profit in 2014, Rovio will be backing themselves to deliver a hit, the big question is whether the franchise still has same kind of mass appeal as it did in the past, or have audiences moved on?
We slogged through the 67MB download on Google Play, and upon installing the app, you're required to download even more in-game data before before being presented with an option to play. It certainly kills the instant gratification aspect of the app. If there was a way to skip these cinematics, a lot of us bandwidth starved users would certainly appreciate it.
After several minutes, you're eventually whisked into a godmode screen from where you can see the levels ahead of you. Some of the more welcome gameplay tweaks include the fast-forward button, which speeds up the time between your moves. It still takes about a minute before you can get a couple of shots in as there are dialog boxes for in-game rewards that you have to cycle through - an incredibly annoying aspect of the game that's crucial to Rovio's freemium strategy.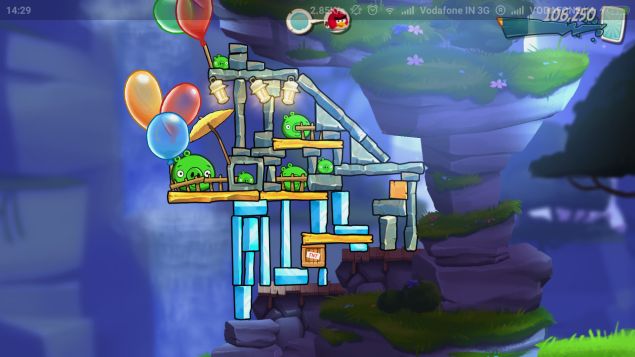 The graphics are gorgeous though a bit on the heavier side - the framerate occasionaly and briefly dropped to single digits on the Xiaomi Mi 4i, a mid-range phone from 2015. Rovio has also added reaction faces on the left hand upper corner, giving it a comical touch. Fans of the franchise will welcome the option to choose your next bird, adding a strategic element to the game as one kind of bird can soften up the structure, leaving the next one to do the demolition.
If you're looking for a PG-friendly casual game on your mobile for your kids, Angry Birds 2 is worth a download - grab it from the App Store and Google Play.
For the latest tech news and reviews, follow Gadgets 360 on Twitter, Facebook, and Google News. For the latest videos on gadgets and tech, subscribe to our YouTube channel.
Further reading:
Android
,
Angry Birds 2
,
Mobile Games
,
Puzzle Games
,
Rovio
,
Android App
,
Android Game
,
Angry Birds
,
Casual Games
,
iOS App
,
iOS Game
Related Stories