While Google gave Android Wear users a glimpse of what they will see in the next OS update, it now has started rolling out an update for the Android Wear companion app for smartphones as well. The update bumps the app to version 1.1 and brings new features and several visual improvements.
The updated app has not yet been listed on Google Play India, and the Mountain View giant has not provided a detailed changelog. Those with the app already installed can expect an update to roll out to them over the air, or can visit the My Apps section on Google Play to check for the update. However, for those who don't want to wait for the OTA update, they can download the signed-apk file of the updated app via Android Police, which has also detailed the changes.
The Android Wear v1.1 companion app brings a redesigned main screen that shows the paired watch with watch face selector on top and the rest of the sections below in a Google Now card-style design. Also, a shortcut to Google Play has been added, for easier access to apps. The voice over section now no longer shows a full list and gives a shortcut to remaining options instead.
Furthermore, the update includes cloud sync over Wi-Fi. After the update, users would see the option to grant permission for cloud sync to use Wi-Fi and for Google Fit application to use sensor data. After the permission has been granted, users would still need to enable the cloud sync from settings option manually.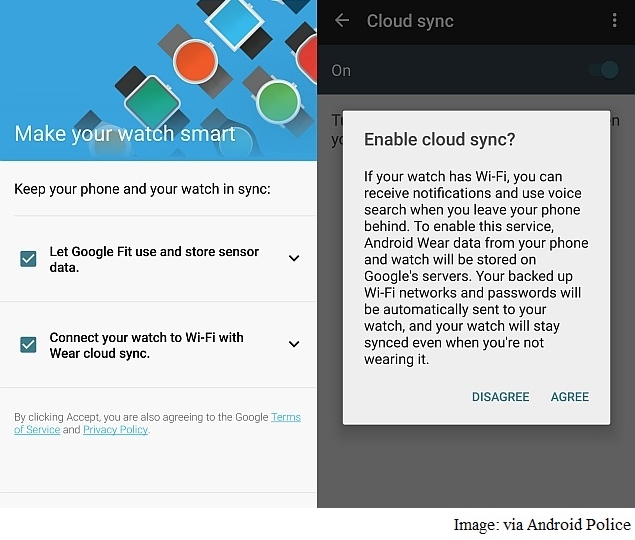 Another change and probably the most important one that comes with the update is the ability to pair multiple Android Wear smartwatches and switch between them without any re-pairing process. Also, the 'Forget' and 'Demo' cards have been removed from the overflow menu.
Lastly, the update now has a redesigned Settings screen, which now brings all the configuration options for the Android Wear device together at one place. A new Calendar feature is also included in the update, which not just shows the events from user's primary accounts but also from other singed-in accounts. Users can select which calendars appear on their Android Wear devices. Some new icons will also show-up after the update that represent features like Cue Cards, Wi-Fi and Wrist Gestures - these last features were introduced with the Android Wear OS update earlier this week, and users will only be able to access them on their smartwatches once they receive firmware updates from their respective OEMs. The update also bumps up the Google Play services to version 7.3.27 for the paired wearable.
For the latest tech news and reviews, follow Gadgets 360 on Twitter, Facebook, and Google News. For the latest videos on gadgets and tech, subscribe to our YouTube channel.
Related Stories