According to a leaked presentation, Amazon might soon introduce a new service called Amazon Unlocked that will give away paid apps for free.
TechCrunch, which got hold of the presentation describing features of Amazon Unlocked, reports that in addition to giving away paid apps, in-app purchases will also be made free for Unlocked users. The report describes Unlocked as "Amazon Prime for apps," a reference to Amazon's annual subscriptions service that comes with benefits like free shipping on Amazon purchases as well as free digital content. It's not clear if Unlocked will be offered to Prime members by default, or will be a completely independent service.
As per the leaked presentation, some of the main objectives are to make the programme clearly identifiable to users, and to make sure that apps under the "Unlocked" section are "conveyed as high value provided by Amazon." Not many apps might show up in the section as the company also noted "customers should not feel overwhelmed by thousands of apps, but can get them if they need to."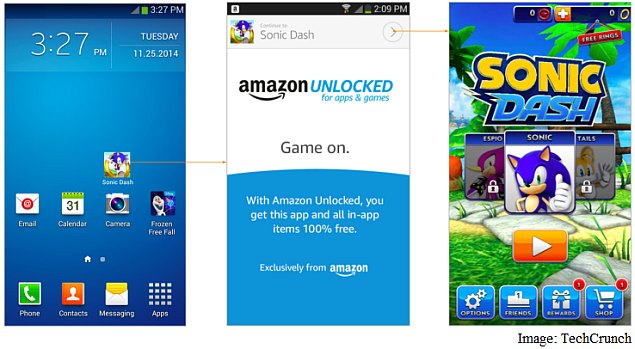 The Amazon Unlocked service will be promoted within Amazon's flagship app - to further drive uptake of the app - and via social networks. Also, users would be presented with an "Unlocked" branding each time an in-app purchase has been waived. An option to view only "Unlocked" apps via filters will also be possible.
On the developers' side, Amazon Unlocked apps are said to again become paid with in-app purchases once the developers leave the programme. The presentation showcased apps like Sonic Dash by Sega America and Monument Valley by UsTwo as an "Unlocked" app. Other non-gaming apps shown were OfficeSuite 8 + PDF Converter and Ultimate Guitar Tabs & Chords.
It's worth pointing out Amazon already regularly offers paid apps for free via its Android-based Appstore. There's no word yet on when Amazon Unlocked will launch.
For the latest tech news and reviews, follow Gadgets 360 on Twitter, Facebook, and Google News. For the latest videos on gadgets and tech, subscribe to our YouTube channel.
Related Stories