E-commerce marketplace Snapdeal's app is getting a rash of one star ratings on its app on Google Play and App Store due to a recent statement made by its brand ambassador Aamir Khan.
"When I chat with Kiran at home, she says, 'Should we move out of India?' That's a disastrous and big statement for Kiran to make. She fears for her child. She fears what the atmosphere around us will be. She feels scared to open the newspapers every day. That does indicate that there is this sense of growing disquiet, there is growing despondency apart from alarm," the Bollywood actor said, while speaking at the Ramnath Goenka Excellence in Journalism Awards.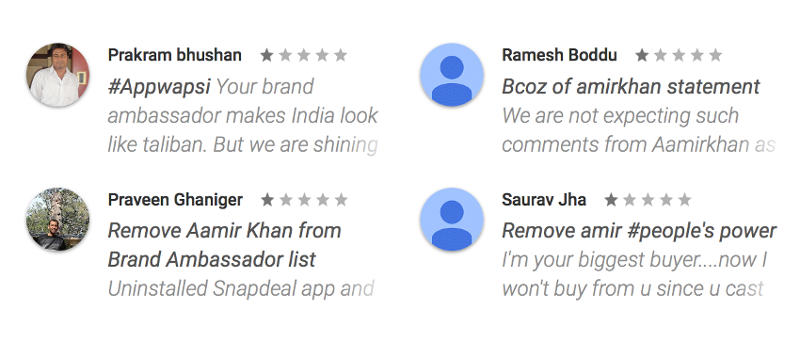 Aamir Khan's statement saw a major backlash and became a trending topic on Twitter under the hashtag #AppWapsi. Some people decided to vent their disapproval by leaving the Snapdeal Android and iOS app a bad rating. The app has 67,741 one star ratings on Google Play at the time of filing, though it's difficult to ascertain how many have been left in the aftermath of Khan's remarks.

Snapdeal had signed up Aamir Khan as its brand ambassador in March this year. Company spokespersons declined to offer a comment on the development.

Update November 25 1:30pm: Snapdeal has issued the following statement:


Snapdeal is neither connected nor plays a role in comments made by Aamir Khan in his personal capacity. Snapdeal is a proud Indian company built by passionate young Indians focused on building an inclusive digital India. Everyday we are positively impacting thousands of small businesses and millions of consumers in India. We will continue towards our mission of creating one million successful online entrepreneurs in India.

This isn't the first incident of apps being targeted by online activists - earlier this year, Flipkart's app received a number of one-star ratings for its support of zero-rating plans, which it eventually backed down from.
For the latest tech news and reviews, follow Gadgets 360 on Twitter, Facebook, and Google News. For the latest videos on gadgets and tech, subscribe to our YouTube channel.
Related Stories