Along with several others, Zomato has also updated its iPhone app for iOS 8. The app now includes some new features such as restaurant check-ins and the ability to tag friends in reviews. But more interesting than the new features are the ones that Zomato has not brought with this update. When you go to your profile, you can see some new buttons, which promise features that are coming soon.
First, there is Restaurant Chats - where you can use the Zomato app to directly connect with restaurants, chat and order food for delivery. The next button is labelled Payments, which is also coming soon. The idea here is to enable cashless payments for restaurants, something like the experience of using an Uber taxi, in the words of Zomato founder and CEO Deepinder Goyal.
This seems to be entirely antithetical to what Goyal has told us in the past about online ordering in India. As recently as April this year, Goyal reiterated that Zomato does not plan to enter the delivery business. He insists the latest move is in line with that philosophy, as Zomato will only connect you to the restaurants, who will continue to handle deliveries the way they've done.
"You can call up the restaurant, the way you normally do, and talk to them and place your order," says Goyal. "What we will do is not take the ordering, but instead, we'll simplify the payments. Right now, if you call a restaurant for a delivery, you have to pay cash on delivery. We want to make that cashless."
"I believe that the reason most people use Foodpanda is because they don't want to pay cash. You don't always have cash at home," he adds. "That, and because they offer a lot of discounts. We don't believe in discounts, and think people should pay a fair price for quality food, so we'll focus on the cashless payment."
As per Goyal, restaurants will use a smartphone app (on both iOS and Android) to process payments. If you call a restaurant which has tied up for Zomato payments from a number that is registered with the site, the restaurant can ask you if you want to pay by app. If you say yes, the restaurant can send a payment request to your phone, and you can complete the transaction right there. You'll need to have your credit card information saved in the app of course.
This is the first step to Zomato's new features, and one which Goyal says will be implemented with the next app update that is expected in around 15 days. Payments will start in Delhi with around 100 partnering restaurants, though Goyal is hopeful that a positive response will lead to more partners, cities, and, in turn, more Zomato users.
It's an interesting take on online ordering and one that keeps the onus of fulfilment on the restaurants involved instead of Zomato. The small number of partners is one stumbling block which could freeze the idea before it even gets started. The other issue is that RBI regulations will still require users to input a One Time Password/ 3D Secure Pin for every transaction, adding a layer of friction to the service. A possible solution would be to turn the Zomato app into a mobile wallet (with balance you top-up at your convenience to have it seamlessly deducted during purchase) for food ordering, but Goyal says this is not on the cards right now.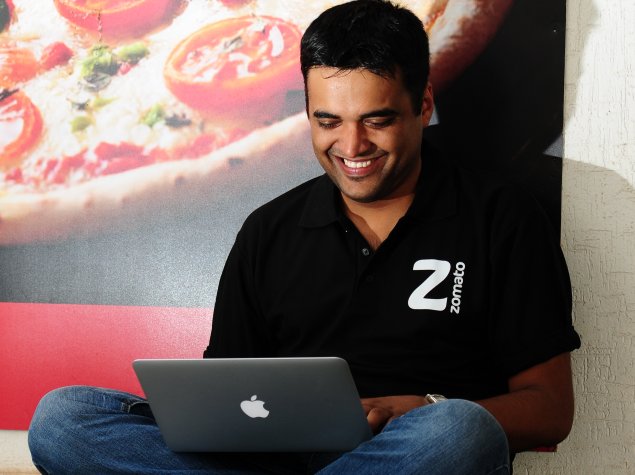 There is more coming for the next upgrade after payments are introduced though, Goyal promises. The new features introduced with the update - check-ins and tagging - presently look like a natural addition to the various social features Zomato has been adding.
These same features will also tie in to the payments feature. "Check-in is a precursor to pay at the restaurant," says Goyal. "It's like Uber, you check-in, and enjoy your food, and leave. You don't need to call for the bill and take out your credit card. And tagging will let you split the bill among friends."
It could be a couple of months before these features are implemented, during which time Zomato users can get into the habit of checking into restaurants. These same features will also be used to bolster the visibility of reviews which Zomato knows are "genuine", much like the Verified Purchase tag you see on e-commerce reviews.
These are interesting steps that Zomato is taking, but it's important to recognise that these are still baby steps, and ones which would take a fair amount of time to bear fruit. That's why Zomato is only carrying out these experiments in the Indian market, where it is a well-established brand name. The company is now operating in 15 different territories, but Goyal says that it is in a dominant position in 8 of them. The company is continuing to grow internationally at a fast pace, with a $1 million investment to expand in Scotland, and acquisitions in New Zealand, Czech Republic and Slovakia, all in the last three months.
The landscape for
food ordering in India is increasingly competitive
, with brands like Foodpanda and JustEat, along with Indian companies like JustDial all present already. Zomato's current plans look like a way to sidestep the competition instead of taking things head-on, and it's going to be interesting to see what the customer reaction is like once the actual product is rolled out in the coming months.