Big investors, much like Hollywood magnates and AAA video game publishers, tend to follow fairly prevalent trends. This is why after one taxi-aggregator succeeds in the market, you quickly find a dozen funding announcements for taxi-aggregation startups. This is true both around the world, and in India.
What's more interesting is that the latest "big thing" then becomes the lens through which new ideas must are seen and born. After the huge success of Facebook, for instance, every new company that launched would talk about how it was incorporating social features to create its own 'unique' proposition. Uber is particularly guilty of inspiring a huge number of startups that can easily be described as the Uber of 'X', where 'X' is whichever industry is being 'disrupted' at the time.
The key to the Uber of 'X' formula is that you don't actually own any of the product, and are merely an intermediary who handles all the communications and billing, but leave the logistics to others. So a company like Grofers, which has its own deliverymen, would not count. On the other hand, Foodpanda, or Mr Right, are just some of the examples of companies that are growing and succeeding through the simple act of connecting people with service providers.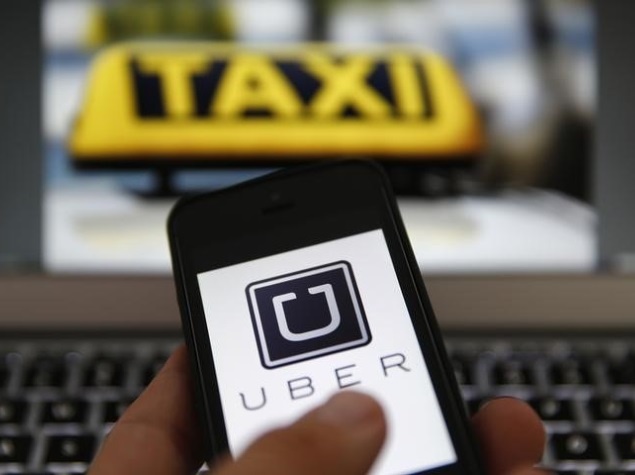 Looking at some of the new startups here in India and elsewhere, we are noticing another trend.. From seeing a steady stream of "aggregation", we are now seeing - and we bet this will only increase - apps that try to solve "conversation". What do we mean?
Uber of 'X' is old news, and the next big trend we can see is WhatsApp of 'X'. Want a handyman? Need a second opinion from a doctor? Want someone to plan your travel itinerary? Don't waste time scrolling through long lists and checking everyone's ratings - just chat, and a human being at the other end will help you our with whatever you need.
Apps like Line, WeChat, and Hike have had varying degrees of success across the world, though no one has quite managed to capture everyone's imagination like WhatsApp, which now has nearly a billion users and 'WhatsApp it' has become a verb, at least in this part of the world. Now, other companies are looking at the idea of a chat platform, and figuring out how to use it in different ways. So you have companies like Lybrate, for example, which want to solve the problem of not having the time to find and visit a doctor, by taking your consultations to chat.
The platform claims to have over 80,000 doctors on board, and users can leave posts on a public forum for any doctor to respond. If you want more detailed answers, you could ask the doctor to enter a private chat with you, which is a paid for feature. The doctors get paid for these private, text-based chat that also lets you send images. Lybrate CEO Saurabh Arora says that there are some big advantages to using chat instead of directly calling a doctor.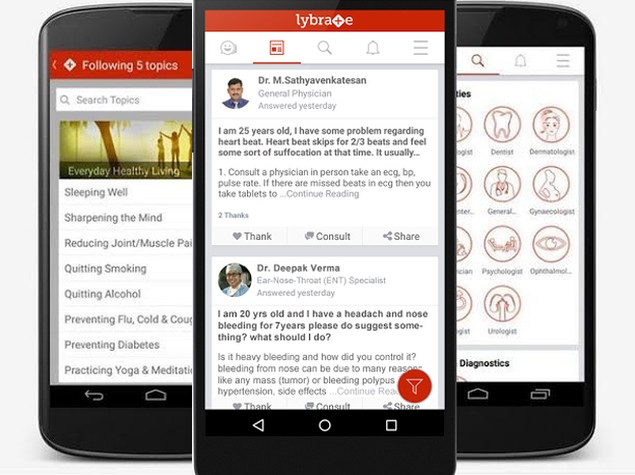 "The private chat is asynchronous, so they don't have to answer questions right away," he says. "They can respond to questions between appointments, or during their breaks, so they can see more people [which they are paid for] without being overwhelmed."
You have the convenience of being able to send pictures and get a consultation without leaving your home, while the doctor's regular practice is not affected by this either.
Take another example. If your laptop is not working properly, you could try calling up the manufacturer's customer care number or you could leave a message on an app like Haptik or Akosha, and have one of the people waiting on the other end of the chat solve the problem for you. Haptik also allows you to book a restaurant table, or schedule a pickup or drop off for couriers.
PlanMy.Travel is a bespoke travel agency that works by asking you to chat with an expert who will help you plan a custom travel itinerary that's uniquely crafted for you. And apps like LookUp, InstaServices, and GoodService take this one step further and offer a full concierge service.
Essentially, each of these apps has a team of people waiting on the other end for you to chat with them. They won't do anything that's illegal - which unfairly also means delivering a beer if you live in Delhi - but if you want someone to book movie tickets for you, or pick up shawarmas from your favourite street-side restaurant, then these guys are the people to talk to.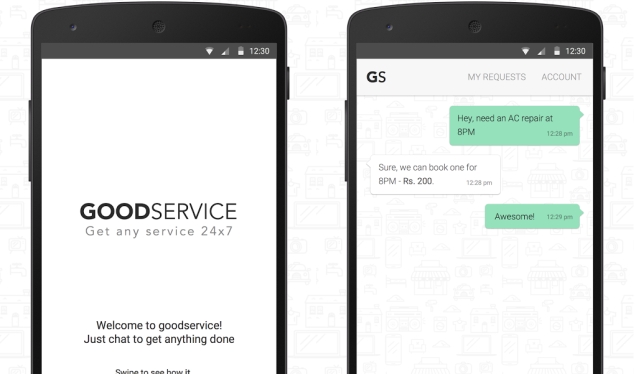 "Instead of having to navigate through a menu of choices that someone has designed," says GoodService founder Vipul Aggarwal, "you just chat and tell us what you want and we take care of it."
So if you've got a tap that is leaking, for example, just take a picture of it and share it to GoodService and the company will find the best plumber in your locality and make a booking. "We also include a payment solution so you can do the payment without any cash," he adds.
Lookup is similar, but if you don't want to use the app, you can also communicate with the company using Whatsapp, or regular messages. Founder and CEO Deepak Ravindran says that Lookup is really geared towards solving the problems of offline retail.
"The shops don't always have what you want, and you need to go to a dozen different places to get everything that you want," he says. "Lookup integrates everything. Our guarantee is to give you your answers within five minutes, because we have dedicated people handling your requests."
The team is handling 10,000 messages daily, and the top queries are for grocery and medicine deliveries, and booking appointments, which is how people start to get used to the idea of having an assistant who can solve things for you, Ravindran adds. "Once you use it for a while, you start to think of new ways in which it will be useful."
The great thing about this trend of WhatsApp for 'X', or conversational commerce, is how it's making it possible for companies like GoodService and Lookup to come up. Soon, you won't have to have an app for everything - you'll have a person to talk to instead. The more things change, the more they remain the same.