Ever needed to check what time your flight is supposed to leave, or what gate it boards from? You can do a simple Google search and get a useful card of information, which works for most flights. Google will show you the flight details like the cities it's stopping in, along with the departure and arrival times. Pretty handy, but if you want to know where the plane is right now because you have to pick someone up from the airport, then you're going to have to do the math yourself.
There's a new Messenger bot that can help you get the exact level of information you're looking for though. Instalocate, a Bengaluru based startup is trying to resolve one of the problems that most of us face after the booking of a trip is complete - the flight experience.
While there is a lot of chatter around the area of conversational commerce, one of the problems that often comes up is that these solutions just add more steps to the process where simpler existing apps and websites can already do the trick. Instalocate's creators recognised this and wanted to keep things as simple as possible - keep the focus on just basic queries like the status of a flight, where it has reached, or when it's landing.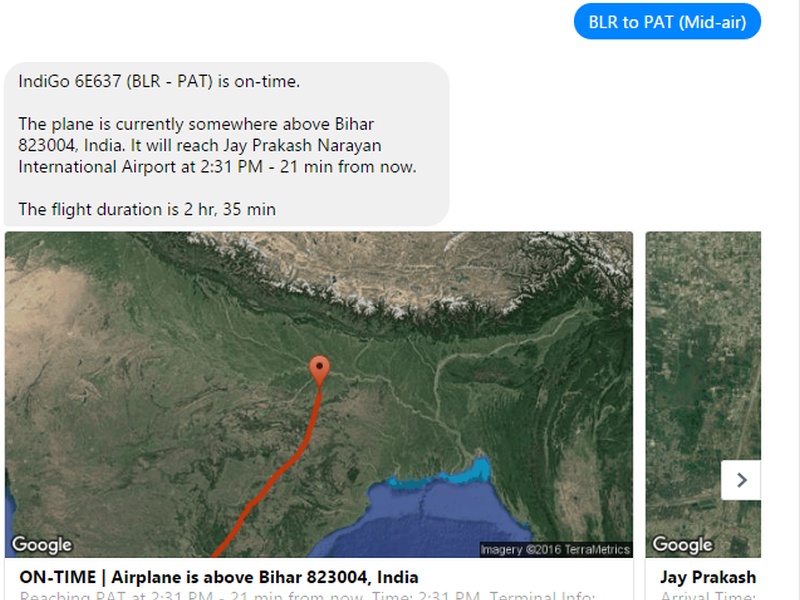 (Also see: Five Facebook Messenger Bots You Absolutely Need to Try)
This lines up with some other really interesting bots we've tried out recently - there are bots that handle everything from one that helps you calculate your taxes (in the US), to one that lets you 'Shazam' a song and play it in Spotify, or listen to and share a snippet of the song using Messenger itself. These bots aren't trying to hold involved conversations with you; they look at doing one simple thing, and doing it well.
That's the difference between chatting with Instalocate and using search. Google told you the departure time, the scheduled landing time, and shows you a graphic that gives you a rough idea of how much of the trip has been completed. Instalocate on the other hand shows you a map view where you can see the position of the plane, an overview of the airport, and some additional options - for example, airport directions (which opens in Google Maps) and Book a cab (which will open up Uber in cities where it's applicable) so that you can take the next step beyond just looking up timings.
(Also see: Conversational Commerce or Just a Lot of Noise?)
This helps for upcoming flights as well - for example, if you've got a flight coming up and you look it up on Google, it's going to show you the scheduled departure time. If you've got the tickets already, Google Now will even give you a reminder when it's time to travel. But if you want to Web-check into the flight, you'll have to do a different search and carry out multiple steps just to get to the right page. With Instalocate, once you've tracked a flight, there's a button right under the listing that takes you to the correct page, and another button that takes you to the baggage allowance calculator page of the airline's website.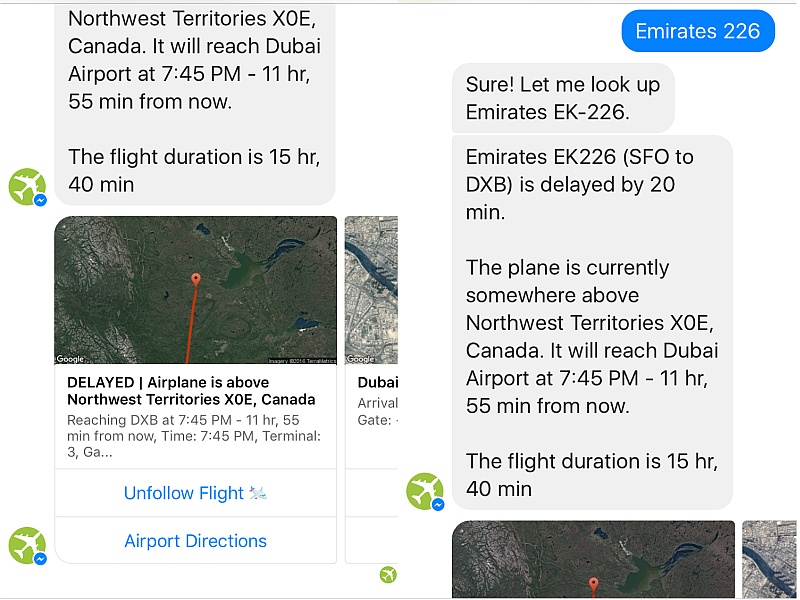 Sure these are small features, but they add a lot of convenience to looking up details, and according to Instalocate creators, once you've asked the bot to track a flight, it will also send you updates to let you know when the flight is taking off, landing, any delays, and down the line, might send timely bits of trivia such as telling you the flight is currently passing over the Swiss Alps. That sounds silly, but imagine if you've tracked a family member's flight - now, you won't need to keep looking it up to see if it's still running on schedule - the messages will come to you instead.
Of course, for a lot of people, the speed and familiarity of a Google search (and the fact that you can do it with voice from the homescreen of your phone or using your smartwatch) will certainly be more important. Instalocate's creators don't disagree, and say that if Google works well for you, then it's all you need.
"It's not zero sum, a lot of apps can exist and there will be some users who are more comfortable with our offering," the company believes. At the same time, there's another aspect to things here. Instalocate might have started off with flight details via Facebook Messenger, but it's going to be expanding in two directions over time.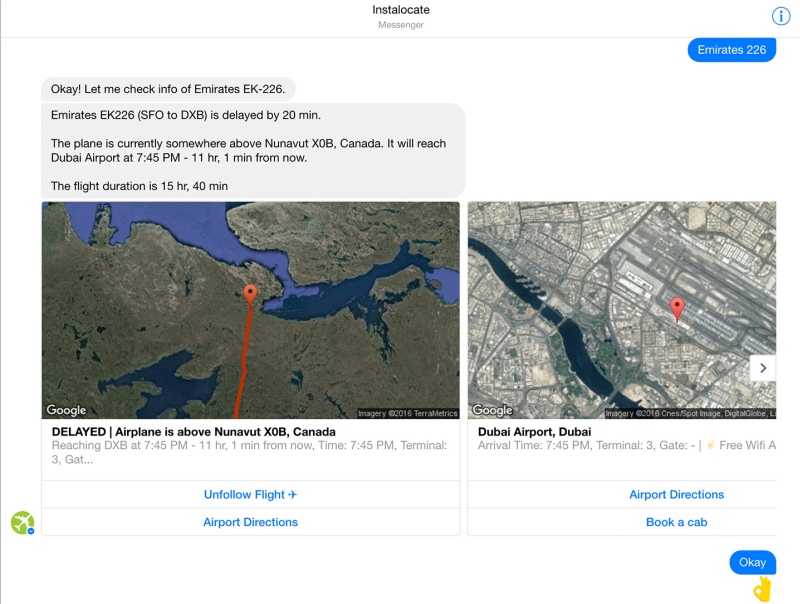 First - by adding more information to the service - for example, trains, buses, and other forms of public transport. Once that is complete, it can grow to track more types of information - such as couriers, or your packer and mover data. That's all down the road, with trains being targeted next, the company says.
But the other area of growth is onto different platforms. "We want to create micro-apps for different platforms, so we experimented with WhatsApp bots and once the official API is released we will do that, we're also looking at building this for Slack in the near future," the company says.
Building the bot out onto these other platforms will open up different usages, and different products as well, the company believes, and it says that the majority of the code will remain the same with customisation being mostly to the user experience on different platforms.
All of that lies in the future though - as of now, the bot is basically offering a richer response to looking up your flight number on Google. It's not a huge thing, which is why the term micro-app is pretty apt. But it does signal an interesting way in which companies can look to leverage Messenger without over-complicating things.