Can an app actually act like a life coach that helps you to break bad habits and lead a healthier, better life? There are many apps that promise to do just this, through gamifying your daily activities. The idea is that you log your actions into the apps, and earn points, level up, and form good habits to replace bad ones.
And so, like any techie looking for a solution to life's looming problems, I turned to apps to help deal with the issues that come with growing older. A diagnosis of hypertension meant some serious lifestyle changes were required to avoid disorienting medicines. I found it hard to stick to these new rituals, until someone suggested I try HabitBull, a free app for iOS and Android that lets you gamify anything.
Anecdotally at least, people have told us that tracking their health and fitness, helped them change their lifestyle. We've also spoken to people who swear by running app Zombies, Run, and the Fitbit Surge made a difference when a colleague trained to run his first half marathon.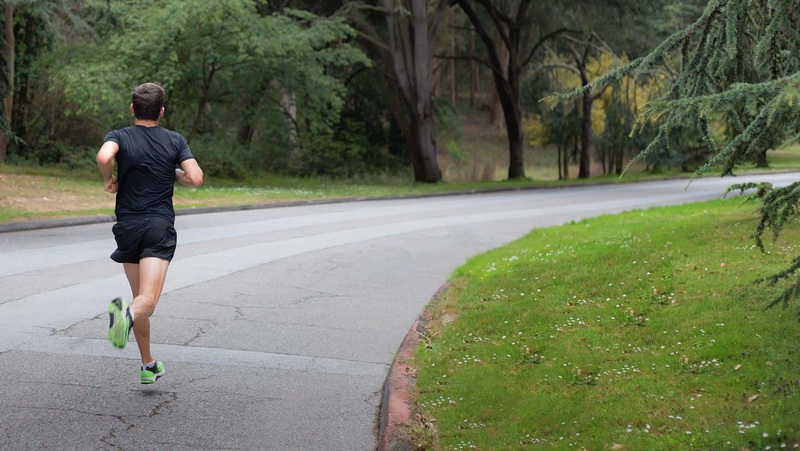 (Also see: Eight Apps to Turn Your Life Into a Videogame)
And I've had some first-hand experience with gamification - Kobo's ebook reader was one of our top five picks for reading ebooks thanks to its gamification features. The app gives you badges for reading books, for reading books daily, for reading books at night, looking up words, adding your own books to the library, and much more. It's a silly feature, but it adds a bit of extra fun to reading, and that's why it remains one of my favourite apps.
There's also Duolingo, which turns learning a language into a game. If you've ever wanted to learn a language but couldn't keep yourself motivated, then you really can't go wrong with this excellent, easy to use, and fun app.
So will a similar approach work with changing my habits with HabitBull?
How HabitBull works
The way HabitBull works is simple. You simply enter a list of tasks you want to repeat (behaviours you want to change) and then set up daily reminders. The app will then send you notifications according to the reminders you've set up, so that you stay mindful of whatever it is that you're supposed to be doing.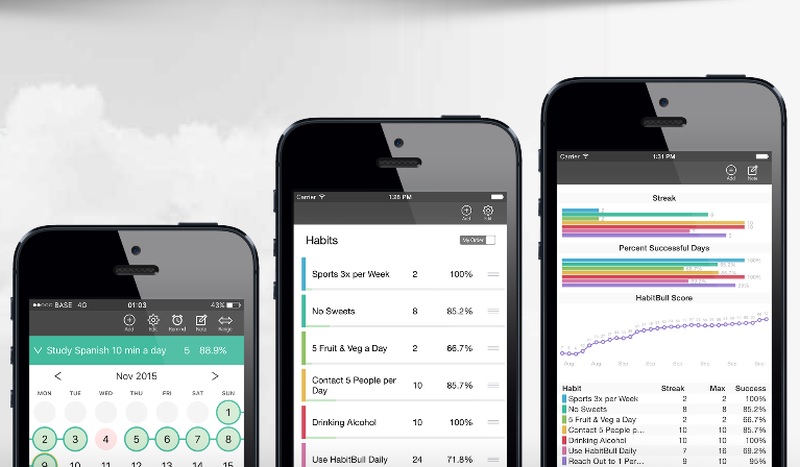 You can also enter a response to the notifications - for example, if you set a reminder to exercise for 10 minutes every three hours, then each time the notification comes, you can get up, take a break and exercise, and then just mark it as done from the notification itself.
There are tutorials that teach you how to use the app, but it's simple enough that you don't really need them. You can see stats about all your different habits on a single page, or you can drill down and see the details of a single habit. When you see the full stats you get a week's picture to help you figure out how you're doing, and if you're not happy with the numbers for one of those stats, tap on it to see the full month's data, with figures for each day, so you can see where things broke down, and figure out how to fix any issues.
None of this is automated - you've got to faithfully log all activities. With Kobo, you get points automatically when you read a book. With Duolingo, you're tested as you use the app, and you score points and levels automatically. HabitBull on the other hand works only as long as you're making an effort with the app, and that's where things went downhill.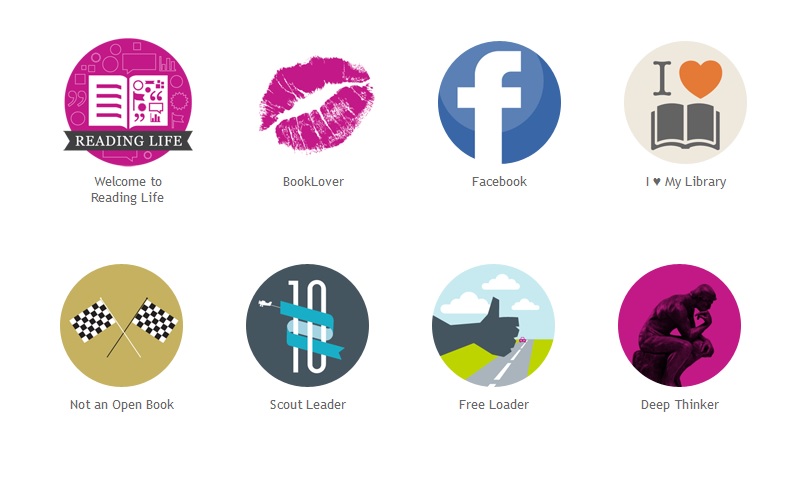 The app claims that repeating any behaviour for 66 days is enough to cement it as a habit, and I started using the app on February 5, with the goal of changing a few basic behaviours, and hopefully, cutting off the hypertension problem without having to turn to medication. It's been two months, and you'd imagine that a lot of behaviours are now set in stone for me and that I'm healthier than ever. Of course, it turns out that breaking a bad habit is a little harder than, say, getting someone psyched up about reading a book.
My two month round trip
HabitBull is a good looking app with a simple flow. It has preset goals that you can add, such as "drink more water", or "stop smoking". That sounded like an easy way to get a healthier lifestyle, and I started tapping away at whatever sounded relevant.
The doctor suggested various lifestyle changes to deal with hypertension, but it basically comes down to, "stop doing lots of stuff that is clearly unhealthy". Sleeping more is an obvious one, and cutting caffeine sounded like a good way to help with that. Drinking more water and exercising daily were equally obvious measures. These are all things that we know are good for us, but many of us can't find the time because of our jobs, our commutes, and occasionally, some fun.
Adding hourly reminders during work hours to drink water, with a target of 2 litres, and adding reminders for the morning and evening, with a target of an hour of exercise in the day, sounded like easy steps to take. Setting a reminder at 10PM telling me that it's time to sleep (and removing my Werdsmith reminder to write at 9PM) would help make me more mindful about sleep, and every morning I'd wake up to a notification asking me how long I've slept - hopefully to shame me into sleeping sooner, once I saw the charts.
It's a great idea in theory, and at the start of this process, I was fully keyed up to faithfully log every sip of water, and every minute of exercise. The reminder to sleep more isn't as useful, but seeing that line squiggle along at the bottom of the chart while the water and exercise charts were so much higher was a good motivator. Plus, at that point, the hypertension issue was still relatively severe, and served as a physical reminder on a day to day basis.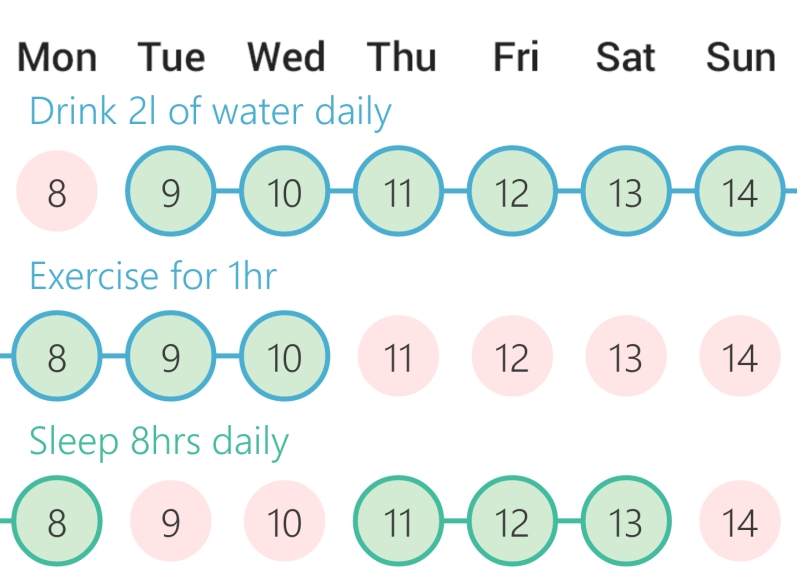 Still, there were still when I slipped up and broke my streak along the way, but after a few false starts, the numbers started to look pretty good. Within a month of cutting out unhealthy activities, it was clear that the app had helped me do some things more regularly (drinking more water and exercising for an hour each day) though the sleep and coffee charts continued to look like a mountain range. But this also meant that I felt healthier, was able to have a beer without feeling dizzy, or go a day without walking and not wake up sweating uncontrollably at night.
And this progress led to overconfidence, and bad decisions. "If you missed an hour's sleep one day, that doesn't mean you need to destroy your excellent streak number; just report it as eight hours, seven is almost as good," I told myself.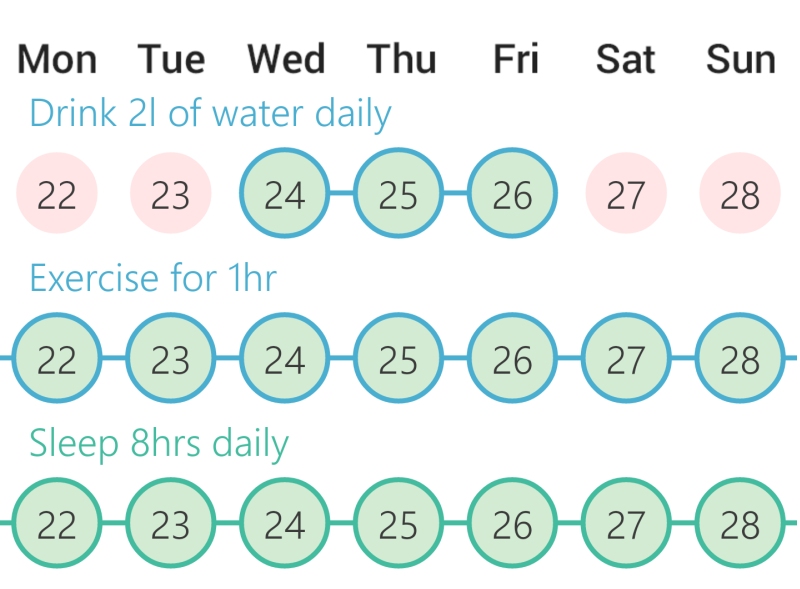 Things really took a turn for the worse because I had to travel to Bengaluru for five days. For five days, all the carefully planned habits came to a screeching halt. This brought all the numbers back to zero, all the streaks gone, all the gains built over time now worthless. On getting back to Delhi, the numbers started to lose all meaning - I'd reached the late 30s for most of the charts, and here I was looking at ones and twos again. I found myself ignoring notifications, and from that point onwards, there was just no recovery.
Today, two months after I started, my numbers are all back to zero. It's probably better if you don't ask how much coffee I've had today, or how many hours I've slept. There are external reasons for these things, but that's always the case. My journey with HabitBull has been a circle, and the only habit that actually stuck was drinking more water - possibly because Delhi's summer has started. I'm healthier than I was two months ago, though if I continue with these bad habits that will also change eventually.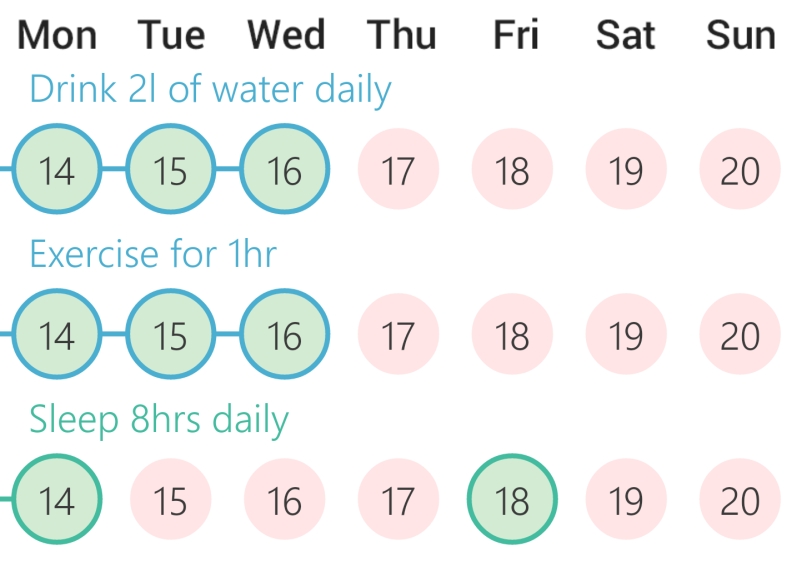 A second opinion
I'm not saying that something went wrong with HabitBull. I've got enough anecdotal evidence from people that convinced me to try the app. Dinesh Karthik, an online entrepreneur, tells me that HabitBull is a big part of his daily routine. "I used it to help plan out a lot of my daily activities, because a lot of the stuff you do when you're setting up a business is just small, basic, repetitive stuff that is really important," says Karthik. Another friend, who didn't want to be named, says HabitBull helped her quit smoking.
To figure out what went wrong with me, I decided to consult an expert. A little searching revealed that the expert help I needed was from the field of Cognitive Behavioural Therapy (CBT). After a few false starts, I spoke to Dr Vivek Batra, of Batra Holistic Care, in Rohini. Dr. Batra is a psychotherapist, and he told me that CBT can help modify behaviours by discussing the problems and focussing on practical self-help strategies.
"CBT is used to treat a range of issues such as anxiety, depression, eating disorders, and substance abuse," says Dr Batra. "The patient is taught skills to alter their behaviour, to overcome negative thoughts."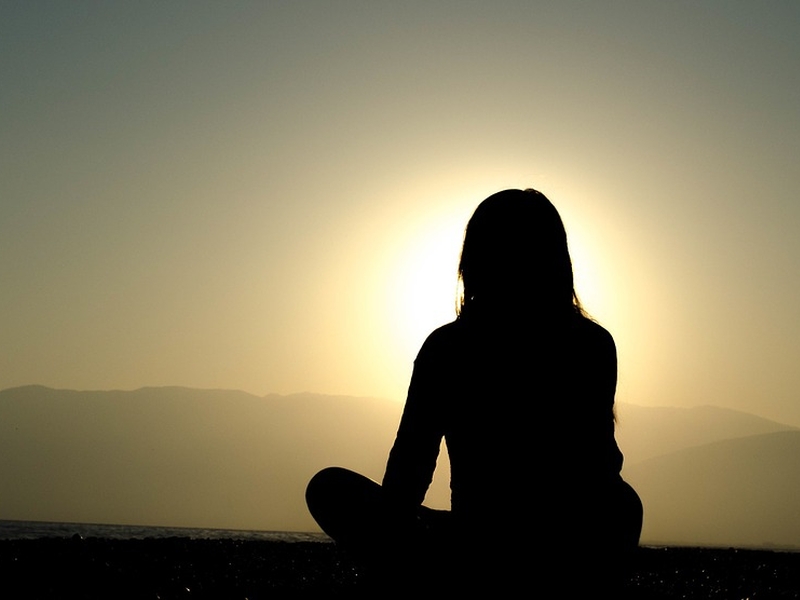 We spoke briefly about my attempts with HabitBull, and according to Dr Batra, one of the problems might have been the lack of reinforcement from the app. "When you come for CBT, you will discuss your progress and not just focus on what's going wrong, what needs to be fixed, but also on the progress that you have made," he says. Perhaps the solution would be to involve more of the people around me in the process, so as to get encouragement and support for meeting my goals regularly.
What's clear though is that no app can really be a silver bullet when it comes to changing your habits and behaviour. HabitBull certainly can help - it helped me, up to a point - but as with just about any technology intervention really, it's not going to work for everyone, and it's probably going to be better if you can talk to people who will support you in your journey.