If you're not happy with the default SMS app on Android, you can just change it to something else. This means that you can install an SMS app, set it as the new default and completely forget that the SMS app your phone came with even exists.
Google has a couple of decent alternatives in the form of Hangouts and Messenger, and your phone may already come with one of these apps pre-installed. Hangouts is the hub for all communications in the Google ecosystem - from chat (erstwhile GTalk) to audio/ video calls and, of course, plain-old SMS.
Messenger by Google is the new SMS app that ships with Nexus devices running Android 5.0 Lollipop. It's perhaps our favourite 'simple' SMS app thanks largely to the Material Design UI. It comes with basic features like threads and the ability to block senders.
Both Hangouts and Messenger are solid apps that work well, but if you want extra features such as password protecting texts and messaging scheduling, then you might want to try third-party SMS apps. The best part is all these apps use Android's central messaging repository to store texts, so you can switch anytime between apps without leaving any messages behind.
Here are our top picks for the alternative SMS apps for Android:
Handcent SMS
Handcent SMS is not a good looking app but it packs a lot of features. The best feature is called Handcent Anywhere. Once you create an account, you can sign in from any browser and send SMS via your phone. It also has a password-protected inbox, where you can store private conversations. You can also schedule messages and backup texts online. The design is basic, and lacks the visual appeal of many of the other options here, but in terms of features, this is the best one.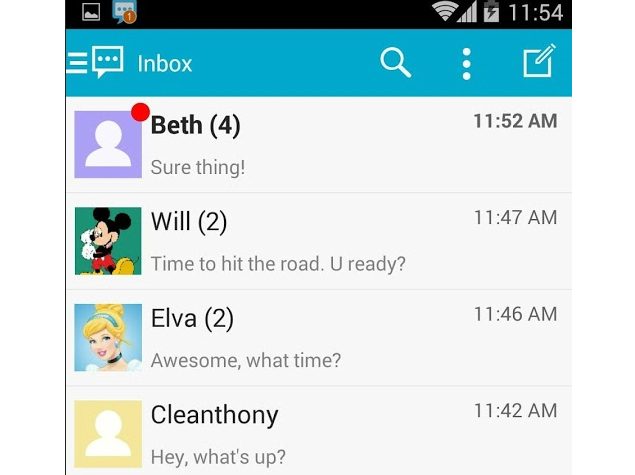 Textra SMS
If you want a good-looking SMS app, Textra is your pick thanks to Material Design. If that's not your style, you'll be pleased to know that the app also supports themes so you can completely change how it looks.
Textra SMS app has a quick reply pop-up that lets you respond to texts without opening the app. It also lets you mute notifications for any of your conversations, should a conversation get too noisy for your liking.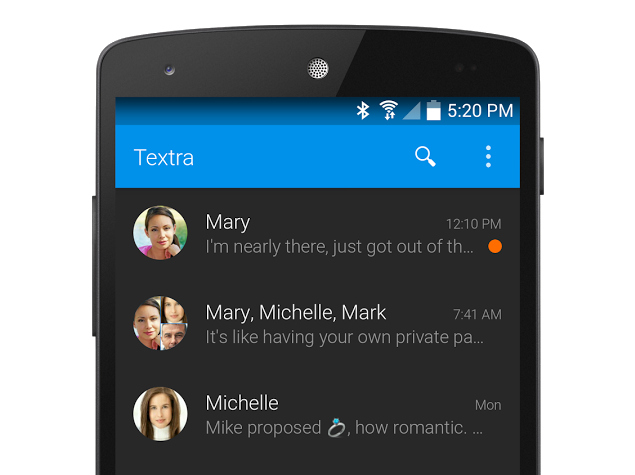 Evolve SMS
Evolve combines many of Handcent's features such as a pattern lock for messages with a much nicer interface. It also supports gestures for swiping between conversations, batch deletion, and more; though SMS reminders are missing.
With Evolve SMS, you can also send messages using your PC via PushBullet; themes and some other features such as setting privacy for individual messages are locked behind in-app purchases.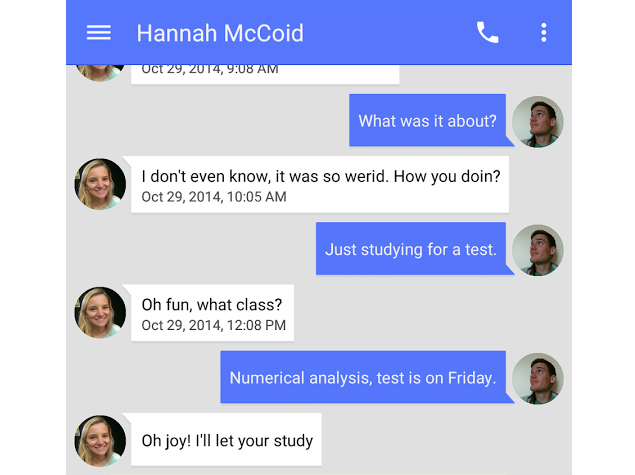 ChompSMS
ChompSMS also has a nice Material Design UI and some advanced features such as scheduling messages and quick reply pop-ups. Our favourite feature is something called Delay Send, which causes a delay (of up to three seconds) between hitting send and actually sending the SMS.
We've all sent a text and the immediately spotted an error (or worse, regretted replying at all) and this simple feature can help.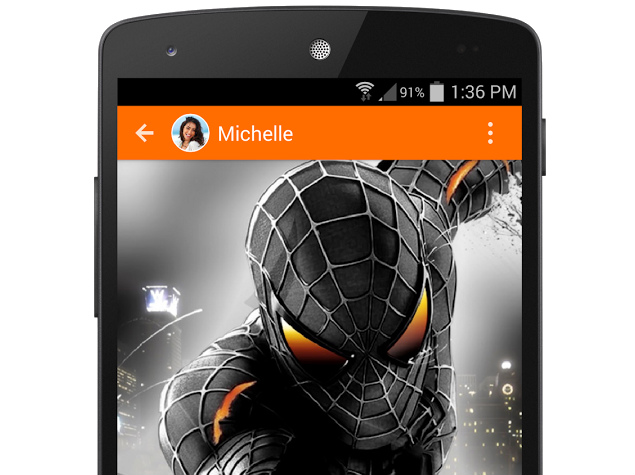 These apps offer most of the features you could wish for in an SMS app. However, if you still want to try other apps, there are a few good choices. Hello SMS has a nice tab-based view for text messages, which you might want to check out. Go SMS Pro is another app that offers a lot of customisation options including scheduling.
Of course there are many more SMS apps on Android and it's possible we haven't even heard about some gems. Which one do you prefer? Let us know via the comments.
Also see
The Best Free Launcher Apps for Android
The Best Free Browsers for Android
The Best Free Browsers for iPhone and iPad
The Best Free Web Browsers for Windows
The Best Free Antivirus Software for Android