Widgets are great to get a glimpse of information within an app or do things by saving taps. iOS got support for widgets in the Today view of Notification Center with iOS 8. Android has had widgets for a longer, and it has more flexible widgets that can be used on the lock screen, home screen, or in the notification shade. Here are some of the best widgets on Android and iOS for your devices.
Android
1) Weather Timeline
I've written about Weather Timeline before and it is the best looking weather app on Android. The widgets and customisation options for widgets put it on a whole other level. I love how it can extract colour options from your current wallpaper for the widget as well. You can tweak everything from the font colour to the opacity and glyphs used for weather here.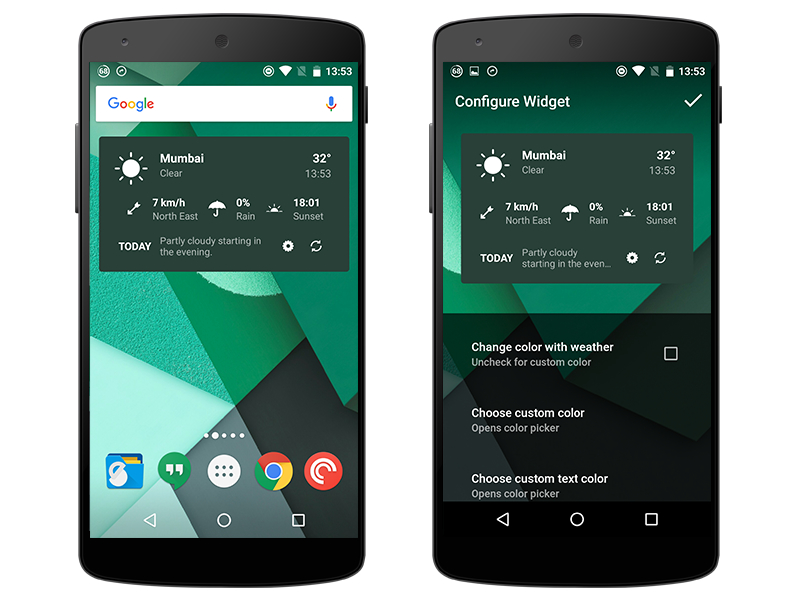 Download Weather Timeline (Rs. 58)
2) DashClock Widget
DashClock by Roman Nurik is one of the best pieces of software you will install on Android. DashClock has a vibrant community developing extensions for other apps and it is great on its own as well with weather, missed calls, and more. Enable it for your lock screen and you will never bother with anything else.
Download DashClock Widget (Free)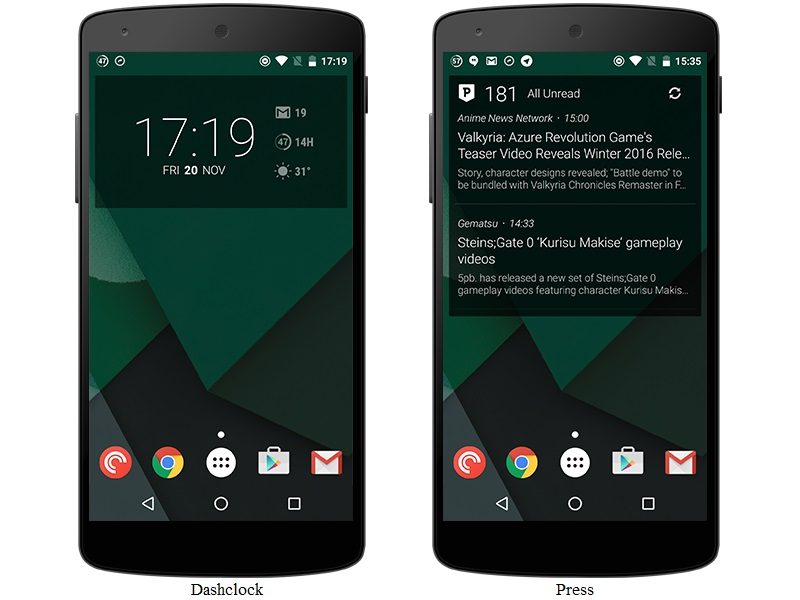 3) Press (RSS Reader)
Press is the best looking RSS reader on Android. While Press as an app is in maintenance mode, its widget is amazing. You can scroll through headlines and summaries of articles in your RSS feed and refresh all from the widget. Customise the opacity and size, and you have one home screen dedicated to reading through the important news.
Download Press (Rs. 183)
4) Battery Widget Reborn
Battery Widget Reborn lives in your notification shade or home screen to give you detailed information about your battery. This ranges from charging and discharging time to a graph of performance. The widget itself is fully customisable with size, colours, opacity, and more.
Download Battery Widget Reborn (Rs. 20)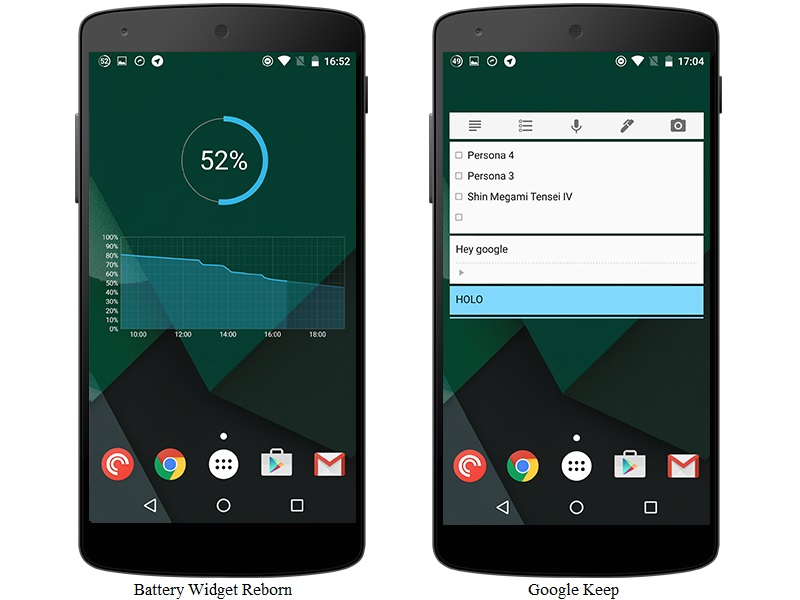 5) Google Keep
Google Keep is a great cross platform app for keeping track of various things and making notes. The widget available on Android lets you quickly create new entries and scroll through previous ones. It might have started out as a stack of post-it notes, but Google Keep can keep track of lists, reminders, articles, and images, so it's definitely worth checking out.
Download Google Keep (Free)
iOS
6) iTV Shows 3
While iTV Shows isn't the very best TV Show tracker, it does have an amazing looking widget. The widget has a nice circular avatar for each TV show along with other information like network, time, episode name, and episode number in the season. I have iTV Shows 3 installed just for the widget even though I use another TV show tracking app.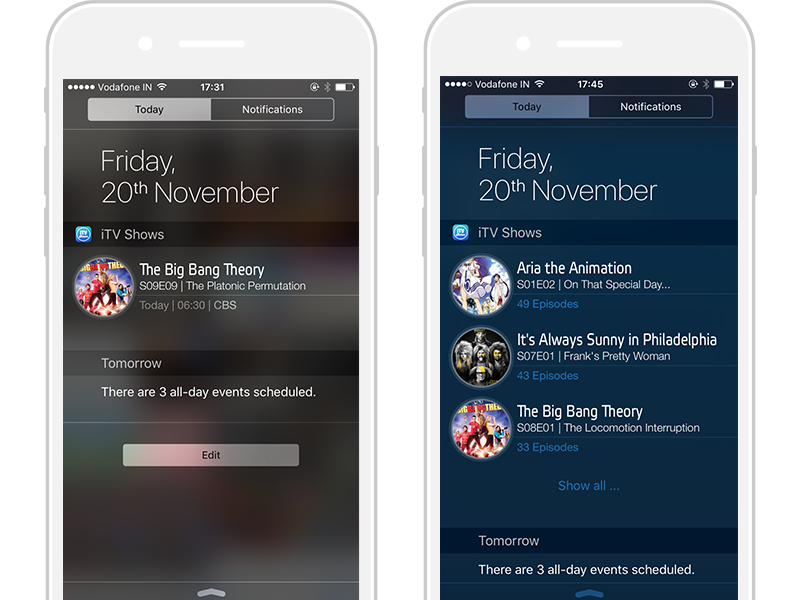 Download iTV Shows 3 (Rs. 190)
7) Deliveries
Deliveries is the best looking package tracker out there and its Today widget is great. It gives you a nice look at upcoming packages, with great typography and details about said packages. The widget tells you how many days are left, delivered by time, item name, and status of the package.
Download Deliveries (Rs. 300)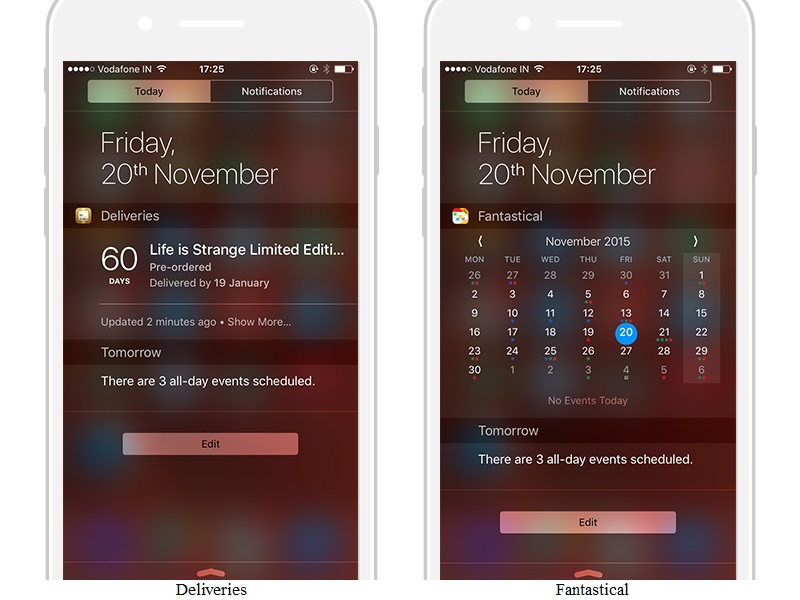 8) Fantastical
The Fantastical Today widget is almost a fully functional calendar. It lets you view today's events, your month view, and switch months with taps. There's even a shortcut to create a new event on a day by tapping and holding the date in question. This launches the app ready to take in your event details. If you don't already own Fantastical, you should fix that because it is the best Calendar app.
Download Fantastical for iPhone (Rs. 300) | Fantastical for iPad (Rs. 620)
9) Launch Center Pro
Launch Center Pro is basically speed dial for apps and app actions. You can customise it to even remind you about app launches or action launches, and as of version 2.5, it has gotten a Today widget. This widget lets you access a few apps and actions right from the Today view in Notification Center and the app has become infinitely more useful now. Saving taps is always great and this widget goes the extra mile.
Download Launch Center Pro for iPhone (Rs. 190) (Please note that the iPad app has not been updated for the widget feature yet.)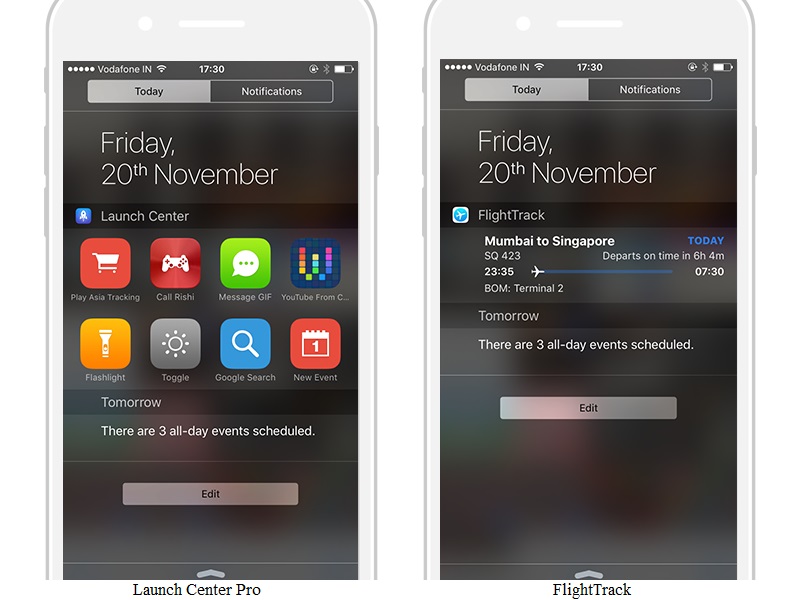 10) Flight Track 5
Flight Track 5's widget is probably one of the best I've ever seen. It has detailed flight information presented in a compact area and manages to look great. You get to know percentage of journey completed, start and end times, airline, terminal, date, and more.
Download Flight Track 5 (Rs. 300)
What are your favourite widgets? Tell us via the comments.