In the race to build a self-driving car, German automakers are hitting a road block in their efforts to test vehicles so complex they need more than 10 times the amount of software found in a fighter jet.
German laws currently place limits on testing on public roads.
Automakers fear this is allowing US competitor Google to pull ahead in developing software, specifically progammes that will give cars the correct reflexes in real-life traffic situations.
For years, so-called "autonomous vehicles" have been a distant dream but technological advances and a push by Google, with its huge financial resources, to introduce a model in 2012 has kicked the race build them into high gear.
Volkswagen Chief Executive Martin Winterkorn told Reuters: "We are currently testing at our research facilities, some of them in the United States. The question is: do we only test these cars on public roads in the United States or can we also do it in Germany. Not enough has been done."
Mercedes-Benz, BMW and Audi already have prototype autonomous vehicles out on German roads but they lack the ability to legally test one of the most difficult parts of the journey - handing control back to a distracted driver.
Carmakers in Germany are legally not allowed to be distracted during the testing process on public roads. E-mailing in a moving car on a public road is forbidden, for example.
"How much warning does a driver need to take back control of a vehicle after they were e-mailing? Is five seconds enough, or do they need 20? These are just some of the issues that need to be resolved," Daimler spokeswoman Katharina Becker said.
Mercedes-Benz wants cars with highly autonomous functions to be on the road by 2020.
Ok computers
The importance of carmakers putting their feet to the pedal on software verification is evident from looking at the aircraft industry, which has 40 years experience of developing vehicles that run on computers.
Lockheed Martin's $400 billion F-35 Joint Strike Fighter programme, which began in 2001, is still being held up by software glitches, despite the company having more than 500 software engineers.
Eric Feron, a professor of Aerospace engineering at Georgia Tech, said the auto industry faces a massive challenge to verify software in autonomous cars.
"Cars need much more software than aircraft. The environment in the air is easier, there are no obstacles and they are driven by professional pilots. It is much more complicated on the ground," Feron said.
The F-35 has between 5 million and 10 million lines of software code, compared with 100 million lines in a modern car.
According to auto supplier Bosch, automation in passenger cars started with safety systems that intervened without asking the driver for permission, such as the introduction of anti-lock brakes in 1978, followed by traction control in 1986.
These systems have since evolved to include adaptive cruise control, predictive emergency braking, lane-keeping support, and automatic parking assistance systems.
A recent drive on an autobahn in a Mercedes-Benz S-Class on the outskirts of Stuttgart showed how far car technology has already advanced.
The limousine cruised comfortably in busy traffic, keeping in lane and maintaining the distance to a truck in front, no matter how curvy the route or how slow the traffic ahead. That model can be bought in showrooms today.
Ethical decisions
In August 2013, Mercedes-Benz responded to Google's push by developing a version of its S-class limousine which drove between Mannheim and Pforzheim, a 103 km (64 mile) stretch, without any driver input.
Now carmakers are testing prototypes on both sides of the Atlantic. While motoring in Germany commonly takes place on narrow roads, highways in the United States are frequently wider and may have more than six or eight lanes. The location of traffic lights and shape of road signs also vary.
In September last year, California granted Mercedes-Benz a licence to test autonomous cars in daily traffic if specially trained test drivers were able to override the autonomous mode at any time.
California was following in the footsteps of Nevada, which passed a law in June 2011 to allow test drives of autonomous vehicles there, a factor that helped Google test its own autonomous prototype in 2012.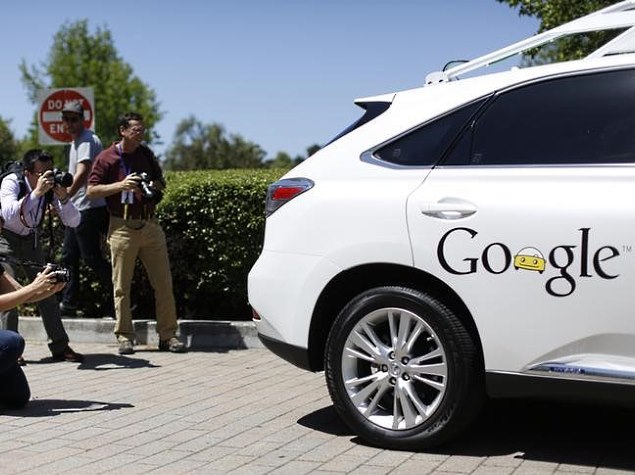 Analysts at Exane BNP Paribas estimate global sales of semi-automated vehicles to reach 8.7 million by 2020, rising to 22.7 million by 2025.
Sales of highly automated vehicles, ones where permanent active input from the driver is not required, will not start until 2020, but then rise to around 9 million by 2025.
But despite progress in technological matters, carmakers are still struggling with ethical challenges posed by autonomous cars.
For example if a small car suddenly pulls out in front of a truck that was obscuring the view and the car is faced with a choice of hitting either the truck or the car. What is the correct reflex for software programmers to code, Winterkorn asked.
"Technologically we can do fully automated self-driving, but the ethical framework is missing," Winterkorn said.
© Thomson Reuters 2015