Most young Indians (and some older ones including many of the people in our team) are not educated in managing their money properly. Whether it's something like taxes or building a monthly budget or even planning investments, these are essential life skills that so many people here are woefully lacking in.
Today though, there's a wide range of apps that can help you out with all the different financial questions that you are facing. We looked at different issues such as knowing what tax to pay, balancing our monthly budget, and planning our investments, and put together a small list of our favourite apps.
Track your taxes with My Tax India
Calculating taxes taking into account investments and other deductions can be intimidating, but My Tax India makes the process really simple. The tax calculator doesn't actually file the taxes for you - but it makes it simple to understand how much tax you do need to pay, and you can experiment with the different settings to learn what the optimum level of investment will be for you. Even if you understand absolutely nothing about personal finance you will be able to use this app. This way, when the time comes to file your returns, you will already know what to expect, instead of getting a surprise at the time. We couldn't find a good alternative for this app for BlackBerry users, since most search results were 1-star or 0-star apps, but the Android app ran properly on a BlackBerry Z10.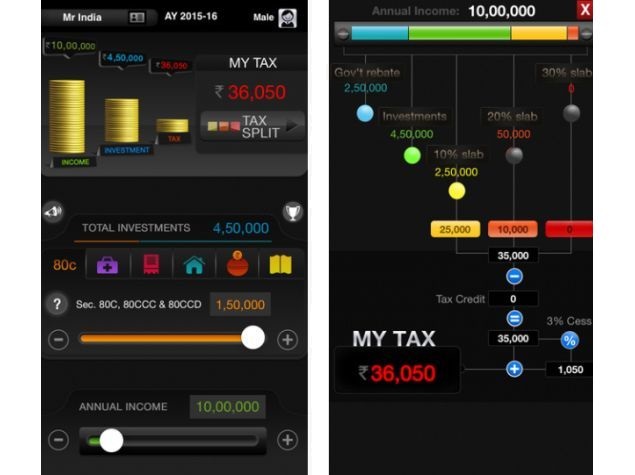 This correspondent filed taxes recently, but had no idea how much money was spent because the salary can make this kind of detail unclear. You need to be able to see this information quickly, and then use it to plan your savings, and My Tax India actually makes this possible.
Windows Phone users can check out Income Tax. This app also takes inputs like home loans, deductions and prepares a report, and has good ratings on the Windows Phone Store.
(Also see: Four Websites for Hassle-Free Filing of Income Tax Returns in India)
Balance your budget with iExpense Diary
One of the biggest problems that many of us face is not knowing how much money you actually need every month. Knowing how much you take home, and how much you spend on recurring expenditures like rent is a start, but you need to know a lot more than that to properly manage your money.
This app lets you enter your income and expenses quickly and comes with a large number of categories you can sort your spending into. By doing this, you can track whether your movie watching budget is out of hand, for example.
You can also save recurring expenses like payments to domestic help and rent, so they get deducted from your balance automatically. This makes it simple to keep track of your money, and if you keep the app on your phone, then you can add an expense in just a few seconds, right as it happens.
That's part one of the process, but part two is why we really liked this app. You can then see charts showing your daily, weekly and monthly spending, analyse it by category (or subcategory - for example, food could be divided into groceries and restaurants) and you can see detailed reports as well.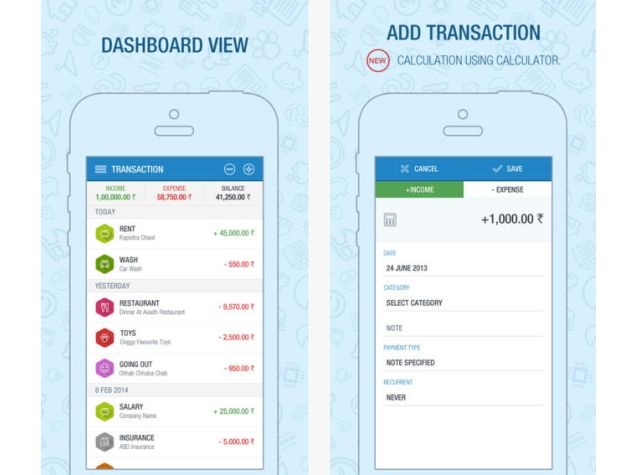 While this app was not available for BlackBerry users, we found ExpensesNotes on BlackBerry World (free) to be a good substitute, with very similar functions and a nice design. With this app, you can even create your own category of spending and assign an image to it, and also search within the expenses.
Windows Phone users can try out Expenses (free) a higly rated app on the Windows Phone Store with similarly streamlined functionality.
For more advanced users, the basic nature of these apps might be a turn-off, but if you're only starting out on managing your money, then the simplicity is a big part of the appeal. More thorough apps like Home Budget Planner (Android, Rs. 222 - free 30 day trial here) give you a lot more options, but there is too much to track and to enter. The result is total confusion. If you want an app that allows you to sort your spending into different accounts, and also keep a separate ledger for money transfers and cash bills, then this is a solid accounting option. If you're starting out and want to track incomes and expenses, then iExpense Diary makes much more sense.
Smart Tracking with Money View: Financial Planning
Free (Android)
Money View is only available on Android right now, but it is a very useful app that automatically tracks your spending. When you install it, you have to give the app permission to access your SMS inbox but that's the only security clearance it wants. As long as you have SMS alerts enabled for your bank accounts and debit and credit card accounts, you will find this app incredibly useful. When you start the app for the first time, it takes a while to load because it is scanning your entire inbox for messages from your financial institutes.
It can then show you the balance in your bank accounts and also show you all the spending you've been doing. If you also get SMS alerts for bills such as your phone bill for example, then that also shows up in the app in the Bills Due section. Trends shows your daily, weekly or monthly spending trends, and cash management tracks all the cash you've been withdrawing from the ATM. In this section, you can just tap one button and add bills, and sort them into categories, so you can track all your cash spending along with the automatic credit or debit card spend tracking.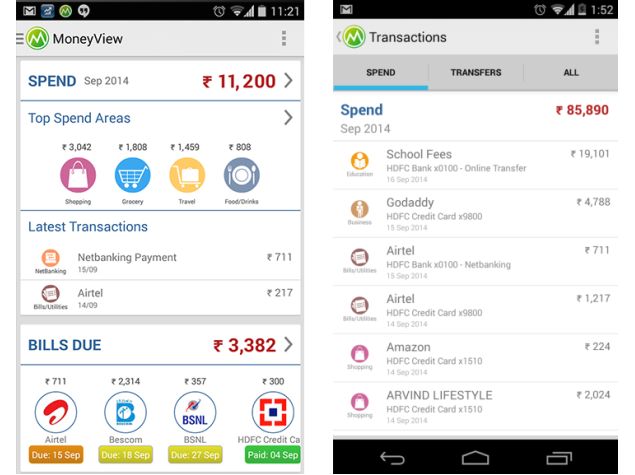 The only problem we found was that some of the incoming SMSes for ATM withdrawals are not always formatted in the same way, and while Money view does track them, it doesn't know what category they belong in and sorts them into the unknown expenses column. This is not a major problem, but it was a little strange. With Money View, tracking your spending becomes almost too simple for words, but you have to ensure that SMS alerts are on for just about every service you use. However, that's a good safety precaution you should probably enable even if you're not using this app, so that's not a negative.
Another popular automatic updating app for Android is Perfios (Free) which can also track your spending automatically. However, unlike Money View which requires no set up, Perfios uses email statements to update, and needs you to manually add your accounts. We found that there were some instances where an email arrived but the statement did not update in Perfios, but this could just be a case of needing a little more time to update, since it isn't accessing your local data. However, Perfios needs your statement password to access even these emails, and you can also save your customer ID and IPIN to directly connect it to the bank. We weren't too comfortable with doing this since we are not too familiar with the company, but the company's website is literally littered with security certifications so we might not be justified in this.
Check your investments with Moneycontrol's Markets on Mobile
Free (iOS | Android | Windows Phone | BlackBerry)
If you've invested in stocks or mutual funds and have no idea what that means for you aside from the fact that someone told you it was a good idea, then congratulations, you're in the same boat as most of the people we spoke to before writing this piece.
Unfortunately that boat is going around in circles because no one has any idea about what they are doing or why. The few people who actually knew what they were doing with their money all had a bunch of different recommendations to try out, but the one thing that everyone we asked agreed on was this app. After having used it, we can see why - it's fairly simple to enter the information about your investments, and once you've done that, you're just one tap away from seeing all your stocks.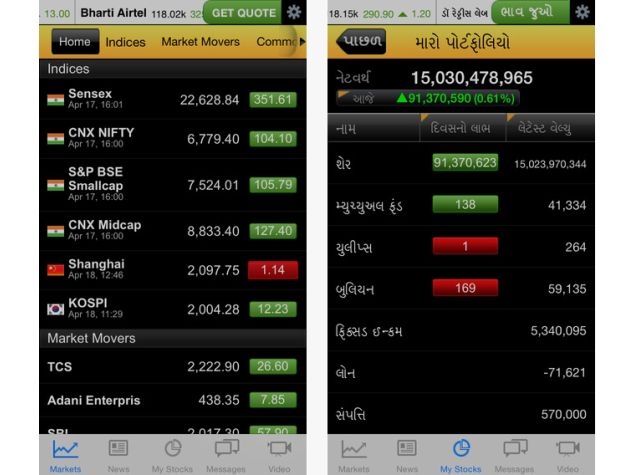 You can see an aggregated view at the top of the screen, telling you if you've made or lost money, and you can also see the details of each individual investment. The different heads are colour coded so that you can quickly see what you need to focus on.
While these are useful features, what makes the app useful for someone who doesn't understand anything about finances is the fact that you can also see the market details in one of the tabs, and read the news that is affecting the markets in another tab in the app. It's a quick way to learn everything you need, while keeping track of your personal investments.
Your bank's app
All the major banks have their own application, and while we started off by trying all our different accounts in different banks to figure out the pros and cons, you can only use the app that comes with your bank account, obviously. So instead of picking one favourite banking app, we decided to look at the kind of features you should expect from your app, and how you can use it.
The app for HDFC Bank is pretty representative, and the one we ended up using the longest. Like all the official banking apps we found, this one is also free (iOS | Android | Windows Phone | BlackBerry). With this app, you can pay your utility bills, view details about your accounts and fixed deposits.
You can also transfer funds or initiate third party transfers and also carry out logistical functions like requesting a new cheque book. A cool feature in this app allows you to locate the nearest ATM. Both this and the Axis Bank apps also show the various deals that the banks are running - these are usually sent to us as printed fliers which most of us don't even take the time to go through, and so having the information easily available in the app is a definite plus.
The all-in-one solution: MyUniverse
Made by the Aditya Birla group, this app provides a unified platform for all your financial work. The app can track your income and expenses, and also investments, and it can integrate data from different banks as well.
The basic app is free, but can only be used to manage two accounts - you can sign up for more features on the website with a monthly fee of Rs. 599 allowing unlimited accounts and billing agencies.
The concern we had (because of which we used it with a nearly empty account to test the system) is that the app stores your bank credentials - the username and password both. There are obvious security concerns here, although the company stated that your data is secured using VeriSign encryption, and that no one else can access your information or make transactions.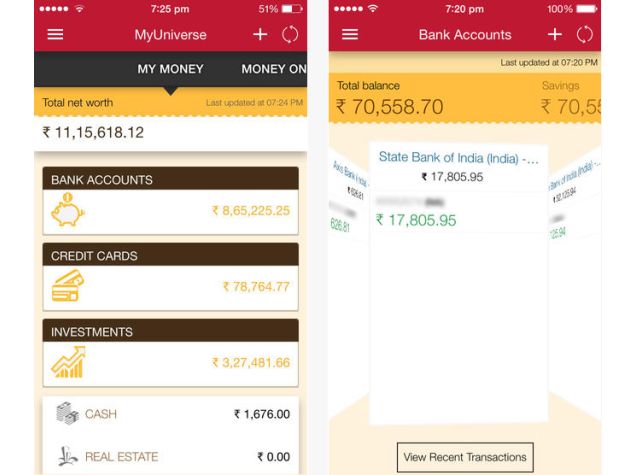 You can use the app to set up automatic payments for your phone bills and other utilities, and other recurring bills such as credit card bills. You can also buy stocks and mutual funds using the app, and it will track your account, income and portfolio. Since it is connected to the bank, you don't need to enter any data manually - even an ATM withdrawal will show up automatically (though this shows up the next day) although you'll need to enter a breakdown of how you spent cash. This means that if you typically withdraw a large chunk of cash and spend from that, then the app isn't very useful - but if you use your credit or debit card regularly for things like meals, fuel and entertainment, then your spending gets tracked automatically.
Where this comes in handy is in planning a monthly budget - the app can show you when your spending in any category has exceeded the month's budget, and help you visualise your spending easily.
Overall, the app itself is really great but aside from the obvious concern about security, the presentation is another area where MyUniverse could use some help - you can quickly see your information, but aside from a few aggregated charts, looking up trends and gaining insights is difficult. If you struggle with accounting for your money at all though, then this could be a big help.
With these apps, you should have your entire finances under control. What is your favourite financial app, and why? Tell us via the comments.