Given the immense popularity of the game, it's safe to assume that most people reading this would have heard of Flappy Bird. Its creator, Dong Nguyen, had removed the game from the App Store and Google Play saying it was "too addictive". But Nguyen needn't have bothered.
Before the game had even been removed from both the stores, you had games like "Snappy Bird", "Flabby Bird" and "Chocolate Bird", not to mention "Flappy Pig", "Flappy Pizza" and even "Flappy Plane" all competing for attention on Google Play and Apple's App Store. You had people making videos to teach anyone to make "your own" Flappy Bird, and even people selling code online, to which you only needed to add your own sprites.
(Also see: Here Are 800 Flappy Bird Alternatives That Are Not Simple Clones)
Today, if you visit Google Play to download Nguyen's new game, Swing Copters, you'll find a lot of clones right at the top of the search results. Swing Copters is not perhaps a great game, and it is much more difficult than Flappy Bird (which was most famous for being punishing), so we're not sure it will become a viral hit. But this hasn't stopped an army of clones from showing up within hours of the original's launch.
The first result to show up on Google's store is indeed the actual game, but the second result is a game also called Swing Copters, which is also free. The second game has a higher rating though - 4.5 star's to Nguyen's 3.5. It is otherwise nearly identical, and while the title on the Play Store is Swing Copters, on the home-screen of the game, you see the name Swing Bird. It's a blatant clone but with eight 1-star reviews against 99 5-star reviews, it's clear that most people don't care, or worse, don't even know this is a fake. The third result is another clear clone called Copters Man. It has a similar looking main character, and identical layout and design. There are only some superficial aesthetic changes.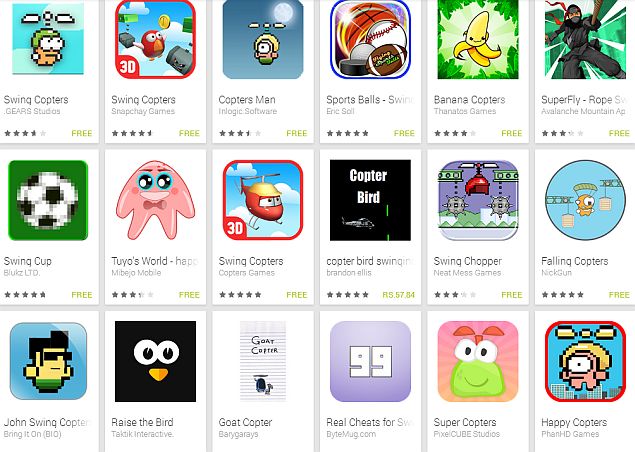 In the first clone, the description reads: "Swing Bird is not as easy as it looks." The second one is briefer and to the point: "Flying with copter man is not as easy as you look". The actual description in the real Swing Copters is "Flying with a propeller hat is not as easy as it looks."
This isn't a problem limited to Google Play by any means. On the App Store, we found Tube Revenge - a game where you control the flight of a tube crushing birds from Flappy Bird. The app was updated on August 19, the day Swing Copters released, and its name is now Tube Revenge - Swing Copters. There's also a Flappy Birds clone called Swing Planes. It was updated on August 21; the game itself is exactly like Flappy Bird, complete with the same background and art. Only the central character has been changed from a bird to a biplane.
The simplicity of Nguyen's apps, coupled with the incredible popularity of Flappy Bird are of course responsible for the huge number of clones that exist for these two games, but this is merely a small part of a much bigger problem that exists.
In March, you might have heard of, or even downloaded a game called 2048. Fewer people would be aware of a game called Threes, which released first on the App Store. A Rs. 180 download is enough of a deterrent that most of the big successes today are free to download.
Threes was cloned in less than a month by a game called 1024, which in turn 'inspired' the creation of 2048. Of course, 2048 was free, and Threes was not, so it got to the point where people might see you playing Threes and think it was the clone.
Faced with this situation, the team behind Threes released pages and pages of emails detailing how their game was developed and evolved over several months. It's a fascinating read even if you're not concerned about the cloning, but considering that a year's hard work was cloned in weeks, and that the clone ended up being the better known game, it is also disheartening.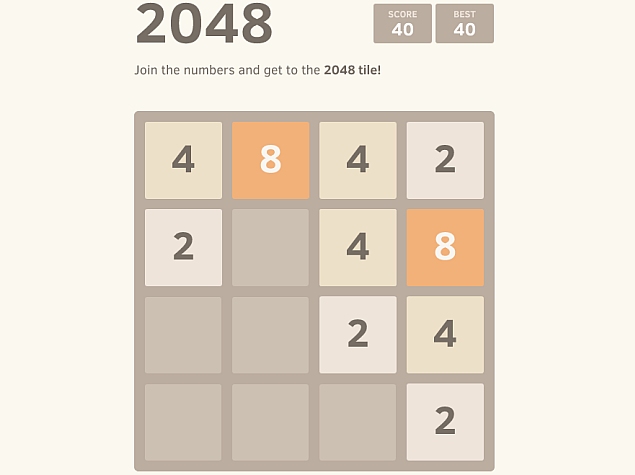 Another high profile incident where this kind of copying took place was when Ridiculous Fishing was beaten to the App Store by a clone. Developer Vlambeer had made a Flash game called Radical Fishing, which was fairly ridiculous, and hugely enjoyable. In the game, you first cast your hook into the water, and catch as many fish as possible while reeling the line in. The fish is then tossed up in the air, and you get points for shooting them before they fell back into the water.
It was stupid, funny, and well made, and the developers started to work on an iOS port. They took some time though, and before the game - now titled Ridiculous Fishing - could be released, a game called Ninja Fishing found its way on to the app stores.
Ninja Fishing (which has a 4.5-star rating on both Google Play and the App Store) has you play as a ninja who casts a fishing line into the water, and then catches as many fish as possible while reeling in the line. The fish are then tossed into the air, at which point, instead of shooting them, you slash the fish, in a manner that is very reminiscent of Fruit Ninja.
Cloning is, in fact, a common practice on both app stores. These duplicates bolster the number of apps available on the market, and the audience is large and scattered, and largely unaware of the cloning.
With near identical descriptions, names and screenshots, the average buyer won't recognise a clone - and won't be able to do so even when playing the game. That's the point of cloning after all. If the app then nudged you to give a 5-star review... then it could easily compete with the original in ratings, and then get even more downloads.
In fact, you'll even see comments on app stores where people say things like "I know this game is a clone, but it has better graphics so download this instead." As long as the general consumer doesn't know or doesn't care that a game is a clone, it's very unlikely that either Apple or Google will take any steps to remove clones.
What this means though is that we're locked in a race to the bottom - clones make it harder for real developers to come up with original ideas and still make money - Threes being a case in point. The stores are increasingly being filled with licensed properties, clones and little else, with the flow of innovative ideas slowing down to a trickle.
In the long term, this will also hurt the companies whose app stores are getting filled with junk, which is why we hope both Apple and Google come down more firmly against cloning.