Pune-based mobile app startup Optinno Mobitech Pvt Ltd, the makers of an MIT Award winning spam blocker app SMS Blocker, have released a new app called smartbro, which provides a host of postpaid billing features to prepaid users in an app that puts balance indicators on the dialer. The app has a 4.5 star rating on Google Play at the time of writing, and supports four languages - Hindi, Marathi, Gujarati, and English.
"This kind of a product empowers a lot of common people. It's not anything like games or fun, it's something which is designed to give information to the user which has value," says founder and CEO Sagar Bedmutha in a phone conversation with Gadgets 360. The startup wanted to leverage the intellectual property and expertise gained from its SMS Blocker app, which he says has seen more than two million downloads. He was confident that his app has more scale, given the size of the addressable market, and the pain points it solves for them.
"Nobody cares about people using prepaid"
Prepaid users often have no clear way of knowing how or why their balance was cut, and have to remember complicated codes to check their remaining balance and pack details. Dual SIM usage complicates the problem. Operators are known to put users on a value added service packs by flashing VAS offers on the phone, which leave no trails, and users often inadvertently end up signing for one or more of these. "Nobody cares about people using prepaid," says Bedmutha. "We built this platform specially for the segment - which is 95 percent mobile users in India," he adds. This is confirmed by the latest Trai data published in November 2015, which counts 95.57 percent of users on prepaid accounts.
"It is operator agnostic, and leverages the Android platform to create data analytics on usage, and presents it to the user at the right time, without any user input," he explains. "When the user opens the phone dialer to make a call, the app automatically shows the real-time balance available in each SIM. That's really path breaking - engineering wise, it's very complex. But if you see it from an empowerment perspective, this app is useful for both young and old people, in towns and villages. That balance information enables them to call with confidence."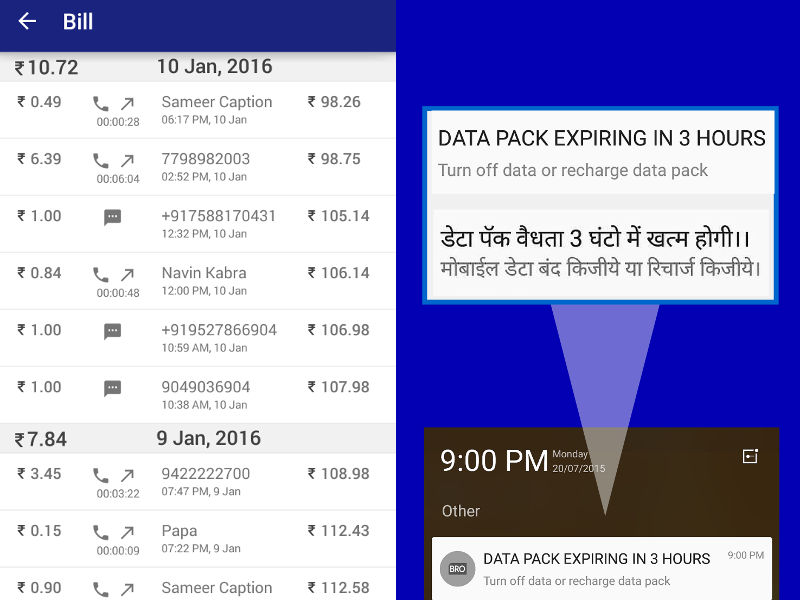 Smartbro recently got the attention and endorsement of Google India's Managing Director Rajan Anandan, an active investor in early stage startups, who describes the app as "built for India".
Based on proprietary patent pending technology, the smartbro app also alerts the user three hours before data pack expiry to prevent prepaid balances from hemorrhaging. The app also shows details to help the user understand which apps are consuming data, on an app-wise, day-wise basis.
(Also read: 10 Tips to Cut Down Your Mobile Data Bill)
Smartbro currently supports three Indian languages - Hindi, Marathi, and Gujarati - and support for more regional languages is coming the next three months. "We have a huge population which doesn't understand English. All mobile companies give whatever information they have about their prepaid account, only in English. Imagine from a communication perspective, how broken it is," says Bedmutha.
The feedback for the app has been positive - Bedmutha shared the testimonial of a user who found out that his operator had wiped Rs. 210 from his account. He managed to get a refund back from the operator after establishing that the money was deducted without any valid reason.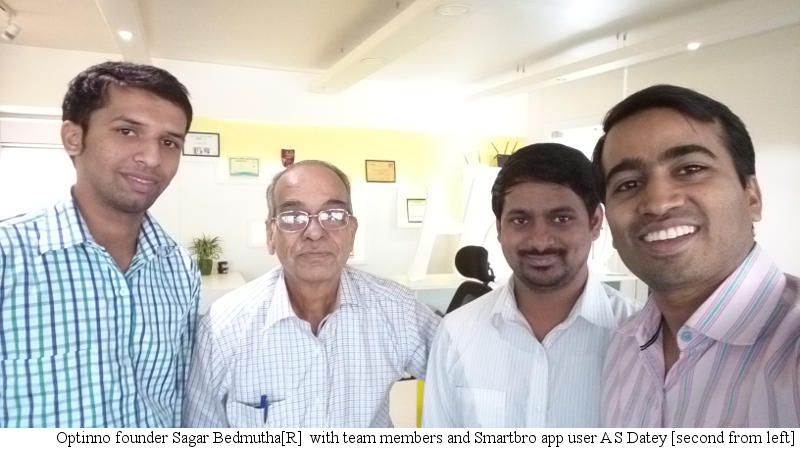 A S Datey, a 75 year-old ex professor of NMIMS who lives in Pune, is an enthusiastic early adopter of the app, and has been a regular visitor at the team office. He says that the app was extremely useful for senior citizens. "Particularly if you have a phone with a dual SIM card, this is readymade information, at the flick of a finger. You know what is the net pack balance. It takes a long time if you go to the service provider," says Datey.
Copycats could easily spoil the party, but the startup has prior experience in fending off competition. "We had more than 50 apps doing SMS blocking when we came up with SMS Blocker," says Bedmutha. "But we became the number one in that category. We have unique strength of building deep level Android apps And we swear by innovation, so we will always have significant edge over others." The company has also filed a patent for Smartbro. Bedmutha says that he has been filing patents since the age of 19, and strongly believes in creating and leveraging intellectual property rights.
Optinno is a bootstrapped and profitable team of four at present, and is focused on getting more users at present. The startup hopes to build a scalable and profitable business, which could be ad funded, but in a way that doesn't dilute the user experience, Bedmutha says. Also on the cards is a Smartbro app for postpaid users, which will look at fixing pain points to make communication easy.