You've probably been hearing a lot of astronomy related terms of late. Mars is in opposition and we're going to have a Blood Moon soon. It sadly won't be visible from India, but that shouldn't stop you from learning more about it. Of course, most of us wouldn't be able to find Mars even if our lives depended on it.
Don't feel left out though. There are some great apps that can help you if you have a smartphone - they take information from your phone's location and the angle at which you're holding it to show you the sky overhead, let you pan and scan manually, or even search for celestial objects. Get one of these and you'll be talking like a pro in no time.
Night Sky lite
For Android and iOS, this free app (pictured at the top) doesn't look too spectacular - it's got a barebones visual presentation, but it loads instantly, and has some cool features like a map of light pollution and updates on "stargazing weather" in your location.
It lets you search and locate celestial bodies, so if you want to impress someone by showing them their sun sign, then this is a quick and easy app for the job.
NASA App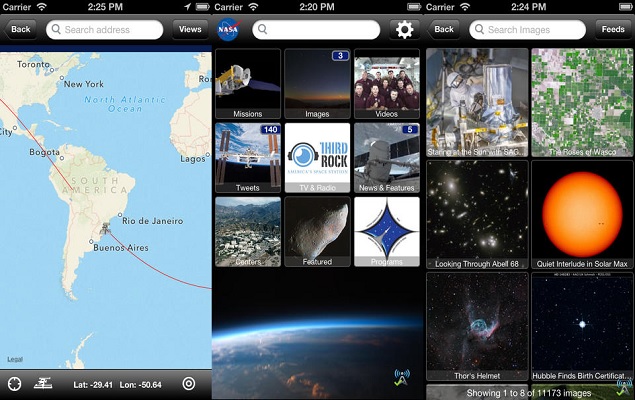 The official Nasa app on Android and iOS is free, and obviously full of a lot of high quality content. Aside from giving you a look at the celestial bodies above you, the app has a countdown clock that can track ISS sighting opportunities, and you can also track what the agency is working on, with images, news, satellite trackers and video streams from Nasa.
SkySafari 4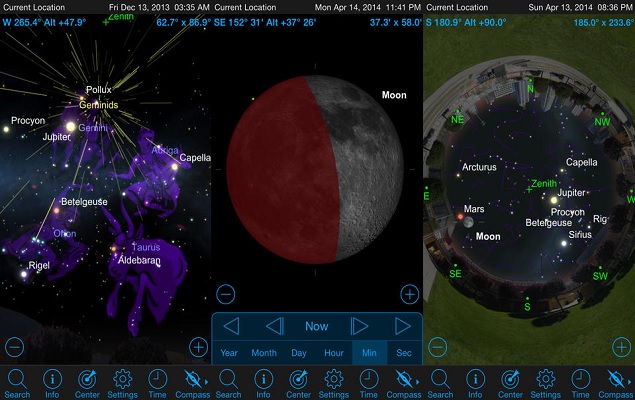 This paid app is expensive, but worth it. You can get it for Rs. 180 on Android and Rs. 60 on iOS for a limited time sale. Using NASA spacecraft imagery, the app isn't just about the fun of pointing at the sky and identifying celestial bodies. Instead, it's an educational tool which can simulate the night sky from anywhere on Earth, up to 100 years in the past or the future. Aside from using the motion controls to locate celestial bodies, you can animate transits, track eclipses, and you can also read up the history, mythology and science of all these objects as well.
Another cool feature is that it's connected to the mobile portal of Sky and Telescope, which means that you get alerts about all major events that you might want to watch, such as meteor showers and eclipses.
GoSkyWatch Planetarium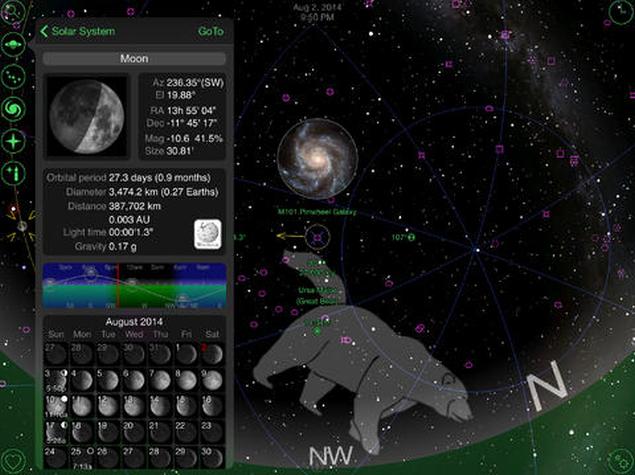 This iPad only app is our favourite on the list. It looks amazing, it's free, and it works so beautifully. The huge screen means that you can see a large cross section of the sky at any time, and it makes great use of the touch interface - to learn more about any celestial body in front of you, just tap it on the screen.
You can see information from Wikipedia and other sources as well, and you can search for objects in the sky, zoom into a part of the sky, there's a red light mode to protect night vision, and planets are shown with brightness relative to stars, so that there are no giant graphics to keep you from actually identifying what you're looking at.
The app is super easy to use - there's a lot of customisation possible, and features like night mode and a 180-degree display make it easy to actually use this while looking at the real sky as well.
StarTracker on BlackBerry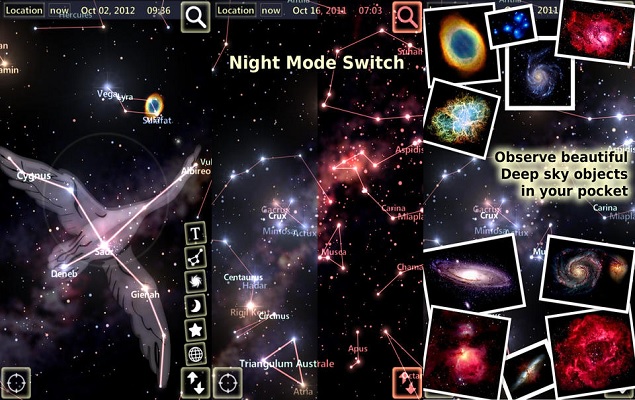 This app costs Rs. 170, and it's also one of the best looking options around. Hold the phone towards the sky and all you can see are the stars. It seems basic, until you tilt the phone down, and get a slew of options.
As soon as your phone is level with the ground, the menu pops up automatically and there are a lot of cool settings. Auto zoom waits for you to pause on any celestial object for a second and the screen starts to zoom in. Handy if you're trying to look at Mars but Virgo takes up all the space. You can toggle titles, constellations' outlines and shapes, deep sky objects, gridlines, and you can also search for any celestial object. So the next time someone solemnly says, "Mars is bright tonight..." Just hit up the search function, find the planet, and say, "No it's not, stop lying!"
Astronomy Hub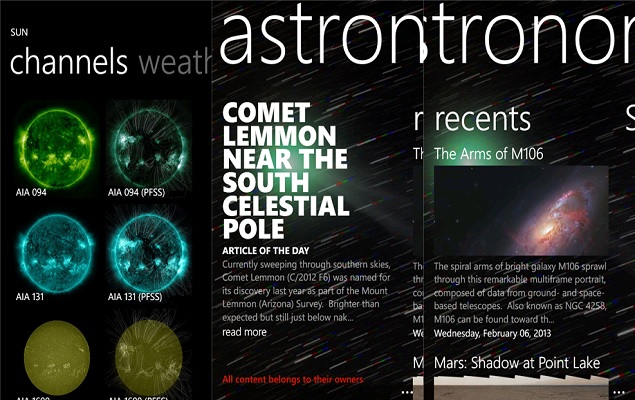 This free Windows Phone app claims to feature more than 1TB of data, with a download of less than 2MB. That might be less of a plus once you realise that a working Internet connection is required to get the value out of the app, but it does bring a lot of cool features, including raw images from the Curiosity rover on Mars, realtime channels from Nasa, archived videos and scientific news.
Pair that up with the metro specific design and you end up with something that is pretty interesting. The app is incredibly stylish, and one that Windows Phone users should snap up.