A tablet or smartphone can't replicate the feel of watching a real game during the Fifa World Cup, but as you wait for the game to begin, or the half time to end, there is always time to kill, and what could be better than a football game in your hands.
Here are our seven favourite football games, which you can download as your wait for the action in Brazil to commence.
1. FIFA 14 by EA Sports
FIFA 14 by EA Sports released on mobiles a while back, but a recent update has brought all the World Cup related updates to the app now. It is available for iOS, Android, Windows Phone and Blackberry 10.
Unlike on the console, where the World Cup version of the game was released as a completely new game in May (read our review here) the mobile version gets all the new outfits, locations and even the official match ball "Brazuca" free.
The touch controls can be a little uncomfortable when playing this game, but you get the full experience, official teams, jerseys, the players' names and likenesses, and the graphics are superb.
(Also see: How to Watch Fifa World Cup 2014 Online)
You can play through the World Cup or rewrite history by recreating the matches you're watching on the big screen with this app, which is free to download, though the 1GB-pus file size might act as a deterrent to some. If the game runs well on your device, then you might want to get the Rs. 300 premium unlock, which lets you access all the content.
2. Real Football 2013
Made by Gameloft, Real Football 2013 has incredible graphics, average gameplay, and some interesting team management to keep you occupied. On the other hand, it suffers from touch controls that are really cumbersome and inaccurate, and the game feels excessively difficult as a result.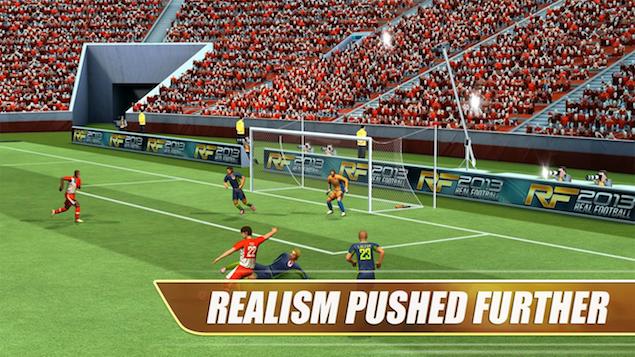 It is available on Google Play, App Store and BlackBerry World. The game allows you to develop the facilities at the club, custom design your own kits, hire new staff, players and coaches, and even lead a team to the top division of European and World football. You create your own franchise and explore all the aspects of modern football.
The actual play is stilted and basic, and sometimes the team management can seem a little too focused on monetisation rather than enjoyment. Still, despite some caveats, there's fun to be had with this game.
3. Football Manager Handheld 2014
For all those who have always dreamt of running a club with an iron fist to take it to the very top of footballing glory, the latest version of Football Manager Handheld by Sega, would work pretty fine. The sheer number of features, which range from creating a club from scratch to recreating a classic team or building a squad with family and friends, is overwhelming. A more real transfer system, post-match conferences make it an experience in itself. The game is not free, and you can get it on either Google Play or the App Store for Rs. 620.
The game is famously deep (and a little inaccessible for most people) in its desktop avatar. On mobiles, the experience is thoroughly stripped down, and trades complexity for speed, letting you quickly assemble your team and send them out. The highlights are presented in a 2D view, complete with commentary, and while the tactical options might feel a little light, the game is still incredibly engrossing.
With that said, this is clearly not the game for everyone - instead of amazing on-pitch action, you're getting analysis, and that can wear a bit thin for some. If you're the kind of fan who could build spreadsheets for a fantasy football league, you'll feel right at home with this game.
4. Dream League Soccer
This game - which is a free download for Android and iOS - also allows you to get into the intricacies of football first hand. Impressively, it manages to fit in less than 150MB and while it might not be as good looking as FIFA 14, it is still a pretty game.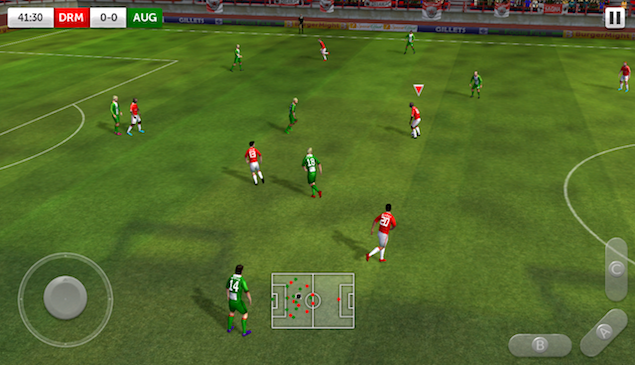 In this game, you play across four leagues and develop your own team. There is also a great multiplayer mode, so you can play with friends. This is possible both over the Internet, and over ad hoc Wi-Fi connections if you get your friends to gather in the same room.
This game simplifies the controls to just three buttons, and the movement, which is limiting in many ways, but also makes it easier to keep up with actually playing the game when on a touchscreen. As a result, the game often feels smoother and more immersive than some of the others in this list, simply because you are rarely thinking about how the controls work.
5. Flick Kick Football
Unlike the other games in this list, Flick Kick Football focuses on just taking penalty shots and free kicks. It also relies entirely on gestures instead of virtual buttons, and in many ways, it is also the best mobile game in this list, because it plays to the strengths of the platform, delivering bite-sized entertainment that you don't take too seriously.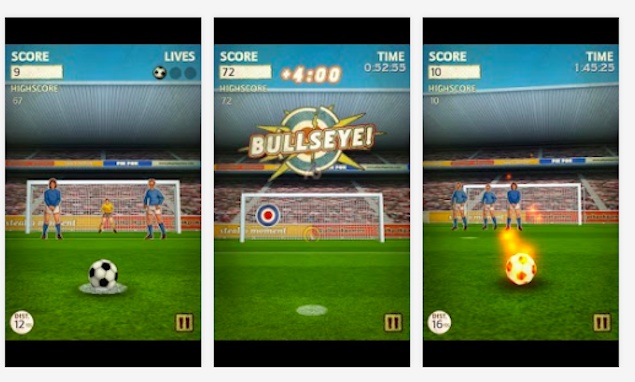 Available for Rs. 60 on Google Play and the App Store this is one of the most entertaining football games around, although it doesn't have the same realism (of gameplay or graphics) as most of the other games in this list. It is, in fact, the kind of game you might enjoy a lot even if you are not a football fan.
On the other hand, people who are looking for highly realistic graphics, and real players to run through full length matches will not find much to enjoy.
6. Pixel Cup Soccer
This iOS game is a throwback to earlier times, and looks and plays exactly like a classic arcade game from the 90s would. The graphics live up to the name and the blocky pixels look amazing. The controls are extremely simple - you have one virtual stick and just two buttons. Two players can play on the same iPad, and if you played football games on the old Sega consoles, this game will feel very familiar.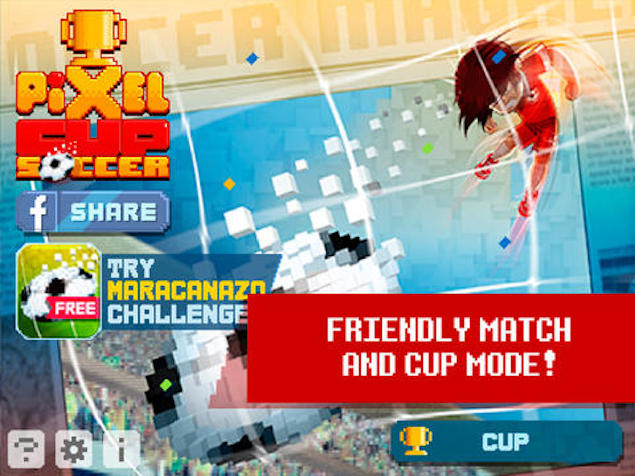 It's a paid game, costing Rs 120, and it can be pretty difficult until you get the hang of the game. You also have no team management at all. You just jump in and play, but the graphics are great and faithful to the inspiration behind this game, and if you grew up playing games in a video arcade, then this will really hit all the right notes.
7. Fluid Football
This game might not have the same visual appeal as some of the others in this list, but it is still one of the best choices right now, for Android and iOS both. The app is free, with in-app purchases for the different teams. Instead of controlling players with a virtual stick, you can have a top down view of the football stadium, and you can pause the action to draw the paths that your footballers will follow.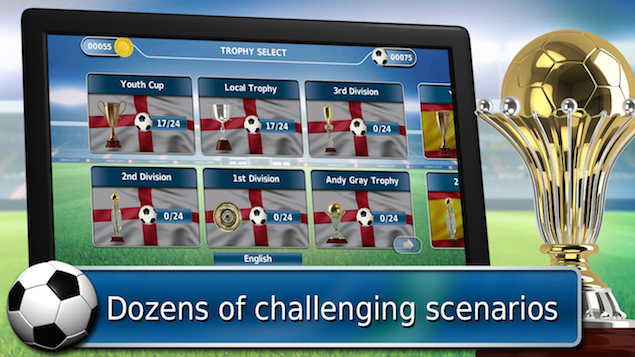 Plan out kicks and passes, and then switch to the real time 3D view for precision shots at the goal - it's a very elegant solution to the controls problem, and turns football on your mobile into a tactical game that will appeal to both football fans, and people that enjoy strategy games.