Christmas is around the corner, and so is the New Year and that means that it's getting close to time to plan parties, host dinners, and generally kick back and have fun. Parties are great, but they can be a lot of work as well, but there are quite a few apps that will help you with everything from invitations to planning the food to entertainment for your guests, or helping them get a cab home before they pass out, depending on what kind of party you're hosting. Here's a list of all the apps and websites you need to check out.
1. Invitations
The first thing you need for a party is guests, and there are a lot of ways to invite people. You could of course just call and email people, and while we're at it, lets just start using feature phones again because apparently we live in 1999.
A much better option would be to use Facebook - it's easy to create an event (just click the "+Create" button to get started) and you can send out invites, set a location and time, and people can leave comments and help you plan things out.
Another option would be to create a WhatsApp group with all the party invitees, and just tell them to come, but that makes it very hard to keep track of all the plans - from experience, we can tell you that it leaves you with more scrolling than is reasonable.
While those are useful enough, you need to be friends with all your guests on Facebook or WhatsApp, which might not always be the case. Also, there's not much you can do to customise the look and feel of the message, and so we wanted to see what other options were available.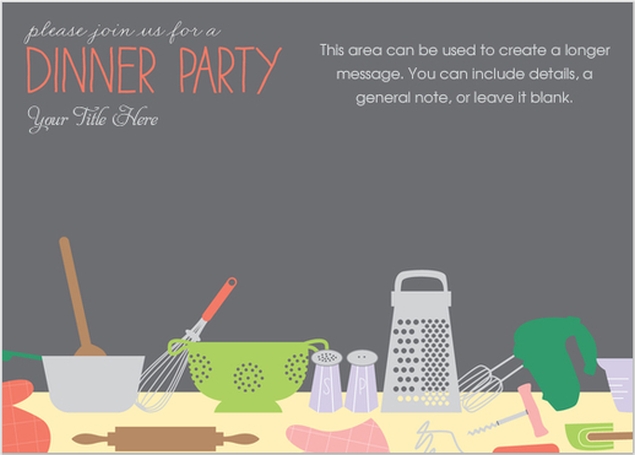 What we really loved is Celebrations - the site allows you an incredible degree of customisation, and lets you send the invite as an email, or a webpage. It lets you send it with RSVP tracking and it has a collection of free and premium designs to choose from. You can set up a guest-list with email addresses, and so much more.
The messages themselves are saved and can be accessed at a later point, so you can take your time and craft the perfect invitation, and if you don't mind seeing a couple of ads in the corner of the page, then this is entirely free too.
Setting up a card is a simple process, and inviting 20 people for a New Year's party took us exactly ten minutes to do. And since you need to sign up for a (free) account to send the invites, you can even go back to the site later and add more invitations. And of course, you can track the RSVPs, embed a Google Maps location and even adjust the timing of the party based on the RSVPs the people you've invited give. Once you're done, you can send the card as an email, or you can share its URL with your guests.
Another tool that can help is Evite. The app lets you create the cards directly from your phone, and this means that you can simply choose the people to invite from your contacts. You can also set up push notifications for RSVPs and other updates, but it doesn't have integrations with social networks. Overall though, the experience of using Celebrations was just smoother and easier, so we would recommend it over Evite.
2. Directions
After you've invited people, you want to make sure that they can actually find you. If you're using WhatsApp, then you can share your location with your guests a couple of hours before the party actually starts, and they'll be able to use that to find you.
(Also see: How to Share Location on WhatsApp)
Facebook lets you set a location for events, and so does Celebrations, which we talked about above. And you can always share your location through Google Maps as well.
But aside from this, there are some standalone apps that let people see your current location, and you don't need to send this information as an email, or be connected on Facebook to share it.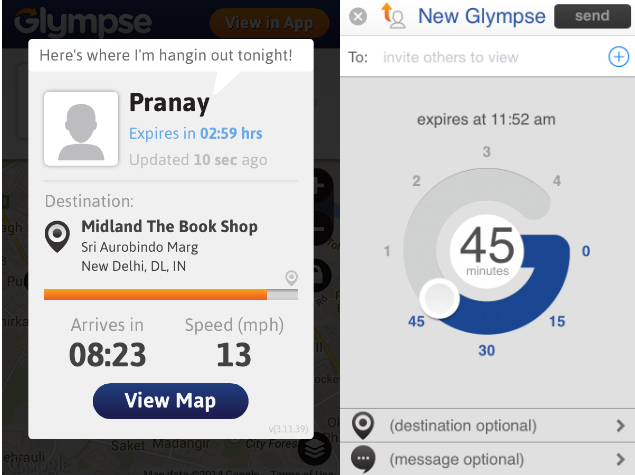 And best of all, it's a one-time thing that will be deleted after it's been used, so you're not going to have to tweak any settings or delete anything when the party is over.
(Also see: Apps That Answer the Question: 'How Far Out Are You?')
We already wrote about these types of apps, and for the party, our choice would be Glympse, since you can set how long the link is going to be active, use it to share exact locations down to the house level instead of Google Maps which will only guide people to the apartment complex, and you can set how long you want the link to be active.
3. Food
So the invites are sent, and people know where they need to come. The next step for you the host is to figure out the menu, and the best way to do that is to use Pepperplate. The app is free on iOS, Android and Windows and it is perfect for everything from planning the menu, to deciding what to shop for, and then showing you individual recipes to follow in the kitchen.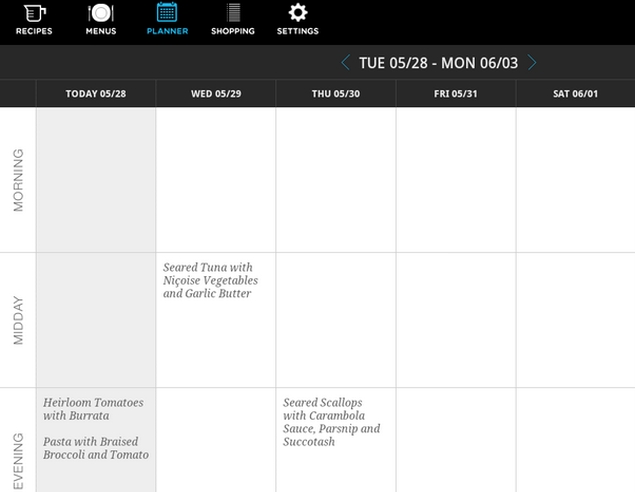 You can first go through the recipes and choose the dishes you want to serve, then adjust the quantities for the number of guests. Once you've done that, you can make a shopping list for all the ingredients you need and all this is synchronised across your devices, so you could plan at home using your computer, then shop while referring to your phone, and finally, take your tablet into the kitchen when you're cooking. You might not find too many recipes for butter chicken, but if you're planning pasta and lava cake, you'll be fine.
There are plenty of other recipe apps, but we couldn't find anything else that delivered the complete package in as simple and nice looking a manner, so Pepperplate is an obvious choice.
4. Drinks
Serving beer and liquor as-is is obviously the easiest option, but unless you're going all out on the quality of your hooch, that's not really going to impress anyone. On the other hand, there are some great apps that teach you how to make cocktails that will be remembered by all your friends. Mixology is one of the older ones around, and it's popular for a reason. Free on iOS and Android, this app lets you browse through thousands of recipes, but the really cool part is the "liquor cabinet" function. Just choose the ingredients (liquors and mixers) you have in your house, and the app will show you the different types of cocktails you can make with just what you have at hand.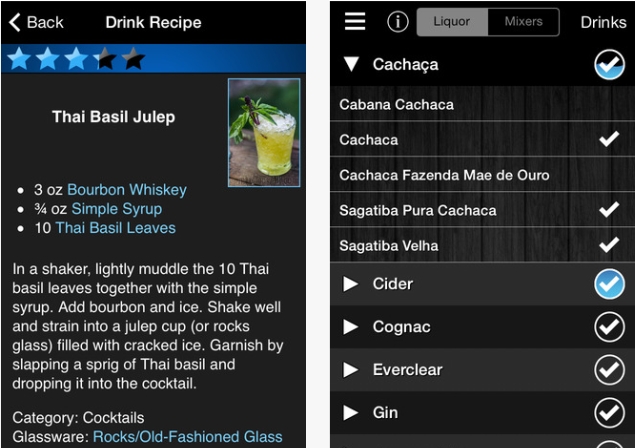 If you have the cash to spare for something a little more professional, then check out Speakeasy Cocktails. This app has over 200 recipes, and also 90 minutes of video tutorials that will show you how to actually build a professional looking cocktail. Because reading "float a layer using a spoon" makes a lot leess sense than actually watching it. The only catch is that the app will set you back by Rs. 620, but that's less than what a professionally produced book with these recipes would cost you in a bookstore.
5. Music
There are a lot of diferent apps you can look at for music at your party. Our pick is to hook up YouTube's TV mode on a projector, so that anyone can pair to it and queue up the songs they want. If you've not connected your home center or don't want videos, there are a lot of apps you can try.
Apps like Gaana, Saavn and Wynk let you quickly and easily stream audio off the Internet, and don't really require a very high speed connection either. We tried them all and Wynk was our favourite, but all of them are pretty handy.
(Also see: Gaana, Hungama, Saavn, or Wynk: Which is the Best Music Streaming Service in India?)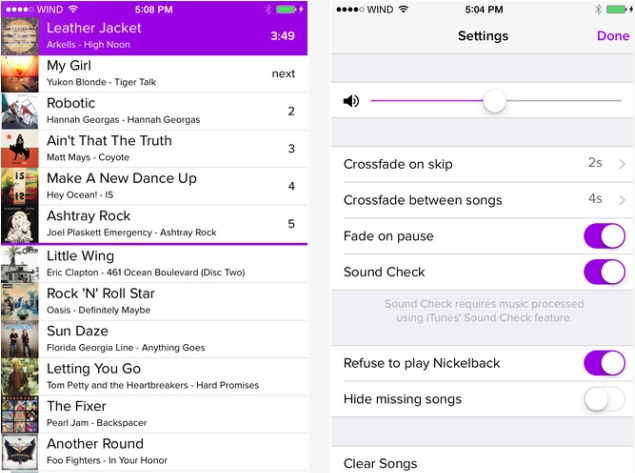 You could also use Party Monster - the app will set you back by Rs. 190, but it's pretty cool as it lets you queue up all your locally saved music and crossfades from song to song. If you have a good collection of locally saved music, then this is a great way to set up music for your party, because you can control the entire app with gestures, so you don't even need to look at the screen to stay on top of the music.
Just tap a song in the list to queue, and you can slide to play a song, or remove it from the list. Since the app also supports AirPlay, if you have any connected speakers then the entire process becomes seamless, and the app also has a "Refuse to play Nickelback" option, just in case.
6. Games
In case your party more Dungeons and Dragons than Rock and Roll, there are some fun party games your phones can help you with.
Our favourite party game is always going to be Spaceteam, which is free for iOS and Android. Your devices connect using ad-hoc Wi-Fi and you each have a different set of controls in front of you. On your screen, you'll see an instruction flash, which might be about a control on your device, or on a friends'. You'll be screaming and shouting as people scramble to co-ordinate the controls before the spaceship is destroyed, and everyone can have fun with this game, even if you've never played a single video game in your life.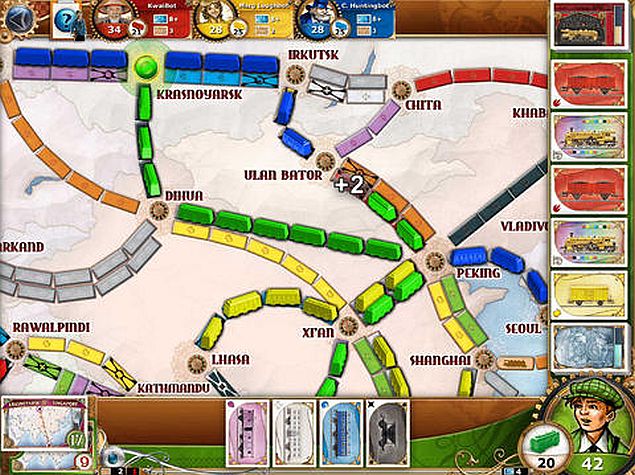 Heads Up (by Ellen Degeneres) is another fun game that's available on both iOS and Android - the app costs Rs. 60 on iOS and is free on Android, and includes in-app purchases on both platforms. In this game, you hold the phone facing your friends, and they will give you clues to help you guess the word being displayed. The best part of the game is that it records the entire session so you and your friends can then rewatch the video of them trying to get you to guess the correct answers.
(Also see: Eight Amazing Board Games You Can Play on Your Tablet)
Tablets are particularly good if you want to play any board games, and we've already made a pretty long list if you need any suggestions, linked above.
7. Transportation
Once the party is over, people need to go home, and if it's been a successful party then people shouldn't drive.
These days, companies like Uber and Ola are going through a little trouble in India, so your options are a little limited right now. However, radio taxis (like Meru, Mega etc) are still active, and they have been implementing Uber like facilities themselves.
Having relied extensively on Meru for the last two weeks, we can vouch that hiring a cab using the app is a lot faster, and a lot more convenient, than calling the company ever used to be. The app is free on iOS and Android, and it uses the phone's GPS to pick up your location. Waiting time was frequently only 5-10 minutes, and you can store money with Meru's wallet so you need not carry cash at all times.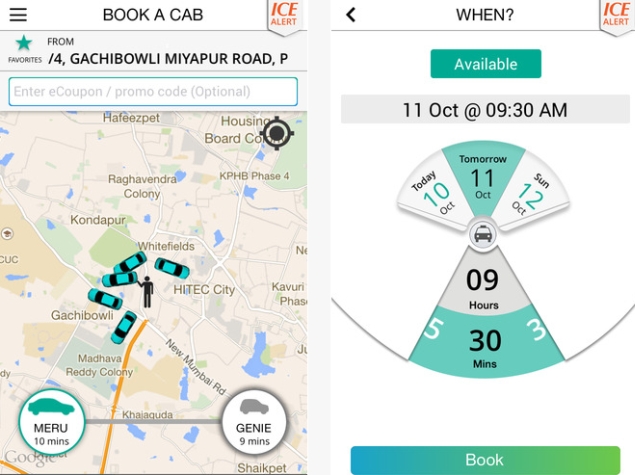 Competitors like Mega Cabs - free on iOS and Android - offer similar features, but need more polish. Meru's app is not as good looking as Uber or Ola, but in terms of functionality and ease of use, it fully matches them, unlike Mega.
These are our seven picks for apps and sites that can make any party a success. Have we missed a favourite of yours? Is there something else you think a party needs? Tell us via the comments.