Moved into a new place? Maybe shifted cities? There's a lot of work you need done around the house, and you probably don't know local contractors who are trustworthy and efficient. Luckily, whether you need help in fixing a leaky tap, or drilling holes into a wall, or getting new fittings made, there are a dozens number of Internet startups in India that serve either as intermediaries, or direct providers of a standardised service to do your laundry, dry-cleaning, plumbing, carpentry, and other home services. You can book an appointment with a tattoo artist, an accountant, interior design professional or a wedding photographer through some of these apps.
(Also see: Is There a Market for 'Uber for Handymen' in India?)

These apps provide services that have a lot in common with personal assistants, except that instead of being only app or chat-based, they're accessible via other mediums, the Web, phone, and SMS, all trying to capture a bit of the value chain through aggregation, as listing platforms, or specialisation, by offering standarised services with licensed, background checked professionals at your doorstep. Here are some of the more popular ones.
(Also see: Indian Apps to Outsource Your Everyday Tasks)
1) Doormint
Operational In: Mumbai, Gurgaon, Bengaluru
Download: Doormint for Android Or Doormint for iOS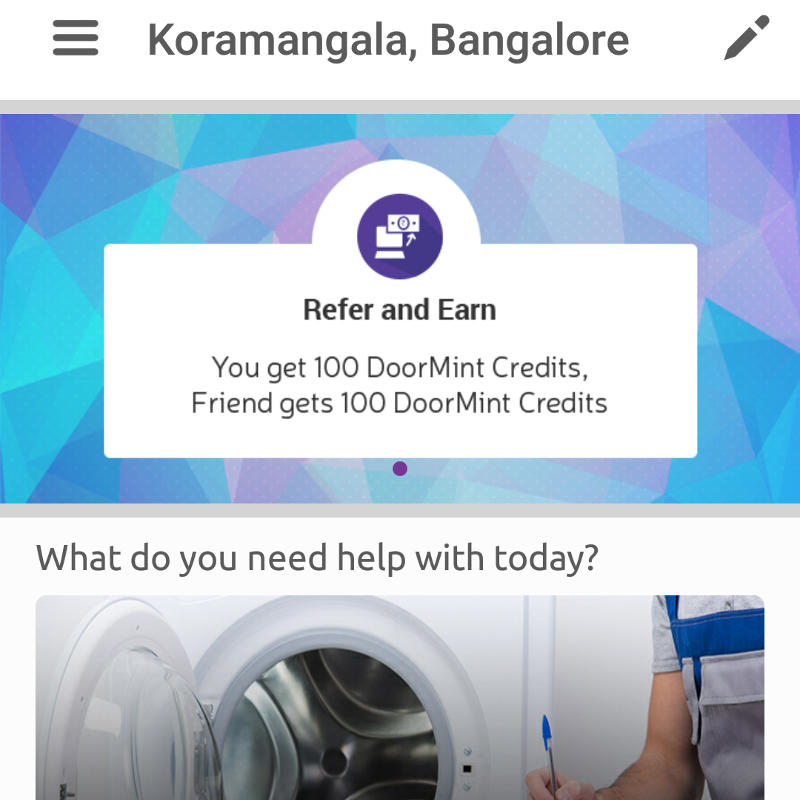 DoorMint is a mobile first home services marketplace that aims to provide doorstep home services ranging from carpentry, plumbing, laundry, electrical work and appliance repair. While the service is fully operational in Mumbai, only some verticals are serviced in Gurgaon and Bengaluru.
Bookings can be made only through the app. Doormint's pricing is based on the task - instead of an hourly rate. It costs Rs. 350 to install or replace a ceiling fan, Rs 100 to fix a leaky tap or shower, and Rs. 200 to repair a chair. Doormint publishes a price list for all number of categories on the site. Bookings can be made on the same day, and can be tracked using the app.
2) UrbanClap
From: GurgaonOperational In: Delhi NCR, Mumbai, Bengaluru, Chennai
Download: Urbanclap for iOS, Urbanclap for Android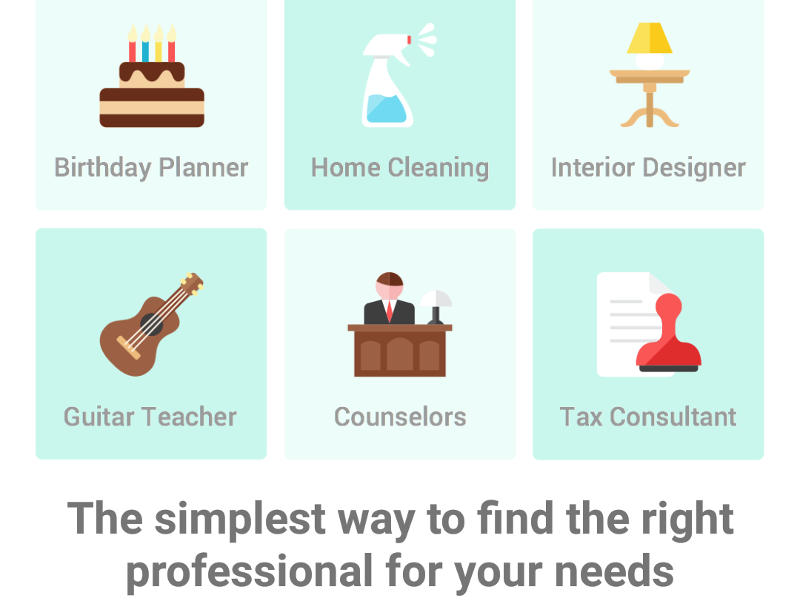 UrbanClap helps you find professionals across 44 categories that cover a broad range of categories from home services, events and weddings, personal services like tiffin, yoga, salon at home for women, and interior designers. Bookings can be made on the Web as well. Unlike JustDial, UrbanClap only shares your number with the one professional assigned to your booking.
Service professionals can register on UrbanClap's merchant app, respond with a quotation and book an appointment. The latest version of the app lets you share a professional's profile with your friends and relatives, to get feedback from them before hiring the professional.
The minimum cost for an plumbing, electrical and carpentry work is Rs. 250, while electrical work is Rs. 200. If the work goes beyond an hour, plumbing, electrical and carpentry work costs Rs. 450 per hour, while electrical work costs Rs. 350.
In its last funding announcement, it had expressed its intentions to scale operations pan-India.
3) LocalOye
Operational in: Bengaluru, Delhi, Mumbai, Gurgaon
Download: LocalOye For Android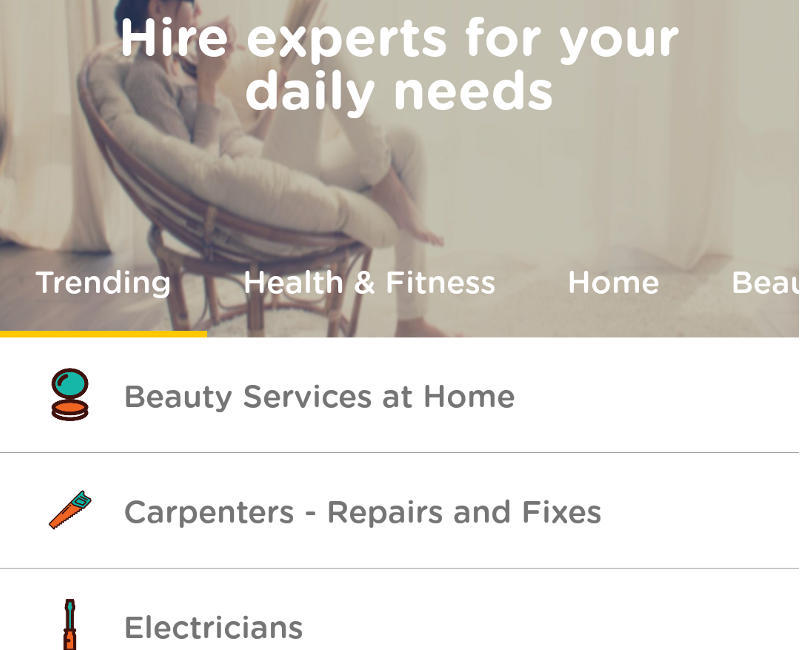 LocalOye lets users find service professionals in your area covering categories like fitness, home appliance repairs, tiffin services, housekeeping, and more. You can fill out a form with detailed requirements, LocalOye notifies relevant professionals and sends quotes from the best matches within six business hours. Users can compare, check profiles, and chat with the ones they want to engage with.
LocalOye claims to have a rigorous and 45 step process of skill testing, ethical guidelines test and a strict background check on its service professionals. Requests for bookings can be made on the Web and via the app. Visiting charges for electricians, carpenters, and plumbers are Rs. 200. There was a 24 hour gap on pickup time, when we booked the laundry service, with delivery taking another four days. It costs Rs. 9 to iron a shirt, 19 to wash and iron it, and Rs. 60 for dry cleaning.
4) Qyk
Operational in: Bengaluru, Mumbai, Delhi, Hyderabad, Chennai, Pune, Kolkata.
Download: Qyk for Android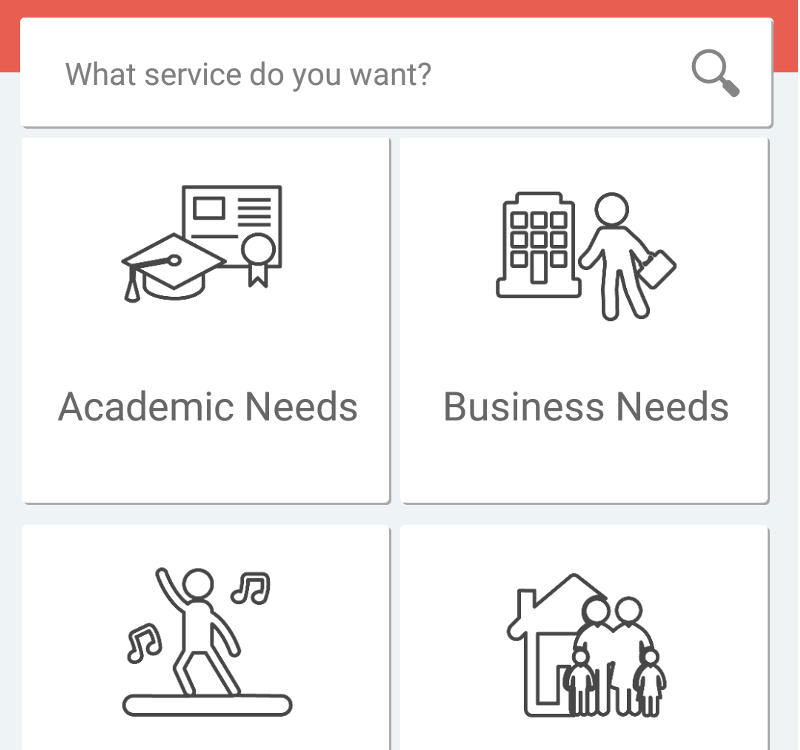 Founded in 2014, Qyk is a mobile first local services marketplace provider with apps on Android for users and businesses to find each other. Users can register their requests through the app, professionals can bid for your request, service quotes are accompanied with comprehensive portfolios.
Qyk's marketplace includes service professionals for party catering, music, other than academic, home and business needs. The different service professionals give their quotes depending on the tasks mentioned in your post, so Qyk doesn't set a base price on services provided. It takes around 12 working hours to get quotes from service providers, before the work will be started, which means it is not the best bet if you want some work done urgently.
5) Near.in
Operational in: Delhi, Gurgaon, Bengaluru, and Mumbai
Download: Near for Android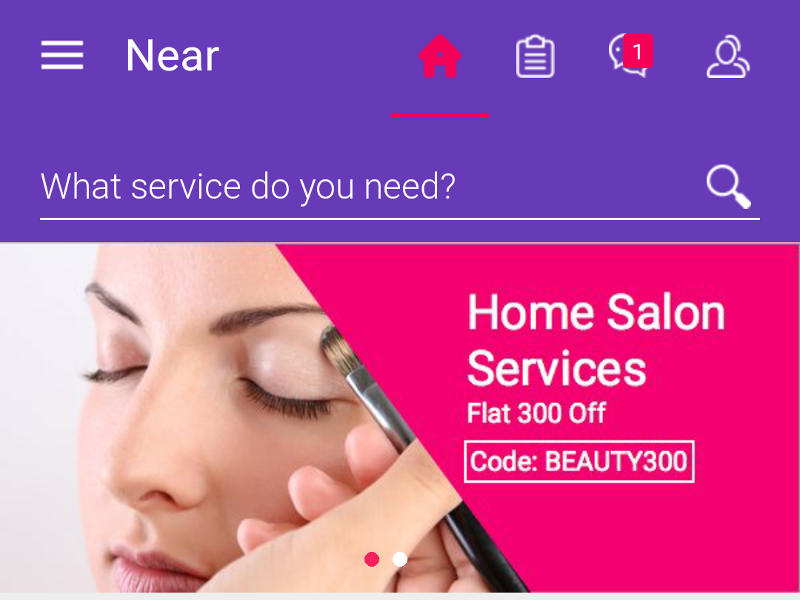 Near.in claims to enable bookings for more than 1,000 home services in under a minute. Some of the broad themes under which these services fall are wellness, birthday planning, pet care, photography, events, and company registration.
You can even hire a magician, or organise a puppet show for your kids birthday party through the app. Near.in provides upfront prices before booking, and says that its providers are handpicked to provide a top-notch experience. A home visit from a plumber, carpenter, or electrician costs Rs. 250.
6) Housejoy
Operational in: Ahmedabad, Bengaluru, Pune, Mumbai, Delhi, NCR
Download: HouseJoy For Android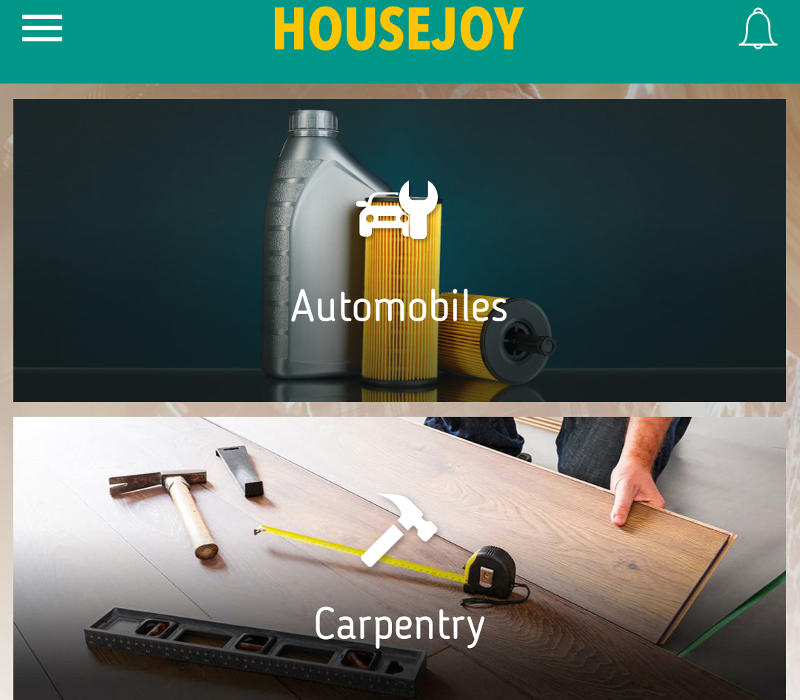 Housejoy lets you book professionals for a variety of home related services, ranging from cleaning, electrical installation and repair, plumbing, laundry, mobile and laptop repair, pest control, carpentry, painting, to in-home beauty and fitness. A full home deep cleaning of an apartment costs Rs 4,500, it costs Rs. 250 to fix a leaky tap, or fix choke ups. Most entry-level electrical tasks cost Rs. 250.
Housejoy claims to make a detailed background check on professionals it hires, and claims to hire those with more than 8 years of experience in their field.
7) Mr. Right
Operational In: Delhi, Noida, Gurgaon, Faridabad, Ghaziabad, Indirapuram
Download: Mr. Right for Android, Mr. Right for iPhone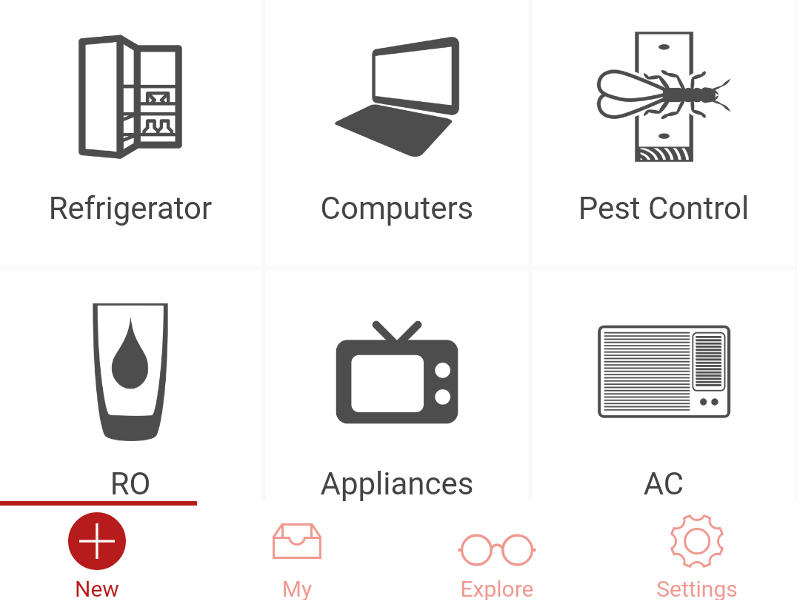 Mr. Right covers 15 broad categories of home services, ranging from housekeeping to pest control and computer repair. Complete home cleaning costs Rs. 3,500, while general plumbing, electrical and carpentry work costs Rs. 200 an hour. The user can pick a time for the appointment, and pay the professional after the job is done.
8) TaskBob
Operational in: Mumbai
Download: Taskbob for Android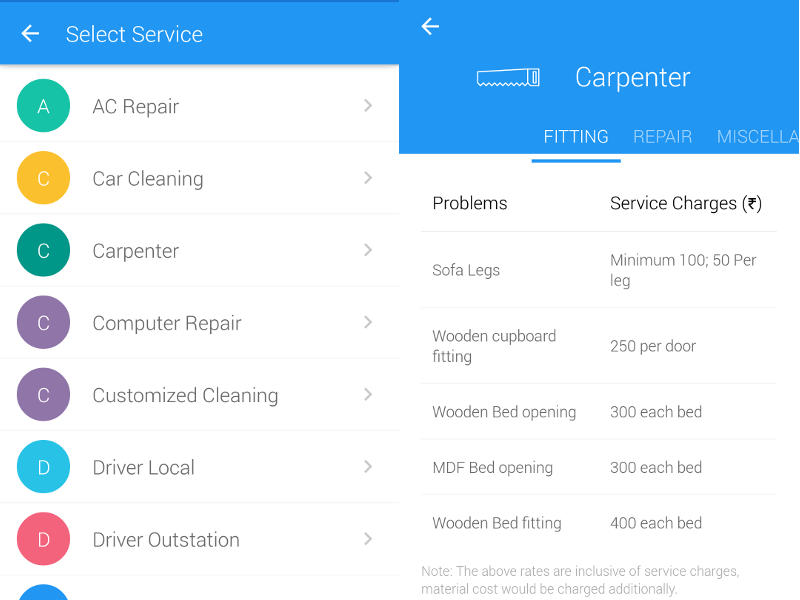 Taskbob enables users to book appointments with repairmen, handymen, cleaning and chauffeuring professionals. Bookings can be made through the web and the app, currently only available on Android. The service is only operational in Mumbai at present, though this narrow focus has some benefits - Taskbob's website claims that the tasks you select can be attended to within just 90 minutes of booking.
An app for the iPhone is coming soon. The app has a rate card for all the services offered, which include things like microwave, fridge, washing machine and water purifier repair. An 4 hour fare estimate on hiring a local driver costs Rs. 390, while a booking for an outstation driver costs Rs. 1,000 for 12 hours, and an additional Rs. 50 per hour following that. A full home deep cleaning session costs Rs. 3,500 for a 1BHK.
9) Fixy
Operational in: Mumbai, Pune, Ahmedabad
Website: Fixy
Founded in 2014, Fixy's portfolio of services cover home and office maintenance services such as cleaning, carpentry, plumbing, AC repair, repairing electrical fixtures, and more. Appointments can be booked, and payment made online on its website, with real-time quotes based on your inputs online. Fixy currently offers cleaning services only in Pune and Ahmedabad.
A quote for a one-time "deep cleaning" of a 2BHK home with a study came to Rs. 5,900, which is also the same price as four weekly sessions, spread over a month. Fixy runs a background check on service professionals, and trains the recruited personnel. Online bookings get a 10 percent off, and customers can also pay cash after the work is done.
Others
Justdial's multilingual 24x7 hotline number (8888888888) is the go-to place to get instant quotes on any job you want done over the phone. Justdial also works as an Web-based search engine for local services in most Indian cities, it can also be queried over SMS and is available on the iPhone, Android, Windows, and Blackberry. It had a database of approximately 15 million listings as of March 31, 2015. While bookings cannot be made via the app, it offers you ratings and a phone number of the business that you can dial. Justdial can also get very spammy when making a phone-based query, and the app seems to mitigate that.
Of the 20 plus players listed in the mobile home services space by startup data tracker Tracxn, some of the bootstrapped startups include Sbricks, Chotu, and Servesy from Hyderabad, as well as Pune-based Zobotouch, and Gurgaon-based Tooler, a laundry-specialist.
Affiliate links may be automatically generated - see our ethics statement for details.