Ever since the launch of Reliance Jio in September this year, we've all been enjoying free calls and free data, something that will now continue up till the end of March 2017, thanks to the Happy New Year Offer. Aside from this, users also have access to a number of Jio services for free, such as its video on demand platform JioCinema; live TV streaming on JioTV; and music on demand platform JioMusic.
These apps all launched under different names, but as we noted at the time, they were very much works in progress - JioCinema (then JioOnDemand) had problems with discovery and a quirky interface that did it no favours. JioMusic (then JioBeats) also had similar issues, with useful options usually hidden behind layers of menus. Our experiences with Jio's magazine and news apps were also pretty closely aligned with these, in that we felt they all needed an upgrade in terms of the design.
Around three months have passed since then, and we wanted to revisit our views on these apps, since we've seen them improve over time as we've used them. JioCinema, for example, has transitioned from something that we'd recommend only because it's free, into an app we actually make use of now.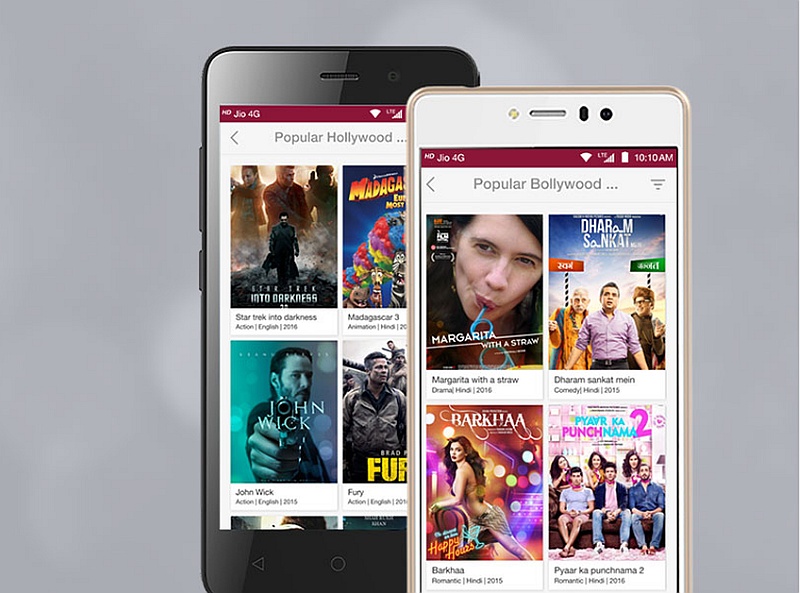 The welcome screen for JioCinema remains the same as before - a mixed up mess of selections that show no sense of being curated by a human hand. We'd like to believe that a random number generator was behind these selections. On the other hand, once you navigate to the movies or the TV sections, the layout is now much more sensible, showing you new releases, movies of actors, and so on. The catalogue continues to improve as well, and we've found ourselves using the app more often now - it can't match up to Netflix in terms of recommendations and an easy to use interface, but is actually better than some popular Indian apps in terms of user flow.
The look of JioCinema app has also changed to a more Netflix-like dark theme, though we're on the fence about whether this actually looks good as the icons feel a little too big for this app, but that being said, it's definitely made steps in the right direction.
JioTV on the other hand has changed very little. You start the app, scroll through the channels, swipe back to watch older shows, and tap to start. It was pretty simple to start with, and remains that way.
The downsides with JioTV are twofold - one that navingating to a specific channel remains cumbersome, and second, that important functions like DVR are not properly explained. We had to stumble across this ourselves, and if we had not been poking around the menus, we would not have known this was possible.
The JioMusic app has not changed as much as JioCinema, but you can see better organisation of the selections here. What's more, JioMusic actually has these selections right on the home screen, which is a step in the right direction.
The "radio" stations are more visibly highlighted, and while we're not particularly fans of the curated playlists section, we hope a lot of people out there want to listen to "Best of Avril Lavigne", otherwise it might just be that there's one very dedicated fan on the JioMusic team.
Recommendations during playing songs are still missing, and it's something that we think would be very welcome. Building your own playlist is simple though, and if you're willing to invest a little time on the app then you can get it set up quite easily - the downside is again the catalogue which was a little hit or miss for us, though admittedly we are not really into popular music that JioMusic is clearly meant to cater to.
Our experience with JioMags was mixed - it is very easy to use, and some tweaks have made it easier to find articles that you're interested in, and reading a magazine is just as easy as browsing over to it and tapping on the cover.
This downloads the magazine and allows you to read it at leisure. The collection is excellent, and given that it's free for a year, we're looking forward to getting some value out of this - and that's the case across a number of interests, so you'll find something to read without much difficulty. However, there are some drawbacks, particuarly on a mobile phone. The app does not tweak the magazine for mobile displays, but rather shows you actual pages - this means that a lot of zooming in and out and scrolling around goes into finding the place you're trying to read.
Loading the images can be a little slow as well, but this seems to be inconsistent, so it's hard to say whether it was an issue with the phone that was being used, or the app. Overall, on a phone screen (particularly if it's running at less-than full-HD resolution), we would not recommend using the JioMags app. If you have a large-screened phablet with a high-res display, then the experience is very different, and the same is true if you're using the app on a tablet.
Having used these apps over the last three months, we've definitely seen them improve and become a lot better than they were at the start, which makes Reliance Jio a much more compelling proposition. However, there are some downsides that all of these have in common, which we wish Jio would just fix.
Although stabliity issues have been fixed (we haven't seen many unexpected crashes anymore), login issues remain a huge challenge even after months. Sometimes in the middle of a live TV session, you're tossed back to the app's home screen, with a pop-up message telling you that it has to verify your login, and at that point, nothing works.
This is a recurring problem that shows no sign of improving even after months. The Jio Welcome offer that was supposed to be the service's initial trial is about to end soon, but the login issues around all of Jio's apps remain as a major problem that keeps us from wholeheartedly recommending these services right now.