First launched in 1980, for an entire generation, Tinkle was one of the only Indian comics you would regularly find on stalls. Along with Amar Chitra Katha - which was also launched by Anant Pai, and whose parent company ACK Media acquired Tinkle in 2007 - Tinkle is one of the definitive Indian comics, and was a big part of growing up in India in the 80s and 90s, along with Diamond comics (Chacha Chaudhary, and licensed characters like Phantom) and Raj Comics (Nagraj, Doga).
Today, kids have a huge number of choices for entertainment - ranging from TV to games to foreign comics that are now much more accessible than before thanks to the Internet - but Tinkle remains popular. The latest issue of Tinkle Digest shows how the company is working to stay relevant in a changing media landscape, and it uses augmented reality to make the comic more attractive to its young audience.
To do this, Tinkle tied up with Blippar, one of the many new app platforms that are enabling businesses to implement AR through image recognition.
How does it work?
The way it works is really simple. The newest issues of Tinkle Digest and Tinkle Monthly both have pages which have virtual content - to see it, you need to download the Blippar app, and then just start the app and point it at the page.
"We devoted an entire page to Blippar in Tinkle," says Neel Paul, Creative Director ACK Media. "We explain to people how to download the app and how to use it. The good thing about Blippar is that it can use the full page as the marker, instead of a QR code or a logo, so it's really easy to use."
One you've started the app and pointed it at the page, the extra content pops up on your phone's (or tablet's) screen, and you can interact with it in different ways.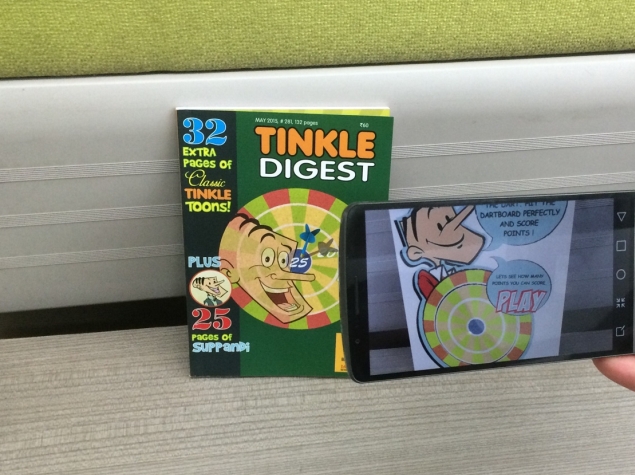 While not many Indian comic books are doing this yet, Marvel experimented with AR a couple of years ago. With the Marvel AR app on your iPhone or Android phone, you could get popups of extra art, extra content, and even AR-powered commentaries from the artists themselves, sort of like director's commentary on a DVD.
There's even a really interesting crowdfunded comic called Polaxis. It tells a story you can enjoy by itself, but pair it with the Polaxis app and you see the protagonists paranoid scribblings and secret thoughts about the story's events. It adds an extra layer of depth to the story, and shows how the AR could be used with comics.
What can you do?
"We've used Blippar in a number of different ways," says Paul. "There's gaming, there's a selfie opportunity, and there are some types of enhanced storytelling as well."
So, for example, the Tinkle Monthly cover turns into a jigsaw puzzle. "You point the camera at the cover, and it turns into jigsaw pieces and scatters on the screen, so you have to rearrange it," explains Paul. If you're stuck, just look away from the screen and at the real cover to see what the final image is supposed to look like, and start sorting.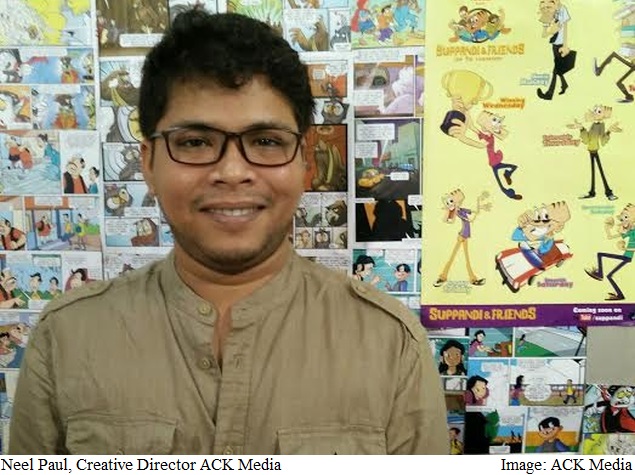 Similarly, the Tinkle Digest cover is a dartboard. "The cover has Suppandi's face on it, and darts," says Paul. "When you point at the screen, the dartboard comes up and moves to the top, and then you can throw the darts to score points." It's a pretty simple game, and doesn't really match up to the kind of mobile games you can find, but it's a fun way to add a little something extra to a print comic book.
There's a story where a character is baking, and you can help her to put all the ingredients together and put the cake in the oven with Blippar; and there's another story where Suppandi is visiting the doctor. In this story, once you have scanned the page with Blippar, it can use the front camera on your phone to insert your face in place of the doctor's.
Comics make it easier to experiment
Arnav Ghosh, Regional Director, Blippar India tells us that his company was keen to work with ACK Media because the comic book format allowed Blippar to experiment with different features as well.
"Since we launched last year in October, we've tried to push Blippar as a content platform, and Amar Chitra Katha allows us to do more interesting things," says Ghosh.
"The comic book gives a lot of potential, and allowed us to really showcase Blippar as well," he adds. "With Business World, for example, the kind of opportunities we have are a little more limited, because obviously the final content needs to fit in with their editorial. With other magazines, you can do something like having the person on the cover talk to you but with Tinkle, we could do different types of games, insert the user into the comic, and more."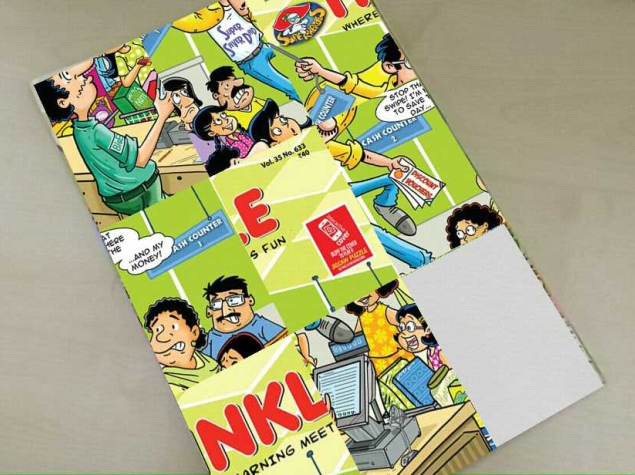 The whole process of creating the games that Tinkle is using took around two weeks from the time the storyboard was finalised, Ghosh tells us, and the two companies worked closely together to implement the enhanced functions in the comic.
From augmented comics to WhatsApp contests
And this, Paul tells us, is only the start of things for ACK.
"The kids might have their own phones, or they might be using their parents' phones, but the one thing you know is that kids are really good at picking up technology," says Paul. The company knows this, and has seen readers start to use email more and more often to communicate instead of snail-mail, Paul says, which is why over the last five years, ACK has been putting a greater emphasis on the digital.
One result of this was the ACK Media app launched last year. The app is only for tablets, which has hampered uptake, says Paul, but he adds that there are many more ways in which ACK is starting to use technology. For one thing, it has its own online presence on the Web, but apart from that, the company is also using WhatsApp to manage contests and communicate with readers now.
"We're taking small steps forward, but digital is definitely the way forward, and Blippar is just the first visible step," says Paul. Sources tell us that ACK is also working on webseries for popular characters like Suppandi and Shikari Shambhu, though Paul wouldn't give us any details about these plans, merely saying that there is a lot of work that the company is going to be doing in digital media, particularly in the next year.