Apple has just made iOS 8 available to the world and with it come several exciting features. We've written about the top 10 new features in iOS 8, which you must read to get a quick overview. One of the best new features is custom keyboards. Apple has finally allowed third-party developers to make keyboard apps for iOS.
(Also see: How to Download and Install iOS 8 on Your iPhone, iPad, or iPod Touch)
Apple's own keyboard app is much better now with features like word suggestions and prediction, but third-party apps offer better prediction, more languages and different themes. On the other hand, these apps can transmit or receive your data - all the companies claim to take privacy very seriously but if security is a major concern then you should stick to the default keyboard.
The other issue with third party keyboards is a slight hit to performance. The default keyboard always loads instantly but the third-party alternatives lagged slightly. We even faced a few instances when these keyboards got stuck entirely. At times the app we were using was working but the keyboard and the form where you type went missing.
If you're still on board to try the new keyboards, then here are our three favourites for iOS 8:
SwiftKey
In our view this is the best keyboard app on the App Store. SwiftKey's best feature is its prediction technology, which is better than that of its competitors. We typed faster when using SwiftKey and found that it learned our words quickly too. Its language support features European languages such as Spanish and Portuguese and it supports different keyboard layouts such as QWERTZ and AZERTY apart from the standard QWERTY.
SwiftKey for Android supports also Hinglish (Hindi typed in the Roman script) language, but we're yet to see that on the iOS version. This app is completely free, making it even more appealing.
SwiftKey, Swype and Fleksy are probably the best three "traditional" keyboards available for iOS 8 right now, and of the three, we liked SwiftKey the most. Its prediction engine is better than Swype, and it is easier to use than Fleksy. Like Swype, SwiftKey also lets you swipe to type, but the word predictions it offeredworked better for us than that of Swype.
Fleksy is like the keyboard on BB10 smartphones and takes a little getting used to. It took us some time to pick up the gestures on Fleksy (swipe down to switch between suggested words, etc.) and a few hours later, we were still typing faster on SwiftKey.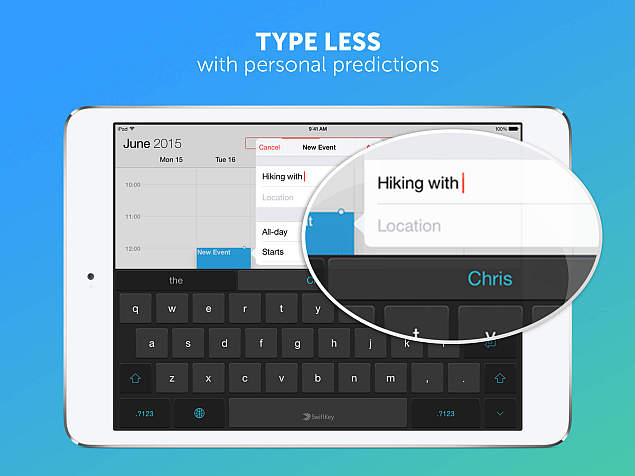 Stack
MyScript Stack keyboard lets you write on the screen to type. This keyboard replaces traditional keys with a blank space, where you can draw individual letters to type. Handwriting based keyboards can be very useful on large phones and tablets where space isn't an issue, but this app isn't very good on 4-inch iPhone devices. We tried it on the iPhone and iPad and found that it works better on the iPad. The one feature that we found missing on this keyboard was recognition of words rather than letters. We often tried to write an entire word in cursive handwriting but it wouldn't recognise those. However, it worked perfectly when we wrote individual letters. We wrote letters one on top of the other and it still managed to recognise them all. This keyboard is probably better if you want to use a stylus instead of a keyboard though.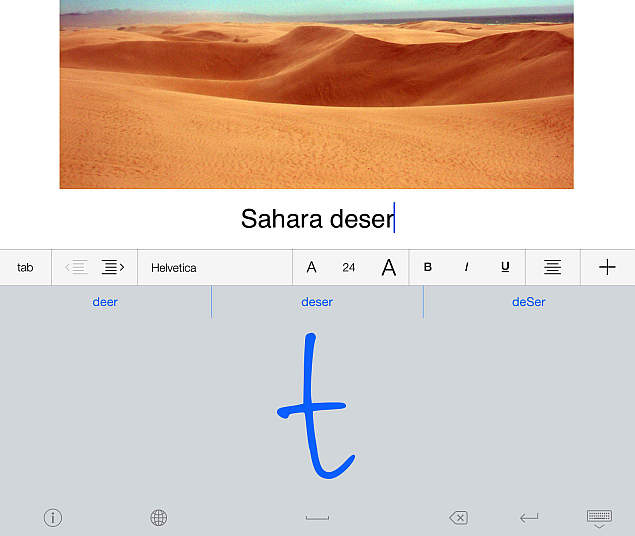 Keymoji
Emoji apps have always been around on the App Store, and we weren't surprised to see a keyboard dedicated to emoji as soon as iOS 8 launched. Keymoji is just like the default iOS keyboard with one twist - the prediction strip shows emoji suggestions. It suggests emoji for every word you type. Whether you type a simple word such as plant or a phrase such as dog eat dog, Keymoji will try its best to make you communicate entirely in emoji. It's a pity that this keyboard doesn't understand Indian languages, but that's a minor complaint in an otherwise fun keyboard.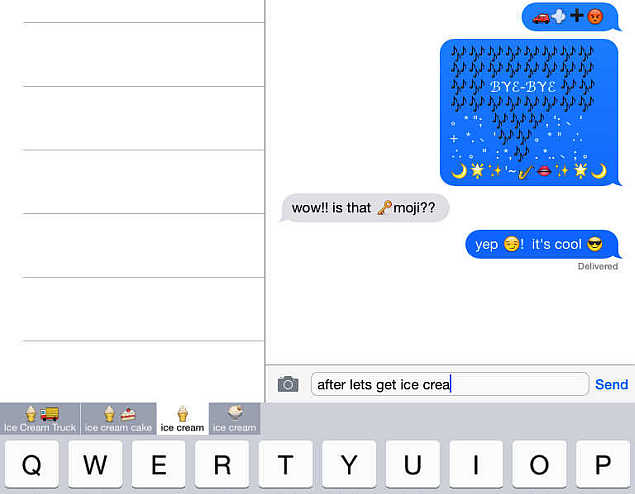 Which are your favourite keyboard apps? Let us know via the comments.