"There are two memes we wanted to address - one that content is mobile first, and two, that television is a dinosaur," says Chris Jaffe, Vice President of Product Innovation at Netflix. He is speaking to reporters gathered at a Netflix event taking place in Singapore, and he says that these ideas are myths, with television still the king of content.
"We observed that if people are using the service for more than six months, they tend to gravitate to the TV," he explains. "People may start watching via mobile, but in six months, the majority of these users are watching on televisions."
In India, however, the things are a bit different. The number of people watching Netflix on their mobiles bucks global - and even Asia-Pacific (APAC) - trends. According to Netflix, only about a third (34 percent) of Netflix viewing in India happens on connected TVs - a category that Netflix sees as a mix of Smart TVs, and media streaming devices such as Apple TVs, Chromecasts, and connected game consoles.
The reason these are all grouped together, Jaffe explains, is because they have the same "control modality" - the basis of the user interaction remains the same.
"I think of TV as a single experience and the reason why a game console or a TV I look at as the fundamental same thing for Netflix, is because the fundamental control pattern is the same, up down left right, maybe holding an Xbox controller but dealing with left right up down," he says. "Some of those interfaces might be different, like the Xbox home screen, the inputs that we get from the system are really the same. Another part of it is the presentation - if I gave you the mobile phone UI on this it wouldn't look good or work well."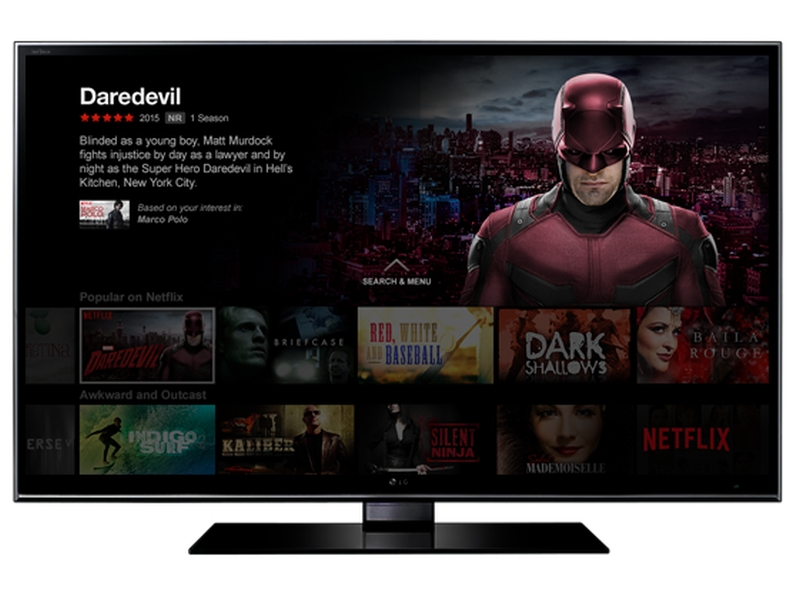 Holding up a television remote, Jaffe adds that televisions haven't changed very much over several decades. The remote control remains more or less the same, with a very small variety of inputs, but this also has some advantages. "If you go to a friend's house you'll probably be able to use their remote without being told how," says Jaffe. "The basics of navigation are universal, and if there's a Netflix button on that remote then it's even easier for you to use."
If the remote was one constraint that guided the design of Netflix's television UI, then ideas about context, and typical viewing experiences also made a difference. For example, Jaffe explains that video previews are only on TV because the context makes it work. At the same time, similar titles are displayed on the mobile and tablet interfaces, but not television, because despite multiple usability tests, there is low engagement.
Another example of the television as a device shaping Netflix's UX is in the colours being used. "If you look at this -," Jaffe says, gesturing to an image of the first Netflix TV UI, "you can see that even though this was still very rough, we already went with a dark background, and that's because on a TV, if we were to use a bright colour, it would hurt your eyes, it doesn't look good on a screen that big. And this also plays into the kind of clips we'll pick and images we'll show, so it looks good on that hardware."
We ask why Netflix isn't considering its own hardware, and Jaffe says it's a conscious decision that the company made a long time ago for reasons that still hold true. "For us, it's about focus. We want to have a great consumer experience, and relative to what we do we're a very small company," he notes. "The idea of continually being able to update and being Internet based - the update cycles in hardware, the supply chains, it's a different business."
Disclosure: Netflix sponsored the correspondent's flights and hotel for the event in Singapore.