In the middle of production for his next game, Volume, Mike Bithell (famous as the creator of Thomas Was Alone) has very little time to play other video games. He manages to sneak in a few sessions of Threes! since it's a simple game that can be played for five minutes. In terms of AAA fare, he played The Order: 1886 and found it "fun and brash for five hours."
While we'd respectfully disagree about The Order: 1886, we picked his brains on his upcoming game, Volume. It's an indie stealth game that has big name talent in the form of Andy Serkis (Gollum from The Lord of the Rings) and a fresh Lego-ish art style. Here's what we found out on a Skype call with Bithell.
Robin Hood and politics...in the future!
Volume's plot that borrows from Robin Hood and is set in a dystopian future. This is coupled with riffing on live streaming and the burgeoning 'let's play' culture on YouTube. If you're not familiar with the concept, these are recordings of ordinary people's playthroughs, often with funny commentary, instead of trying to be objective sources of information. This is a culture that Bithell is a fan of.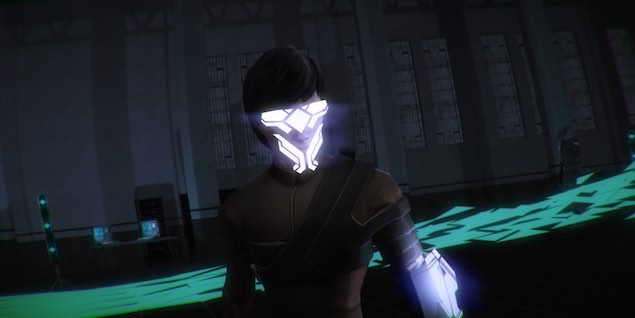 "I find it fascinating, the way in which personalities produce video content using games and make something transformative and bigger than some of its parts. I find the whole medium really interesting," he says. "Talking about that in a sci-fi context made sense and [the risks of] mistakes a little bit higher than the kids just showing their game off [as it is in YouTube]. I watch a lot of let's play content and I kind of wanted to experiment with telling story about characters like that."
The game promises to be a refreshing twist on the done to death premise of a future dystopia, Volume's narrative appears to be politically charged, drawing inspiration from modern armchair activism that most of us engage in on networks like Twitter. In Volume, the protagonist, Locksley is essentially playing a game, asking others to risk carrying out his plan. Bithell tries to balance the statement that the game is making with the entertainment it will provide.
"I've taken a lot of time over that story and I hope that it represents an interesting kind of political landscape behind the game," he says. "But you know, I wouldn't say its a statement game, it's not an activist game. But there's a political backdrop to this certainly."
"Essentially I wanted to do a Robin Hood story, a kind heroic thief narrative and what you very quickly realise when you're trying to do that story is you kind of have to be aware of the political side," he says. "You have to phase that in otherwise you're writing a very cliched story and a very unaware story of its surroundings so you have to have certain amount of sensitivity to a lot of these issues."
Pure stealth gameplay
In terms of gameplay, Volume will play like traditional stealth games. There's an emphasis on evading obstacles rather than the more powerful characters you see most modern day games like Splinter Cell: Black List or Assassin's Creed: Unity entailed. If you get into trouble you won't be able to fight your way out.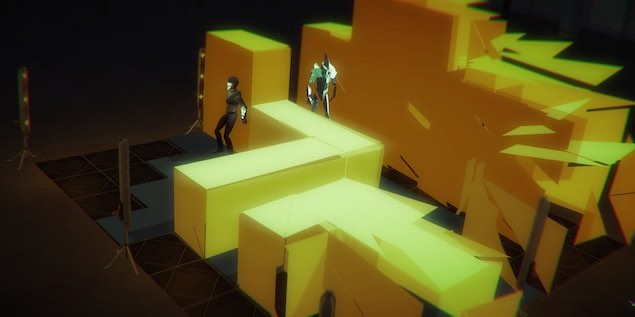 "For us it was a case of what do we specifically like about stealth games and what do we want to focus on," says Bithell. "So we decided to go for a puzzle-like feel. A more specific kind of mechanical stealth, you can't kill an enemy, things like that. We make it entirely about those avoidance mechanics that people don't interact with because you can pull out a silenced pistol and kill everyone [in modern stealth games]."
While there's an attempt to make a "smaller, tighter, but hopefully equally varied game experience", that's not all Volume's about. It sports a level editor that will allow users to create their own stages and share them with friends. Although its not an entirely unique concept, with AAA games like Halo and even indie titles like Socioball allowing you to do the same, there's a certain sense of freshness in applying this to the stealth genre. It's something Bithell hopes his audience latches on to.
"Obviously we want to support the community in the area the community is interested in," he says. "A lot of that is waiting till release. We have a few different plans put to one side on how we want to react if the audience gets into this aspect of the game, with what we can do if this [user-generated content] works better, so we'll see really."
Self-publishing and ties to Thomas Was Alone
Unlike his last game, Thomas Was Alone, Volume will be self-published. "With Volume, I'm self-publishing completely," says Bithell. "This allows us to do things a lot more efficiently and keep more of the income from our games in order to reinvest back into future projects."
Without publisher ties, Bithell can continue to make quirky games like Thomas Was Alone, and not have to consider what some focus group thinks about it.
On the topic of Bithell's games, future or otherwise, Thomas Was Alone's narrative focussed on artificial intelligence, as is Volume's. So we had to ask Bithell whether these two games would be related in any way, much like the way Half-Life 2: Episode 2 revealed ties to the Portal series.
"I'm going to leave that to you to find out when it comes out," he says, smiling.