When you can buy groceries, send money, and even edit pdf files on your smartphone, it's probably not surprising when you hear that filing your tax returns can also now be done from your smartphone. ClearTax, a startup that lets you file your tax returns online in India, is launching a major update to its Android app, which will now let you file your tax returns from your phone. Earlier you could only view the status of your refunds on the app.
(Also see: How Delhi-Based Startup ClearTax Made It to Y Combinator)
But does anyone really file their tax returns from their smartphone? A complex process with no margin for error, conventional wisdom dictates that this is best done on a much larger screen than that of a smartphone. ClearTax founder Archit Gupta obviously believes there is a need for it, and tells Gadgets 360 that around 5 percent of the users had been filing their taxes from the mobile web.
Given that ClearTax claims 1 million tax returns have been filed using it, that's a large number of people, even if it is very much a minority of users. What's more, a quick look around Google Play alone shows there are other apps in this space, such as myITreturn, which is rated quite highly, and has plenty of positive comments.
But the fact is that the chance of an error when filling a tax form on a tiny mobile screen is higher, particularly when there's a lot of data to be entered. ClearTax's app focuses on minimising the amount of data you have to type - instead, you upload your Form 16 as a pdf, and it imports all the data that's required, according to Gupta. He adds that the app works offline, uploading data to the server once you're back online. Gupta claims that the ClearTax experience is better than that on the website, as there is no latency.
(Also see: File Income Tax Returns Online in India With These Websites)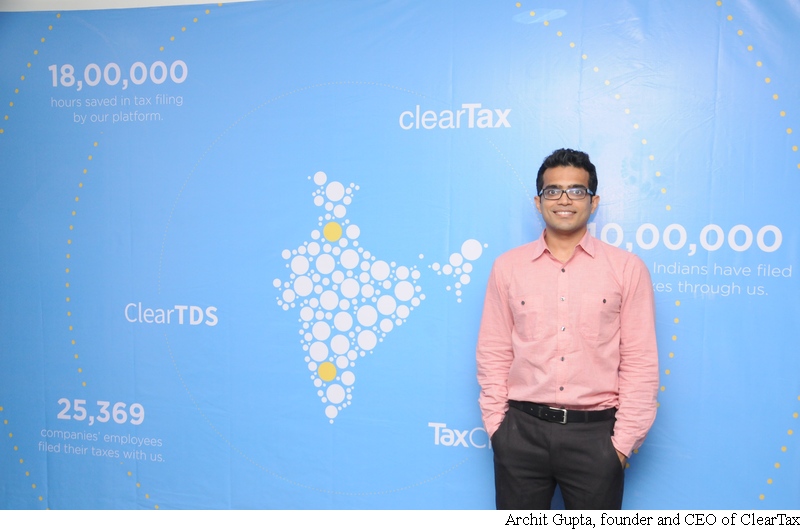 The concept sounds good, but there are some problems that exist. For one, it doesn't account for people those whose companies still don't give a Form 16 pdf. If you are one of those stuck with a printed copy of Form 16, then manually keying in data on your smartphone is going to be quite a cumbersome task. Gupta says the company plans to let people click a picture of their Form 16 document, scan it and import the data to the app. "Machine learning and OCR are coming [to the app in the future]. [The challenge is that] we can't get a single digit wrong," he says, highlighting how even a minor error can lead to major headaches later. "We're looking at segmenting the page into various parts to track data accurately," he says.
(Also see: More Than Funding: What International Startups Can Gain From Y Combinator)
All of this focus on the new app doesn't mean the company's going app-only. Its mobile and desktop websites will coexist with the Android app - which makes sense, considering that 95 percent of its customers are still using their desktops. As for iOS, Gupta says a significant chunk of mobile web visitors to ClearTax are iPhone users but the number isn't big enough to justify investing on an iOS app. Overall, it's not really clear if even the Android app was actually needed for ClearTax, but the company recently announced a $1.3 million (roughly Rs. 8.6 crore) funding round so it is perhaps not surprising that it's in a position to experiment, and try new things. The question remains though - how comfortable would you be about filing your tax returns from a tiny mobile phone screen?