Ever since Meerkat burned itself into the tech press' imagination at the South by South West (SXSW) conference in March 2015, live-streaming has suddenly become a hot topic. Meerkat's rise was followed by the launch of Twitter's own Periscope just a couple of weeks later, which very quickly became one of the most downloaded apps on the iPhone. These weren't the first video streaming apps available by any means. When Qik, a similar app that let you stream videos from your phone, was acquired by Skype in 2011 it reportedly had over 5 million users, but Meerkat and Periscope are in the right place at the right time now, and are reaping the rewards.
Five years ago, smartphones were still relatively new, but today practically everyone you see is carrying one. This means that there are cameras everywhere now, and these are connected to the Internet. Thanks to LTE, connection speeds aren't a bottleneck either in many parts of the world, and we're starting to see 4G rollouts now taking place in different parts of India too. The third challenge is finding streams you want to watch, or from the other side, finding an audience for your streams. Both these problems are largely addressed by the rise of social networks like Facebook and Twitter, whose social graph enables you to connect to all your friends with just a click.
Meerkat beat Periscope to Android (the latter is still only on iOS) but the fledgling category of live-streaming apps is gathering steam and you're going to see more apps follow with their own take on what makes live-streaming click.
One such application is InstaLively (currently in a private beta), made by the Delhi-based duo of Karthik Vaidyanathan and Prakhar Khanduja - "the product guy and business guy," in Khanduja's words. InstaLively is an Android app that allows you to instantly start a live-stream, and share it over Facebook, Twitter or as a link on WhatsApp, or via mail/ SMS.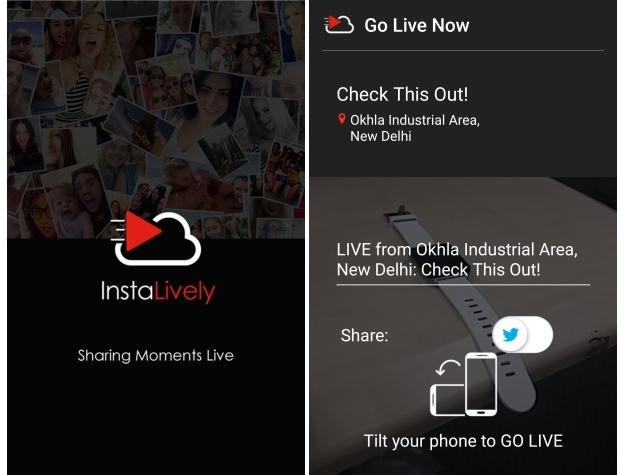 What is this anyway?
There are a lot of similarities between InstaLively and its more famous peers, and differences too. InstaLively is using YouTube to store its videos (and uses Google+ to log in), which means not only can the videos be live-streamed, they can also be played back at any time. You can find all the videos a person has made through his/ her YouTube channel. Using YouTube also has some benefits for InstaLively - Meerkat and Periscope use their own servers for processing the video streams, and for storage in Periscope's case. Since InstaLively doesn't, its infrastructure costs go down a lot.
"Since we're using YouTube, we don't have to spend on the servers, and YouTube also means that the problem of obscene content, and copyrighted content, gets automatically filtered out by Google," says Khanduja. "In fact, if you have a public account and you enable ads, you can even monetise your live streams through Google's tools."
Unlike Meerkat, which believes in ephemeral videos, InstaLively follows Periscope in allowing people to make streams private, and share to only a select audience. Since InstaLively is using YouTube's platform, it inherits all of its privacy settings and controls.
Another USP is that InstaLively allows you to broadcast your stream in 720p. Is that practical given the poor network connections in India? Perhaps, but he's confident that with 4G implementation in India around the corner, the demand is going to be for higher quality, not necessarily compressed streams.
All three apps - Meerkat, Periscope, and InstaLively - want you to just launch them and start streaming - and they want to show up on your social networks, so your friends can see when you are streaming, and want to join in. InstaLively's design hews closer to Periscope than Meerkat, with a less cluttered start screen. With InstaLively, once you've got a stream running, you could share a message on WhatsApp or over email, which could be viewed by a friend as well.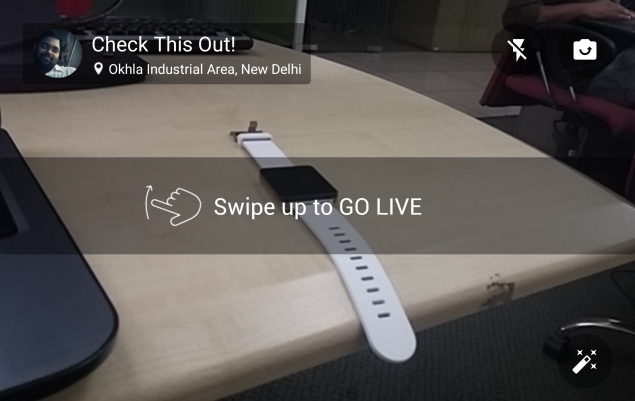 In our view, this functionality wasn't very obvious but it's very early days for the app, and it's going to evolve. When we met Khanduja, he told us that Vaidyanathan couldn't make it to the meeting because he was seeing the rollout of the latest update. An iOS version of the app is due soon as well.
Why another livestreaming company?
These days just about every app maker has a cutesy story to share about how the company got started, or what specific use case the founders felt needed to be solved. InstaLively is no different. When the company started, Vaidyanathan had to go to Noida for a presentation, and he found himself thinking that there had to be a more effective way for companies to make their pitches without wasting so much time in travel.
A little before this, he'd met Khanduja, who was working at a company called Instahyre as the Head of Business Development. "Karthik [Vaidyanathan] was my first client, and we became friends," says Khanduja. By mid-2014, the two had decided to work together, and from trying to make better presentations, the 12-man company narrowed down on video streaming as its goal.
"We're not a Meerkat clone," Khanduja insists. "We've worked on this idea for more than a year, from before anyone even knew about Meerkat or Periscope."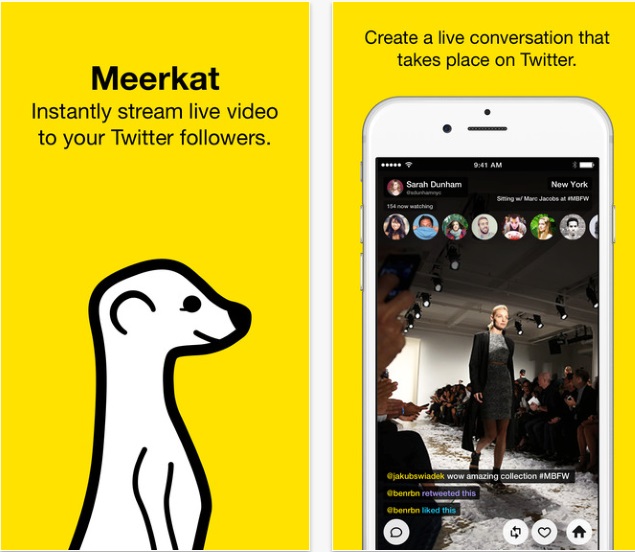 "We also have another business, that's kind of like an Uber for Videographers, which is self-supporting," he adds. "It's a paid B2B (business to business) platform for covering events. If you want to hire a videographer, then you just come to us, and we help you to find the ones that are in your area, and take care of the arrangements. All you have to do is give the videographer a Wi-Fi connection and they'll upload a live-stream of your event that your partners or clients can see, and you give a pen drive and they'll give you the recording of the event on the spot as well."
With around 50 videographers in Delhi, these are still very early days for InstaLively's B2B offering, but Khanduja isn't worried about finding ways to make money for now, confidently talking about building users and raising funding instead. The company recently raised around Rs. 75 lakh from six angel investors including Google India's Rajan Anandan, but it's clear that this will have to be followed up quickly.
What would I even stream?
One of the reasons that Meerkat and Periscope are getting so much mainstream attention today - compared to say Qik which was know mostly to technology-watchers - is because the mainstream has shifted. Qik was acquired less than half a decade ago - 'mobile first' was an exciting phrase at the time though, a forward-thinking philosophy. Today we're looking at 'mobile only' or even 'app only' with the likes of Uber, and now even e-commerce stores like Myntra.
The other, bigger change, is that we're all much more comfortable about living in the public eye than ever. People obsessively document themselves using Instagram, Facebook, and Twitter. Snapchat might be famous for "sexts" but it's continued rise is one of the examples that Khanduja enthusiastically points to. That's why InstaLively includes Filters, like Instagram, to give it a more "youth-friendly" appeal.

"I can think of lots of reasons why you might want to make a stream, to broadcast a party, or a concert," he says, "but the real use-case scenarios will be developed by our users themselves." At the same time, he doesn't really expect that all the users of InstaLively will be sharing content. "On any network, you see around 20 percent creators, and 80 percent are the ones who just consume content," says Khanduja. "And that's not really going to change. But the users will come up with interesting things to do."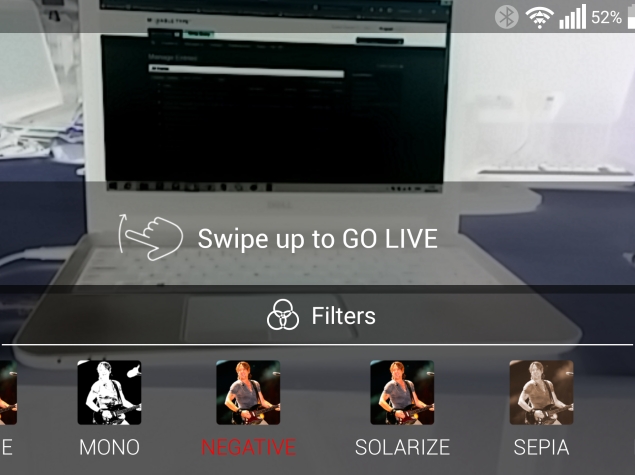 What comes next?
Whether live-streaming will grow in popularity and stand at par with the social networks of today, or fade away like the next big thing that never was, is hard to predict right now. Khanduja is right when he says that we've all got to wait and watch to see the emergent behaviour of users of platforms like Meerkat, Periscope, and yes, InstaLively.
But already, there are a number of interesting issues that are coming up. There's copyright for one - InstaLively uses YouTube, and therefore Google's copyright checking applies to all videos shared there but the other two networks certainly already have faced difficulties - when people are streaming an episode of Game of Thrones or the 'fight of the century' so that they can chat with each other while also avoiding the paywalls, then it's both incredibly interesting, and also highly frustrating for the content owners.
Searching for content, categorising content, and finding useful content amongst someone showing a stream of a tree in their garden or a jam sandwich (which describes our last three times on Meerkat) is going to be the real challenge. And although Meerkat and Periscope have all the momentum right now, it wouldn't be right to write off InstaLively, or other competitors from around the world just yet. These apps are now acceptable, and the technology needed for them is all in place. Getting them polished and making them useful, and not just curiosities, is the next step, and that's wide open right now.