Delhi-based Octro Inc is best known for its mobile apps games like Teen Patti, Rummy and Tambola (Bingo), and for the ICC Cricket World Cup, the company has rolled out a cricket betting feature with which people can bet virtual chips on the outcome of cricket matches. The actual legality of this is a little contentious; Octro's argument is that the betting is purely for virtual chips, but these same points can be bought in Octro's Teen Patti games for real money. The company says that since you can't encash your chips, it is not gambling.

But this initiative is just the latest in Octro's attempts to get the most users to spend money on online entertainment. The company first launched in 2006 as a VoIP firm, but two-and-a-half years ago it transitioned into a gaming company. That decision was not led by a passion for gaming, but pure economics.
"Nine out of ten top grossing apps are games," says Octro CEO Saurabh Aggarwal. "I decided to enter gaming because it was more monetisable. So we did some research, to understand what games we should be making."
"We chose multiplayer, re-imagining popular Indian games like Teen Patti for this," he adds. "And then we followed with Rummy and Tambola across all the platforms. Taken together, we have around 15-20 million users now."
Most people will tell you that getting people in India to pay for apps is very difficult, and Aggarwal also makes a non-committal noise first, but says it is possible.
"It is hard, but possible," he says. "From November 2013 to June 2014 we had the top grossing app on the Indian app store. It's possible with gaming done the right way."
(Also see: Indian Users the Most Engaged but Least Likely to Pay Says SwiftKey)
Octro - which raised $15 million (a little over Rs. 90 crore) from VC-fund Sequoia Capital in 2014 - drew inspiration from Zynga poker, and the games are all ad-free. Instead, the company monetises through in-app purchases of its virtual currency - which is also used for events such as the new cricket betting option.
Octro, and other companies like Adda52 and Mango Games faced some scrutiny in 2012, when the Madras High Court held that playing rummy for stakes was a violation of the gaming laws in India.
At the heart of the debate is whether Rummy is a game of chance or skill. With the Madras Police Act, 1888 exempting penal provisions against "games of mere skill," it's not hard to imagine which side Octro is rooting for. The Supreme Court of India is due to rule on this matter, and the decision has been postponed at least twice.
For now, these companies are hedging their bets with virtual currencies, although permitting these games to be played for money will likely make it easier for them to advertise and find new customers.
Getting engaged users was the challenge Octro had to solve, and Aggarwal says this promoted them to look for games that had a strong multiplayer and social element.
"We looked at Teen Patti, because we were a communications firm, and if you took away the superficial elements, the game was pretty similar to what we were already doing," says Aggarwal. "We were able to exploit our technology, and we already knew that it was a successful model in the West with poker."
Although Octro's decisions were based on business and not aesthetics, he says that the company's design skills have also steadily evolved.
"If you look at our first apps, and then look at the new ones, you can see we've come a long way," says Aggarwal. "Of course we're still not close to the big studios in the West, but we're slowly going to catch up."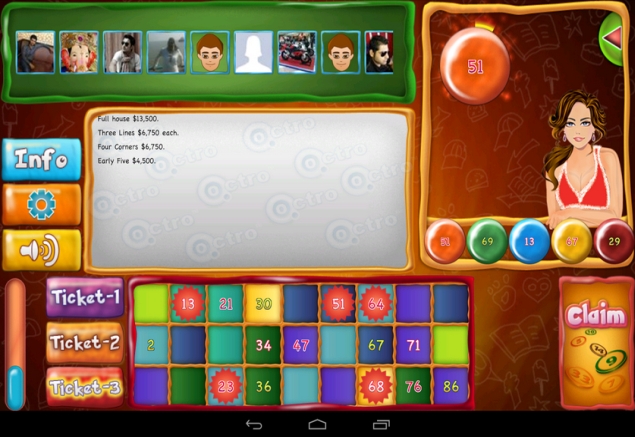 With its games on iOS, Android, and Windows Phone, along with a Facebook application, Octro's games are available to just about everyone. Aggarwal says that Microsoft's platform has been a good one to develop for, thanks to a growing user base in India.
"Android has the most downloads by a huge margin. And iOS has the best ARPUs, [Average Revenue Per User]," he adds. "Microsoft has given good tools to keep your costs down, and porting the games was not too difficult or time consuming as a result. It's also got good reach in India - we reached half a million downloads in one year."
Aggarwal also praises Microsoft for being ahead of the competition in terms of enabling payment options. Microsoft tied up with Idea in December to launch carrier billing - something Aggarwal says is a big plus.
"There are only some 19 million credit cards in India," says Aggarwal. "Google and Apple also need to do this to make it easier for Indians to fully engage with the app stores."
(Also see: Google Could Do More for India's Gaming Ecosystem: Manish Agarwal, Reliance Games)