SwiftKey was first released for Android nearly five years ago. At that point, when smartphones were still picking up steam around the world and the idea of a standalone keyboard app was an unknown concept. Today though, apps like Swipe and SwiftKey are extremely popular not just on Android, but also on iOS, with Apple opening its platforms to third-party keyboards.
SwiftKey was launched as a paid app, but last year it switched to a freemium model - key functionality is now available for free, and users can buy themes at Rs. 59 ($0.99) each. The move has brought SwiftKey a number of new users, especially in countries like India, but the company isn't rushing to monetise the new audience yet.
"We've been growing a lot in Asia, particularly in India and China, and our focus right now is on getting the product right," says Eric Collins, Head of Distribution and Monetisation, SwiftKey. That's probably for the best because conventional wisdom holds that you can't get users in India to pay for apps. We asked Collins what SwiftKey's experience was like, and he laughed, adding conventional wisdom was pretty accurate for once.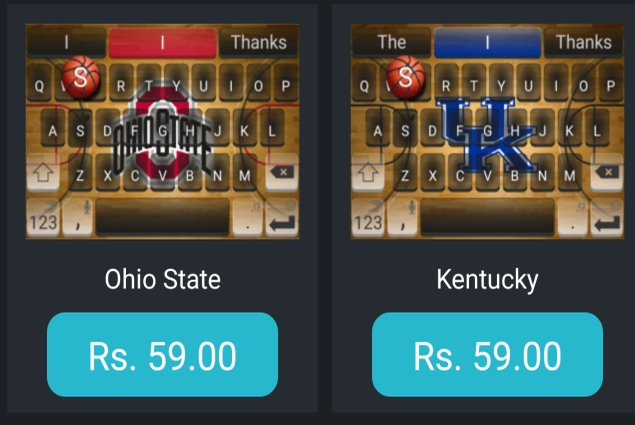 "We have the most engaged users in India. The download numbers are phenomenal, we come pre-loaded on plenty of OEMs too, to the audience here knows us," says Collins. "And they [the Indian audience] give us a lot of very useful feedback. They're great. But they're not really spending money."
Collins, an extremely tall man with a ready grin, is all smiles while telling us this. While he'd obviously like more paying users - who doesn't - he doesn't seem particularly concerned at the moment.
"The fact is that we're not too worried about monetisation right away because we've got a lot more to do ourselves for now," he explains. "We've still rolling out new features and improving the product, and the number of users is also rising."
Collins believes that once the number of users reaches a critical mass, monetisation will also become easier. The company is right now looking to improve performance of its keyboards in "complex" languages in India and elsewhere in Asia, in a bid to get more users on board. Another key focus area - and the reason Collins was visiting India - is partnerships. SwiftKey has tied up with seven Indian OEMs, including Micromax, Spice and Xolo, which means the app will be pre-installed on some of their phones.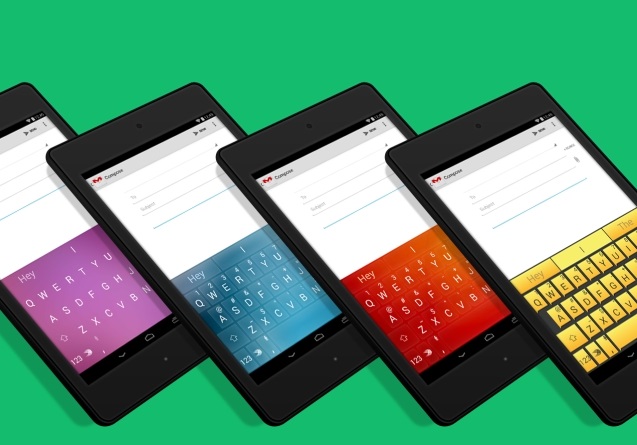 Next up is the rollout of a new keyboard for Indian languages scheduled to release in February.
Aarti Samani, Product Manager, Growth Markets, SwiftKey walked us through the new update. SwiftKey is already available in Hindi (Devnagri) and English (Roman), and also allows you to type in Romanised Hindi - Hinglish - apart from various other Indian languages. Each language setting supports SwiftKey's predictive keyboard as well.
The keyboard layout in SwiftKey's new Hindi keyboard is a big change from what we'd seen before. The current SwiftKey keyboard is familiar, if intimidating - vowels (a, aa, e, ee) are lined up on the left, and consonants (ka, kha, ga, gha) to the right. We've seen plenty of other Hindi keyboards use the same layout, and it can be a little confusing since everything is very densely packed.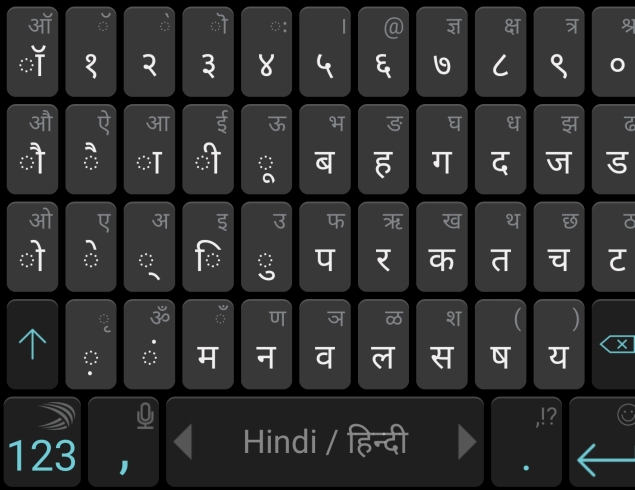 "We realised that the interface wasn't as user friendly as it could be," says Samani. "The Hindi keyboard was not being used as much, and the feedback showed us what needed to change. So we worked with Indian linguists to analyse the data and work out how we could improve."
"A lot of this work was also happening in China, and the findings from both countries helped improve the keyboards in both places," Collins adds.
"So based on a lot of research, we realised that there were some letters that were not used much, and we simplified the keyboard and reduced the number of characters on screen," says Samani. "Now, the letters are also laid out the way you remember from school - ka, kha, ga, gha and so on. If you look closely, you'll see that a few characters are missing. These can be shown by tapping the shift key, but the idea is that the prediction engine will be strong enough that you won't have to tap any key at all."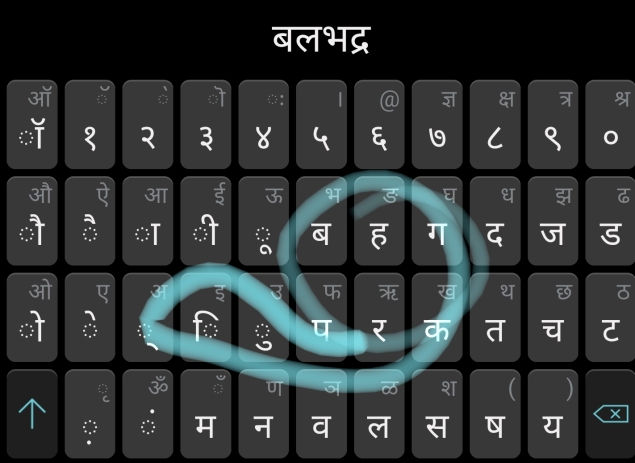 The result is a streamlined keyboard that looks a lot easier to type on. Samani is right when she says that the familiar layout of characters makes it easier to type. It's even possible to swipe the screen and form Hindi words, though this frankly takes a little more getting used to than one can in just one session. Similar updated keyboards are rolling out for all 20 Indian languages supported by SwiftKey.
This is just the first step though - SwiftKey is also working on a transliteration keyboard, which will roll out later this year - Samani showed us a demonstration of the keyboard, typing in HInglish to form proper Hindi words. What's interesting is that the keyboard simultaneously works in Hindi, Hinglish, and English. As you type, you'll see word predictions for English words, Hindi words in the Roman script, and the same words in Devanagri. The predictions evolve and change the weightage of languages in much the same way that keyboards are already weighting words - so if you type in a mix of Hinglish and English, the predictions will reflect that. If you frequently type some words in Devnagri, the predictions will reflect this instead.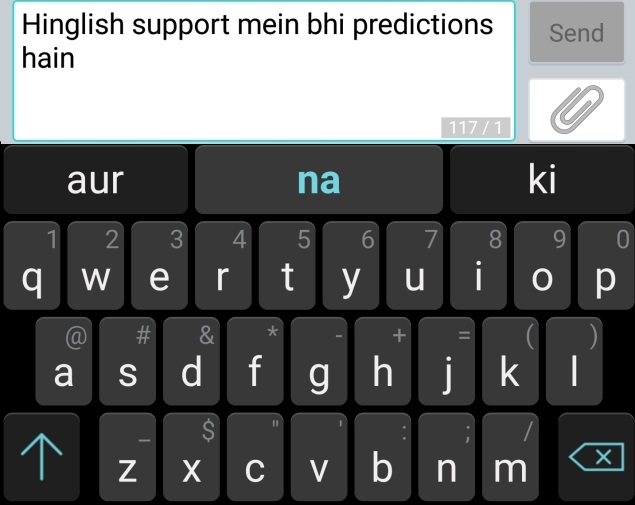 "What we are essentially doing is processing three languages and making predictions in all three at the same time using a very complex algorithm," says Samani. "And this is just Hindi, but we're also doing the same thing in Tamil, Gujarati and Marathi. We're still tuning the product, but we've reached an accuracy of 80 percent."
SwiftKey wants to get that number higher before it launches the new keyboard in the market.
"The thing is, 80 percent means that one in five predictions is wrong, and that's something users will not want," he says. "That's why we're not chasing monetisation yet. We've got to get the product right first."