Artificial intelligence, or AI, is a theme that has produced some of the most memorable scenes in science fiction literature and films. From HAL 9000 in 2001: A Space Odyssey to the humanoid robots in Do Androids Dream of Electric Sheep (which became the film called Blade Runner); to the machines who render humanity nearly extinct in Terminator and The Matrix, AI seems to spark writers' worst fears. But in reality, we're already living in a world controlled by AI.
Whether it is a note-taking app that opens a to-do list every Monday or a search app that shows you currency conversion data the moment you step on foreign soil, or even a keyboard app that predicts the words you'll type, AI is the driving force behind some of the biggest advances in today's software. It's a behind the scenes development, which most users will never notice, but it's how we interact with the world today.
The biggest example of this is the evolution of launcher apps on Android. Launchers went from apps that help people remove the bloat on their phones to those that sort apps automatically and highlight relevant apps in just a few years. Launchers have become smart over the years because the early versions of these apps helped developers understand what people want.
(Also see: The Rise and Rise of Android Launchers)
Let's take the example of how EverythingMe, a smart launcher that shows you apps based on your usage, works. Roi Carthy, Head (Special Projects) at EverythingMe, told NDTV Gadgets via email, "We look at a huge amount of signals, from geo-location, to time of day, to usage patterns, etc. We then crunch all these signals (in the billions per month) with artificial intelligence algorithms, that allow us to predict what users need at any given moment. The result is an extremely natural and transparent experience for users."
That's just one example. People who own an iPhone or an iPad would be familiar with Apple's Passbook app. This app stores all your tickets (for films, plays, travel, etc.) as passes. The relevant pass will pop up on the lock screen of your device depending on the place and time. Taking a flight? You'll see a pass a few hours before the time of departure. Watching a film? The pass pops up as soon as you're near the theatre. This constitutes a basic use of AI in an app.
In the same way, Google is sitting on a galaxy of data from search, Gmail, YouTube, Google Maps, etc. This helped it create Google Now, an app that specialises in predicting the information you will need at any time, and showing it to you when you need it. For example, if you've made a hotel booking online, and the confirmation comes to your Gmail account, then Google Maps will mark the hotel, along with the dates of your stay, right on the map.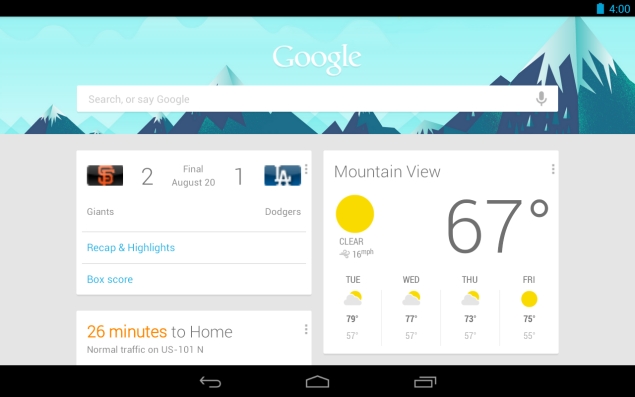 Phasing out search
When one thinks of AI, a note-taking app is probably one the last thing to come to mind. Unlike the software mentioned above, note-taking apps sound simple enough. The most common complaint with physical notes is that it's easy to misplace them. Similarly, many users abandon note-taking apps because it becomes harder to find old notes in spite of the countless tags and folders they've been sorted into. Evernote, one of the most popular apps in this category, understood this problem around two years ago and created its Augmented Intelligence department to solve it.
Zeesha Currimbhoy, V-P Augmented Intelligence at Evernote, says the company is facing a two-fold challenge in its quest to show you "the right content at the right time". Evernote has to work with each user's data separately, instead of looking at overall trends, because usage of the app tends to be personally varied. On Google, if you start typing something like "world cup", then thanks to the millions of people searching for news about the Fifa World Cup 2014, schedule and groups are the top suggestions even though you might personally never have searched for football related news. Evernote on the other hand, makes its suggestions based only on your personal usage.
(Also see: How to Watch Fifa World Cup 2014 Online)
The second problem is that most people still spend a lot of time trying to think of keywords to describe their memories.
"Evernote is all about memories," says Currimbhoy. "Today, every time you search, you have to think of keywords that will help you find your notes. Your brain thinks differently when you look at the search bar."
Evernote is trying to get people used to Evernote's new way of search, Currimbhoy adds. This is heavily reliant on context - time, location and the people you tag in your notes.
Adam Walz, an Augmented Intelligence Engineer at Evernote, wrote in a blog post, "Realising that search needs to evolve from keywords, Descriptive Search was our attempt to create a natural extension of your thought process." Walz notes in his post that Descriptive Search relies heavily on user-specified contextual hints. For instance, if you searched for "tagged happy", Evernote will also check for all posts that have the tag "happy".

Another vital part of Evernote's AI is semantic grammar. When you search for the word "image", the app not only looks for notes with that word, but also notes that contain images.
Walz notes, "A word such as 'image' may not appear as a keyword anywhere in your notes, and even if it did, when you type 'image' you are most likely not looking for a keyword in the text of your notes. You want to see notes with have attached image files."
Evernote then matches these search queries with the notes in your account, before showing you results. This step ensures that you find what you were looking for with minimal effort. Which is the goal of adding AI to all these apps - creating frictionless experiences that people will enjoy using, making things simpler, but no less powerful.