The Czech Republic has beautiful cities, a very rocky history, and the best beer in the world. Located in Central Europe (or Eastern Europe if you are still stuck in the Cold War), Czech Republic is a developed nation with a bustling technology and heavy industry sector. A country of over 10 million people, we are a small nation with a large appetite.
We also have the largest beer consumption per capita. As a result, restaurant and pub selection revolves around the price of beer. We are stingy when it comes to beer prices even when it still costs less than water.
In this short study, I will compare the two main local discovery platforms in the Czech Republic and arguably in the world, Zomato and Yelp. Zomato, a rapidly expanding company based in Delhi has made some impressive moves over the last few years.
The success of Zomato in the Czech Republic is evident through its expansion into 23 cities in the country, whereas Yelp has only remained in Prague. Furthermore, the quality of reviews and number of locations that are listed on Zomato are superior to those available on Yelp. Each listing on Zomato has a full menu, daily menu, and curated content. The question that arises is how Zomato was able to become the most reliable local discovery platform, and what it can teach us about startups that scale internationally.
Adapt your content to the local market
In the Czech Republic we love cheap and fast midday business lunches. Most restaurants offer fast meals that cost around $5 and will take up only thirty minutes of your time. This specific menu that is served usually between 12-2pm varies from week to week and caters to hungry workers looking for a quick lunch.
(Also see: Going Global, Indian Startups Learn the Importance of Thinking Local)
So how did Zomato decide to tackle this specific consumer & supplier behaviour?
Zomato addresses the customer demand right when you open up the app.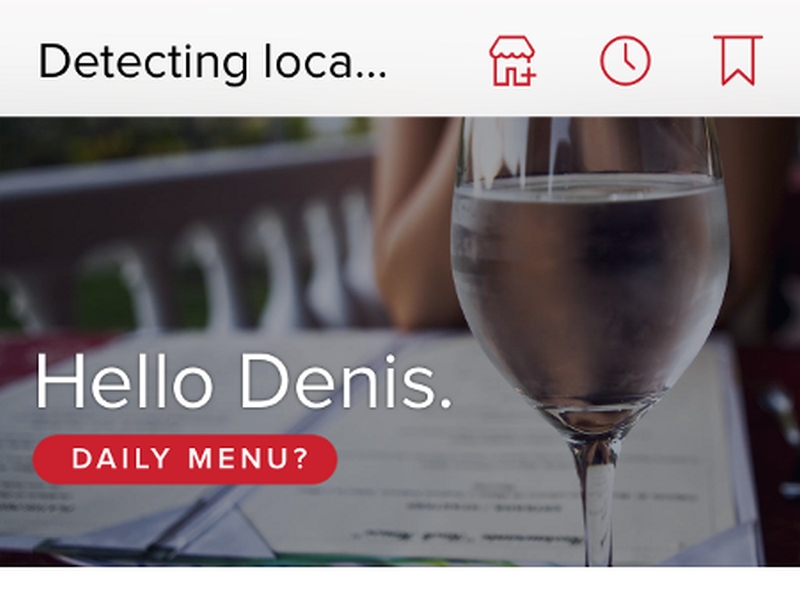 This is the homescreen when opening up Zomato, and as you can tell, the call to action displayed is "Daily Menu?"
You could say that it is a bold move as you are sacrificing room for other content, but through such product curation, Zomato is able to address the most likely use case by Czech consumers.
Yelp serves more as a search engine rather than a local "concierge"
Yelp in this case is one step behind Zomato, as it has not been able to identify what it is that the user would most likely demand when opening the app.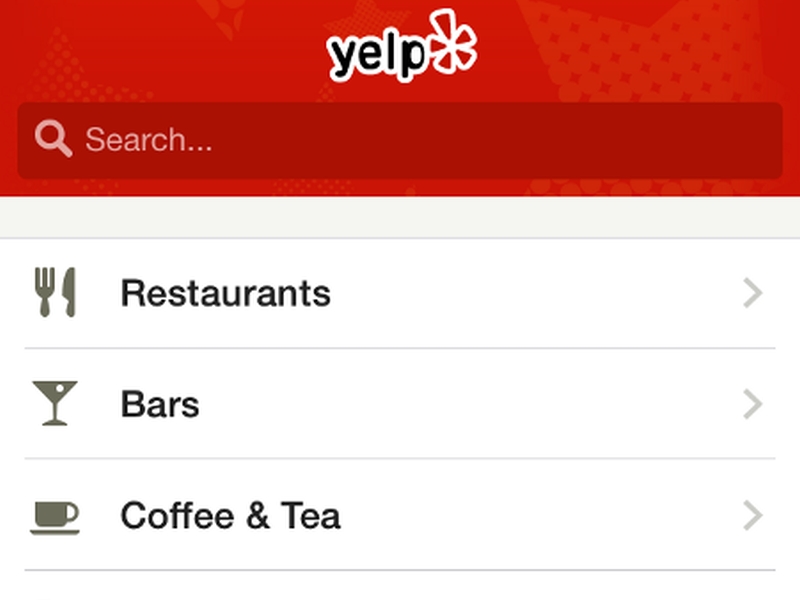 At the bottom of the screen, it tries to suggest a couple of places for "an afternoon bite," but its homescreen tries to funnel users through the different categories rather than through tailored content, which Zomato does with its "daily menu" search.
It is crucial for local discovery platforms to be able to communicate to its users that it has local expertise and that it can be trusted.
Zomato focuses on tailoring the application and sorts through the thousands of listings in order to make discovery easier for its user. Yelp, on the other hand, leaves it to the individual to go through its content and reviews by other users. By displaying tailored suggestions rather than a vanilla search functionality, Zomato is able to demonstrate better local expertise and offer greater value to its users.
Now how does beer come into play in the local discovery search?
Zomato lays out the approximate price for a pint of beer and provides an overview of the services offered by the restaurant through its tags. It's brilliant and simple.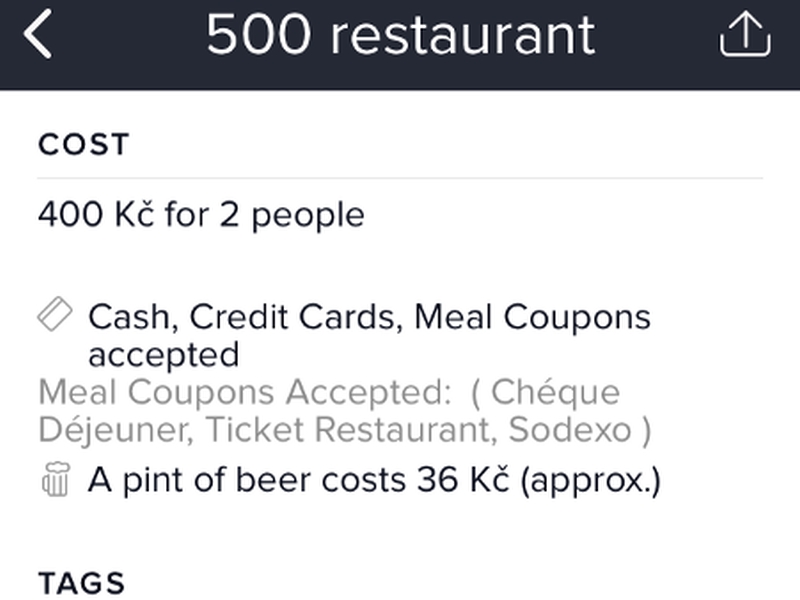 For many Czechs, the price of a pint of beer helps us categorise restaurants. For example, if beer is less than 40 Czech Crowns, we assume that the establishment is a modest pub restaurant ("hospoda") that focuses on beer rather than food. When a restaurant prices its beer at above 45 crowns, we assume that is a pricier sit-down restaurant with higher quality food. By including the approximate price of a pint, Zomato is giving its users crucial information that will aid with the restaurant selection.
Furthermore, something that many people that are foreign to the Czech Republic would be unfamiliar with is the use of "Meal Coupons" or "Stravenky" in Czech. These are given to employees as employee benefits, and are a very common form of payment for food. As seen on the screenshot, the methods of payment include these "Meal Coupons" which Yelp does not provide on its platform.
It is apparent that Zomato has been able to adapt its content to the local requirements such as information about daily menus, approximate price of a pint, and whether meal coupons are accepted. To be honest, for a period of time I actually thought Zomato was a Czech startup; that's how local it felt.
After examining the product and content, the question that was hanging over my head was how Zomato was able to achieve such success with its product in comparison to Yelp, the Titanic of local discovery.
Content aggregation and curation
The aggregation of such integral information about restaurants and businesses on Zomato is not just a nice perk of the product, rather, it's a full on strategy that the company is pursuing. The company believes that the curated content is actually its winning edge over Yelp. Pankaj Chaddah, co-founder of Zomato outlines this in a Quartz India article:
"Yelp is user-generated content...it's user reviews. For Zomato, it is both user reviews and content curated by Zomato...That content is much more powerful. That's something customers don't have access to."
Acquisitions
Prior to Zomato's entry into the Czech and Slovak market, there were two startups that tackled local restaurant discovery: Lunchtime.cz and Obedovat.sk. Both were acquired by Zomato for $3.25 million dollars in August 2014. This took place a year after Yelp had already officially launched in the Czech Republic without acquiring any companies. Instead, Yelp decided to build the team from scratch.
This seems to have been a successful strategy for Zomato, as the acquisitions were able to significantly ease the company's entry into the market. Both Lunchtime and Obedovat were leaders in the industry, with teams consisting of Czechs and Slovaks. By adding experienced team members that were the most knowledgable about the local discovery business in Czech Republic and Slovakia, Zomato automatically gained an edge on the market.
Two strategies, one winner
At first when I started thinking about this case study, I thought that Zomato was riding a first-mover advantage, but finding out that Yelp launched a year before Zomato led me to the next thought.
Could it have been a "second mover" advantage? Was Zomato able to analyse Yelp's strengths and weaknesses in the Czech market? Perhaps after seeing that Yelp was pursuing a ground up strategy, where it would fully build up the business without acquiring any local competitors, Zomato decided that the right move would be to follow the local "Acquisition" path.
Concluding thoughts
It is way easier for me to sit back and analyse a startup's global expansion and localisation rather than be the person executing it. I applaud all the teams that are in charge of scaling their startups across borders. Here are the lessons I took away from this.
Adapt your content to the local market. Do not assume that what works in your startup's home country will work abroad. Even the smallest of quirks in your product can be a game changer (like the approximation of the price of one pint by Zomato).
To achieve localisation, you need a local star team and prove that you're a domestic expert. Zomato was able to display local expertise through its curated content. From then on, I was sold.
Look to acquire the competition. You might have the greatest board of advisors, the best team of engineers, or insane amount of capital, but that won't guarantee you success in the local market. Sometimes, the local startup has already cracked the code and acquiring it might just be the smartest strategy.
This article was first published by Denis Bravenec on his Medium blog. Bravenec, who tweets as @denisbravenec, is a student from the Czech Republic studying International Relations and Entrepreneurship at Tufts University. He has been a founder, entrepreneur and is currently working as a marketing specialist in Prague. The article was republished with his permission, and all images and text are from the original blog post.
Disclaimer: The opinions expressed within this article are the personal opinions of the author. NDTV is not responsible for the accuracy, completeness, suitability, or validity of any information on this article. All information is provided on an as-is basis. The information, facts or opinions appearing in the article do not reflect the views of NDTV and NDTV does not assume any responsibility or liability for the same.