You've got a new iPhone, iPad or any other gadgets and you're very excited about it, but before you can begin using it properly you'll have to spend hours installing all your favourite software. If you could automate the installation process, you'd save a lot of time and get straight to doing what you bought the machine for. Here are two great services that let you quickly install a lot of apps on Windows and Mac and two tricks to do the same on Android and iOS devices.
Windows and Ubuntu
If you use a Windows computer, you must try Ninite. We tried a few other alternatives and found that these apps try to serve too many ads, sponsored apps, or run in the background in your system. Ninite is free, has no ads and gives you a single exe file that you can delete after installing all your apps. That is why it is better than the alternatives. Windows machines that have never been formatted or restored to factory settings are rare. Windows also happens to be the operating system on a large number of new computers around the world. In a nutshell, a lot of people are spending a lot of time installing the apps that let them make the most of the operating system. If you want to make it a single-click, hassle-free process, follow these steps.
1. Go to Ninite and scroll down. You'll see several apps in categories such as Utilities, Browsers, etc. Ninite lists several great, free apps for Windows such as Glary Utilities, VLC Media Player, Avast anti-virus, Dropbox and LibreOffice. The Ninite home page has the full list of apps sorted into categories such as browsers, messaging, media, imaging, security and more. Most people won't need any app other than the ones listed on Ninite.
2. Select all the software you need by checking the boxes next to them > click the big green Get Installer button.
3. Ninite's installer (usually less than 1MB in size) will begin downloading now. Once that's done, run it. It will automatically start downloading all the apps and install them. Ninite also removes all the adware (toolbars, search engine defaults, etc.) that some apps try to make you install. This only works for desktop apps, not Windows 8 style apps.
Ninite is also available for Ubuntu Linux, but the selection of apps is a lot smaller than Windows.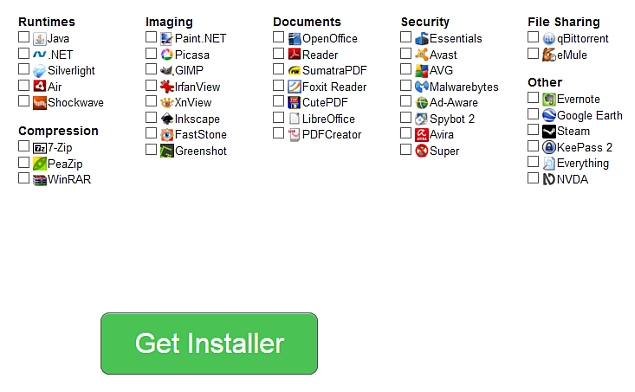 Mac
Unlike Windows users, those on Apple's Mac operating system get a good collection of pre-loaded apps. Yet, if you want to quickly install some of the most popular third-party apps on Mac, these steps will help.
1. Open Get Mac Apps > select the apps you need > click "Install These!"
2. This will generate a command. Copy it.
3. Open Terminal. If you don't know how to do this, hit Cmd+space > type Terminal > press Enter.
4. Paste the code in Terminal > hit Enter.
5. That's it. In case you're wondering whether Get Mac Apps has good apps, the collection is quite good - featuring free apps such as Flux, Skype, VLC, Handbrake, Dropbox, Evernote and Notational Velocity, among others.
Note that both Ninite and Get Mac Apps use the official sources of the apps, so they are safe to use.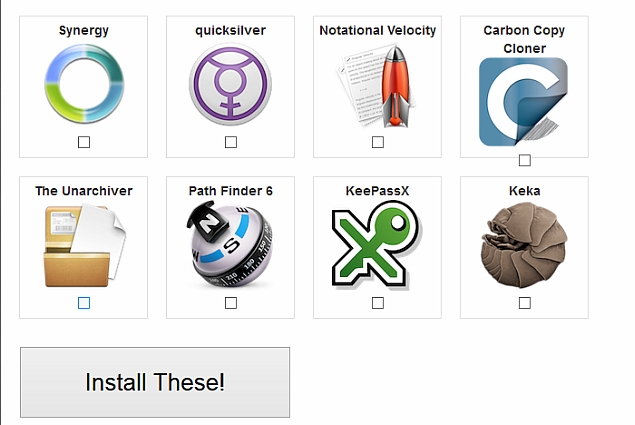 Smartphones
You can also install multiple apps easily on smartphones, but these methods will not work if you want to install new apps. They work only with apps you've previously installed or purchased from the same Apple ID or Google account. This method is useful if you have a set of essential apps that you always install every time you get a new device, but not if you are using a new Apple ID or Google account.
Android
If you have an Android device, just go through the following steps to install several previously installed apps quickly.
1. Open Google Play Store > tap the three horizontal lines on the top-left > My Apps > All.
2. Tap and hold any app that doesn't have "Installed" written next to it. This will select the app. Now scroll down and select all the previously purchased apps you want to install > tap the Install button at the top.
3. All these apps will now be installed, though you will have to negotiate through the permission screens for each app and approve it individually.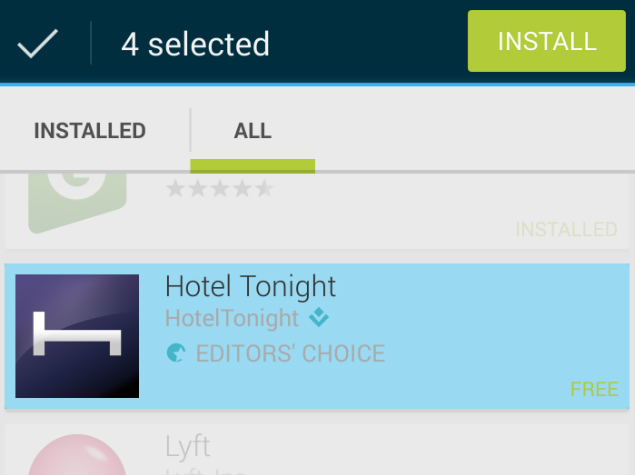 iOS
Unlike Android, iOS doesn't have an option where you can select all previously purchased apps and do a one-tap install. But Apple's method is much faster. Check these steps and see it yourself.
1. Open App Store > tap Updates > Purchased.
2. The apps you have installed will have an "Open" button next to them. The ones you haven't installed will have a cloud icon with an arrow pointing downwards. Tap that icon for all the apps you want to install and your iOS device will start downloading them - no password required.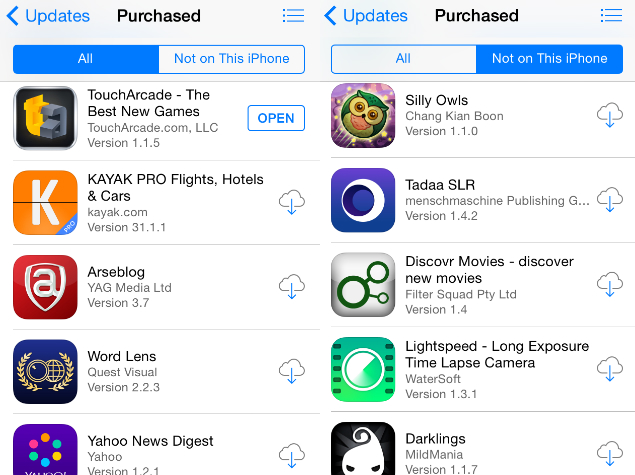 These methods are great for quickly setting up your new device, but if you prefer any other ways or services, let us know with a comment. We have more useful tutorials in our
How to section
, which you might want to visit.