The App Store for iOS and Mac is a great place to find new apps for your Apple devices, but its search algorithms aren't the best. iTunes doesn't have advanced search features, and many people don't care for the software at all. Thankfully, you don't need to deal with iTunes to browse and search the App Store.
Not many people know this, but Apple's official website offers you a way to browse the iOS and Mac App Stores (US catalogue). You can look through various sub-categories such as Books, Games and Productivity, to see the popular apps in those categories, or go through the alphabetical list of apps in each category.
However, that can get tiring very quickly and the official site does not have a search function for apps, which is a problem. There are also several third-party websites such as 148apps, Appshopper and Toucharcade that will let you search for apps. However, these sites are really geared towards discovery of new and on-sale apps and not search, and they also include news and reviews. If you're just interested in searching for apps, then these sites not the best choices.
If you know the name of the app you are looking for, one way to find its description page is to use the site operator with Google. So, for example, to find the NDTV Gadgets app page, use the query NDTV Gadgets site:apple.com. However, this can return a lot of irrelevant and duplicate results since app listings from various country-specific iTunes stores are likely to show up as well.
If you want better App Store search without using iTunes, these two websites will serve your purpose.
Fnd
While the official website serves for browsing through the App Store, if you're trying to find something specific, then Fnd is a much better option. It has a much more robust search, and it lets you choose the country you want results from as well. This is what you need to do:
1. Open the Fnd website > enter your search query in the big search bar > hit Enter.
2. Now you'll see the top three search results in apps, music, movies, TV, books, Mac and podcasts. To see more results in any of these categories, you can either click the tab for the category, which is above the search results, or links such as "More Apps" that appear after the three results from the category.
3. Each search result has the name of the app in green and below that, you'll see the app's section, such as Social Networking. Next to this section you may see a tiny rectangle and/or a big rectangle. This is Fnd's way of showing whether the app is available on iPhone, iPad or both.
4. Clicking the name of the app in Fnd's search results shows you the app's App Store listing and YouTube videos related to the app. To the right of each search result and app listing is a box with a blue outline. This box mentions the price and has a small App Store icon. Click it to navigate to the app's page on Apple's website.
5. On the Fnd.io homepage, you can click the three horizontal lines on the top right to browse the App Store charts. You can search for top free apps, top paid apps and top grossing apps on the US App Store. On the top left of the homepage, click the country flag and select your country to search the App Store in your region.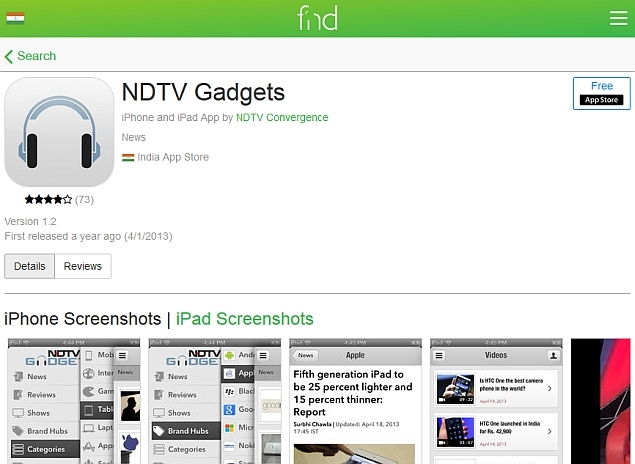 Vionza
If you're looking for a specific app or want to browse the store, then these two methods are good enough. If you want fine control over the search results, then you need to use Vionza. For instance, if you want to only see apps priced between $0.99 and $3.99, or apps rated more than 4 stars, then Vionza is the best choice. This is how you make use of it:
1. Head to Vionza's iOS App Store search page. If you want to search for Mac apps, click here.

2. Type the name of the app in the search bar > hit Enter or click Search. Now you'll reach the results page. On the left-hand side, you'll see sliders for price and ratings.
3. Adjust the sliders to the price range, and rating range that you're looking for. For example, you could set it to find only free apps, or only top rated apps, or any combination in between.
4. Above the sliders, you will see two headers - Sort Apps By and Device Type. Here you can arrange results by relevance, name, price or rating. You can also filter results by device type - iPhone-only, iPad-only or universal apps.
5. Vionza only lets you search App Store pages from five regions - Australia, Canada, Germany, US and UK. Sadly, the Indian store isn't supported so you won't be able to see price in rupees.
6. Unlike Fnd and iTunes Preview, Vionza doesn't let you see App Store charts.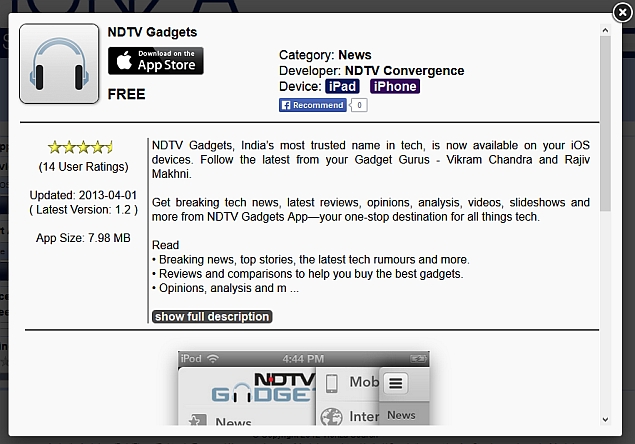 Both Vionza and Fnd work as advertised on mobile browsers too. If you want to search for iOS apps from an Android device or without opening the App Store app, either of these two services should do the job. We tried a few other services, but these were the best ways to search the App Store - if you have a better alternative, please let us know via comments.
For more such useful articles, you can visit our How to section.