The massive success of Pebble Time's Kickstarter campaign, the steady stream of Android Wear smartwatch launches and the launch of Apple Watch show that there's a growing number of people buying wearables, and software development for these devices is going to be a challenge many companies will take up. So far, we've not seen any 'killer app' for smartwatches, though some good apps are already available.
Hardware limitations pose a big challenge towards creating a unique experience, and several developers have already begun experimenting with creating apps for watches. Evernote is one of the many firms that's finding its feet in the wearables space. Damian Mehers, senior software engineer for wearable tech at Evernote, told us over a Skype call that the company is already tinkering with its approach on wearables.
"Part of the reason we got in there [developing apps for wearables] early is because we weren't sure what kind of apps would work for users," says Mehers. "So it made sense for Evernote to be there at the beginning."
Solving the input problem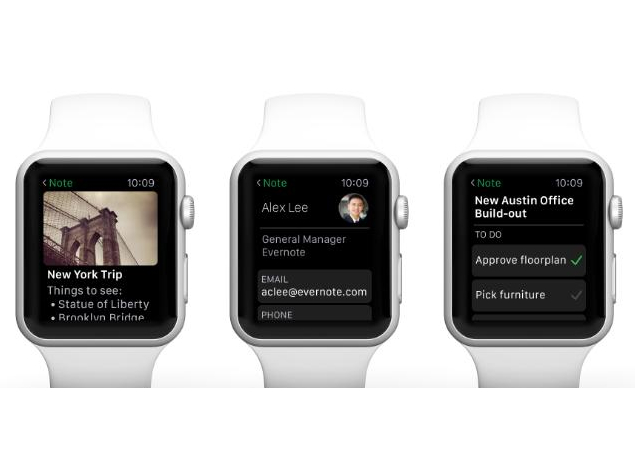 Mehers tells us that developing apps for wearables isn't the same as doing so for smartphones, because the way people will interact with a watch has to be different.
"It's not a question of copying the desktop or the mobile phone experience over to the watch," says Mehers. "The kind of interactions that make a difference are very small, quick interactions. Evernote on Android Wear is not a cut down version of Evernote on smartphones. It's a new app."
Since note-taking is an activity that's far better suited to devices with larger screens, Evernote faces a challenge in the transition to the watch. It can't expect users to be typing notes on the watch but taking audio notes is far easier on the wearable device. The Apple Watch presents a similar design challenge with one difference - using its digital crown as an input device.
In an earlier interview, Eric Collins, Head of Distribution and Monetization, SwiftKey told NDTV Gadgets that wearable devices are still evolving.
"The real problem is interacting with them - I don't think it's something we're working on as yet, but I imagine that once the wearables take off, we'll be working on that," he says. "Because prediction, reducing the amount of tapping you do on a small screen, is going to be important."
He doesn't think that voice is the solution though.
"Can you imagine, you know how it is, you're in a meeting and you get a call and you want to tap it and send a message," he says. "But would you stop the meeting, and say, 'hey everybody, be quiet for a second now', and then dictate your message? The fact is that voice can't be the only solution at the end of the day."
Picking the right features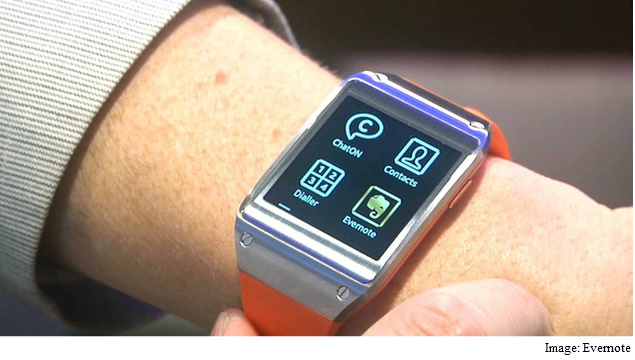 Android Wear in particular doesn't stop developers from adding any features, and this can be dangerous according to Mehers.
"Android Wear is actually full Android so you can do pretty much anything you want to on it," he says. "That's sometimes dangerous. Just because you can do everything doesn't mean you should do everything."
The temptation to add a host of features that a phone app has can be overpowering, but Mehers feels it's very important to pick the right features for the watch app. Evernote has taken time to optimise its app for wearables that have strict hardware limitations in terms of screen size and battery life.
"My first experience of this was with the Samsung Galaxy Gear," says Mehers. "That one would let you take an audio note and what was being recorded on the watch was a very simple format. I needed to convert it to the format that we need for Evernote."
That led to one of their first challenges with battery life.
"Initially I was doing that on the watch," he explains. "The battery was going down very fast because it's a CPU intensive [process]. What I ended up doing was what I should have done in the first place - transfer the raw audio file over to the phone and do the conversion there. You need to really think about where you're doing the work and offload as much of the CPU intensive, battery draining work as possible over to the phone."
However, pushing all the work to the smartphone app isn't the best solution either as that would make the watch app useless. As of now, this is the only solution for Apple Watch development, since there are no standalone Watch apps on Apple's platform yet and it's the iPhone app that also includes Watch-specific components. Google's Android Wear doesn't have this limitation.
"For me the ideal experience on a wearable device is that you look at the watch and the information you need is there for you even though you didn't actually realise you needed it," he adds.
What you need, when you need it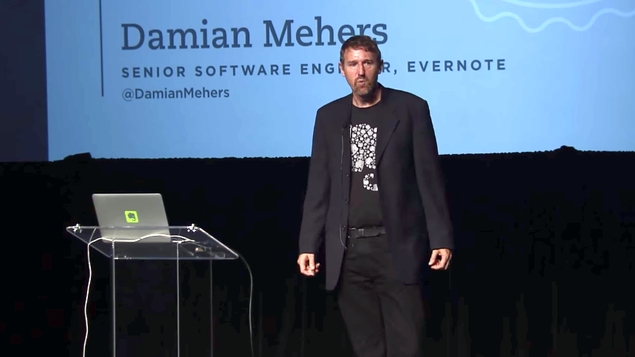 The first steps Evernote took to try and accomplish this were simple. The note you viewed most recently on your phone would automatically show up when you fired up the Evernote watch app.
"But we went beyond that," Mehers says. "If you've got a meeting coming up, we'll look in Evernote to see if there's any information relevant to you and we'll push it over the watch. So you get the notes you took the last time the meeting happened, for example."
Such features, which rely on contextual awareness, will sound familiar to Evernote users. The company has a dedicated AI team that specialises in making its apps surface the information you need, when you need it. Mehers works closely with the AI team to ensure that Evernote's watch app shows you information that you don't even remember you have. Watch apps, he believes, are going to remain companion apps in the near future so having AI features could be crucial to whether people use Evernote on the watch as much as they do on other platforms.
Evernote's V-P mobile products Jamie Hull, who was involved in the development of its Apple Watch app, wrote in a blog post, "We knew that timely and contextually-driven content is particularly important on a small screen like a watch, and we wanted to build something optimized to work without a lot of scrolling." Emphasising the need for context in watch apps, Hull wrote, "So we tapped our augmented intelligence (AI) team to create an algorithm that surfaces only the top five notes that are most useful to you in that exact moment, based on your location, meetings in your calendar, and how often you access certain notes."
Allocating teams for development
While Evernote has made a separate app for Android Wear that isn't installed by default as a part of the main Evernote app, that doesn't mean that Mehers feels the two - wearables and smartphone apps - need to be completely separated either.
We asked him whether startups should delegate separate teams for developing apps for mobiles and wearables, and Mehers says: "If you'd asked me the question a year ago or maybe six months ago, I would've said hire a separate person because things are changing so fast. But I think it now makes sense to use the Android team to create the Android Wear app because the technology stack is the same."
That's why Mehers doesn't work on Evernote's Apple Watch app; Evernote's iOS team does it instead. He feels that approach is ideal because the Apple Watch app is an extension of the iOS app. Of course, as other wearable platforms emerge, things could change.
It's early days for wearables of course, but we wondered what will come next? Watches aren't the only kind of wearables around. Google Glass and virtual reality headsets such as the Oculus Rift are just some examples of wearable technology products. But watches are the only ones that have made it to the market and they're also socially acceptable enough for mass adoption. Mehers says smartwatches are where Evernote's focus is at the moment.
He sees potential in sending notifications via Bluetooth earpieces but feels the social aspect is just as important.
"With all wearables you have to look at the social aspect as well. Bluetooth earpieces have a reputation should we say, and the same with Google Glass," he says, hinting at the term 'Glasshole' being used to refer to those who wear the device in public places. "Maybe it's not so much the technology but social adoption that's the issue.