As people become more reliant on standalone apps to get their work done -- Uber for commute, Bookmyshow for movies, Maps to get directions to places -- Google realises that its search engine is no longer the go-to app for many, and understandably, it's not pleased with that. But Google seems to have built something that could put its core service back in the driver's seat.
At its developer conference I/O in May, Google announced that it is making Google Now more capable and useful. Dubbed Now on Tap, the feature can be triggered by pressing the homebutton. Once you do that, it fetches information from the app that you're currently working on and provides you with contextual information regarding that app.
The way it does so is the real deal. You don't have to go back to Google Now page, or open a Web browser. A non-intrusive layer of information appears right on top of the app you are running in the background. This makes it possible for you to get information about things without juggling between apps. if you're on an email client, you don't have to leave the email client. If you're texting a person on WhatsApp, you stay in WhatsApp.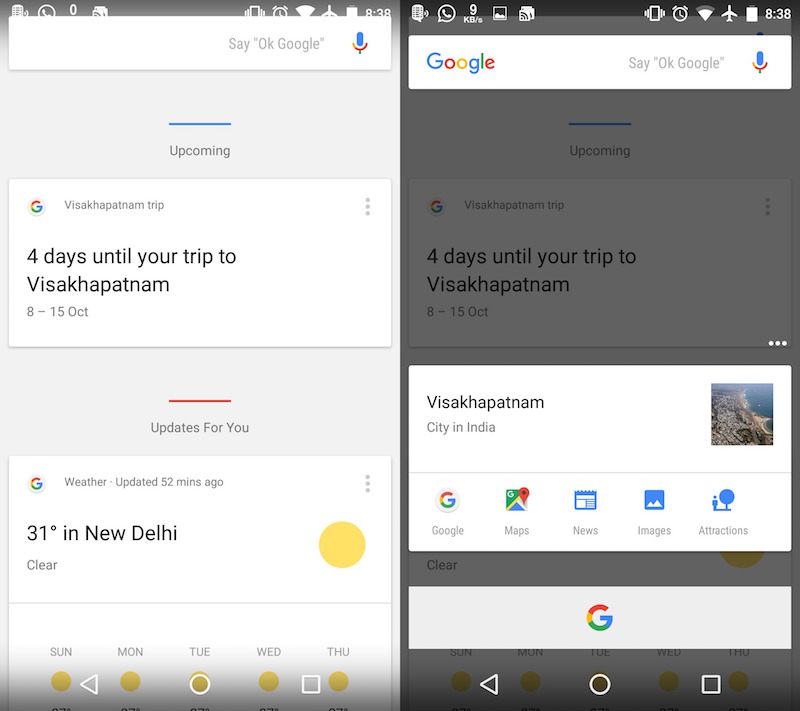 Now on Tap is a part of Android 6.0 Marshmallow, which will start rolling out to a number of Nexus smartphones, tablets, and Android One handsets starting this week. We tested the feature and were impressed by how handy it can come.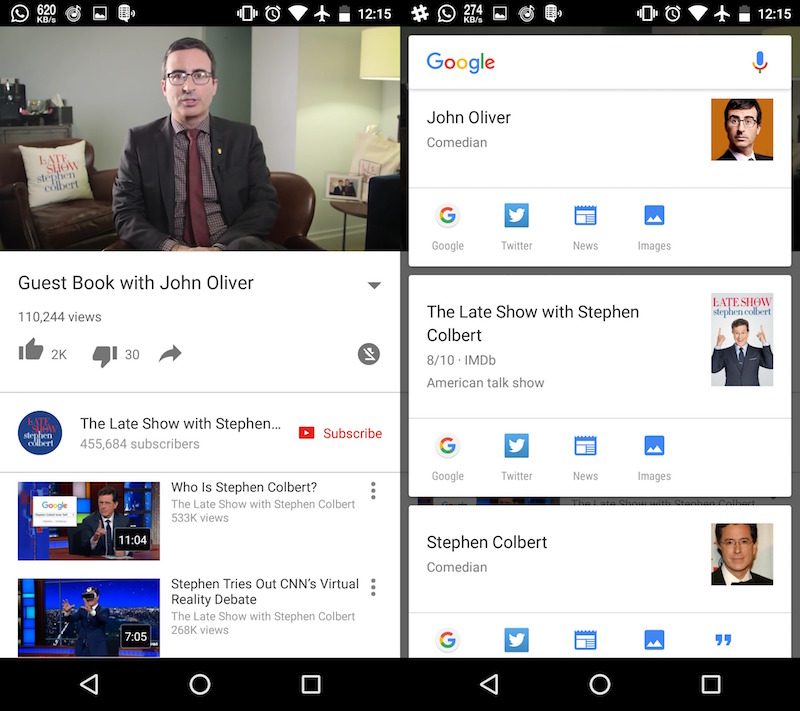 Now on Tap works with every app -- be it a third-party program or Google's own. But the feature presumably requires the app to show texts that Google can fetch and provide contextual information about. Whether it's Gmail, or PlayerFM, or Facebook's Messenger, or Slack, or Pushbullet, or Twitter, or Chrome, or Feedly, or LinkedIn, or Wynk, Now on Tap has you covered.
If you've emailed a notable personality, for instance, or you're talking about someone, or a product or a place, Now on Tap gives you information about them and also gives you quick option to find more relevant details.
Similarly, if you've just received a text message from a friend that contains information about some place, Now on Tap will tell you about that place as soon as you press the home button. It doesn't take much time to get glued to the feature.
We tried it with a number of apps, and the feature mostly offered relevant and accurate information. Occasionally, it would fail to fetch any information, and sometimes if you're on the same app, it would provide you old results. Also, if you've opened a long article, or your Facebook profile, Now on Tap fetches only the information that you're currently viewing on the screen. But considering it will get even better as more people use it, we can't wait to see the full power of Google Now on Tap unleashed in the future.