(Update: Which Is the Best Music Streaming Service in India - 2015 Edition)

Streaming services such as Saavn, Gaana and Hungama let users listen to music on the Web for free (with ads) and come with premium subscriptions that allow you to save songs for offline use as well. Even without the premium subscription, using a music service can involve a lot of time invested in setting up playlists and favourites, so no-one wants to keep switching between apps.
Today, four major players are trying their best to take the crown in India. Hungama, Gaana, Saavn and Wynk are in the fray, but which one is the best? We used each of these as our primary source of music for a time to find out.

Wynk
Airtel's Wynk is the newest entrant in the market, which launched in India last week. One of Wynk's strengths is manual curation - the playlists and songs you see on the home screen of the app are hand-picked - we found that Wynk's curation was in line with our taste in music, but that may not hold true for everyone.
When we first fired up the app, we found it easy to find the songs we wanted - there is a lot of Bollywood music, old Hindi songs, hit international songs and classic rock music that is all easily discoverable through Wynk's curated playlists. Of all the services we tested, Wynk's default playlists served us the best.
Another of Wynk's strengths is its pricing. On iOS, Wynk offers unlimited downloads at Rs. 60 per month - half the price offered by competitors. On Android the pricing is closer to competition, but Rs. 99 per month is still the best price in the market.
However, Wynk is not perfect just yet. Saavn and Gaana offer music streaming and downloads at 320 kbps to premium subscribers, while Wynk has capped this at 128 kbps. On iOS, we were quite annoyed with the lack of support for iOS 7's back gesture (swipe from the left edge to go back, which is supported by Saavn and Gaana) as the tiny back button at the top is hard to hit accurately. The app also doesn't seem to remember the shuffle command - it kept the playlist and even the position in the song we were listening to correctly, but when we launched the app later, it had turned shuffle off. But these are still early days for the app and one can hope these things are ironed out as we go along.
Airtel talked up the fact that Wynk's music streaming service is completely ad-free and that Airtel subscribers can pay Rs. 129 per month to download 'unlimited' songs (Android-only) via 3G with no data charges i.e. the app won't eat into your regular 3G quota. This sounds good, but Airtel has included a fair usage policy. Android users on the unlimited plan can download 500 songs every month at Rs. 129 but data charges will apply if you download more songs. While the free tier has no ads, it lets you stream only 100 songs per month. Wynk's FAQ reads, "If you do not have active Wynk subscription, you can stream up to 100 songs per month." Honestly, all this sounds a bit too complicated for our own heads, so we believe the consumers may well be confused, and indeed, annoyed, when they realise they aren't getting what they thought they signed up for.
PROS: Good curated songs list; Competitive pricing
CONS: UI needs some tweaking; Hidden FUP; Complicated usage policy/ quotas; no Web view

PRICE: Free streaming (ad-free, streaming up to 100 songs per month; Rs. 60 per month (iOS, unlimited streaming and downloads), Rs. 99 per month (Android, unlimited streaming and downloads), Rs. 129 per month (Android, unlimited streaming and downloads, and no data charges for first 500 songs.)
AVAILABLE ON: iOS, Android, Mobile Web.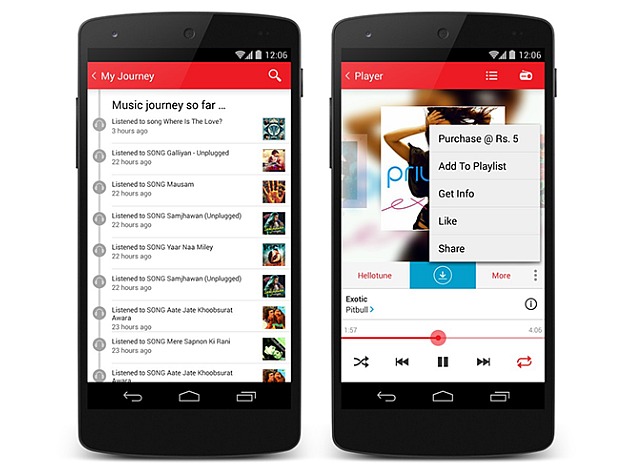 Gaana
Gaana has a vibrant interface which looks more inviting than the other options. The service also supports gapless playback (by preloading the next song), unlike others where you'll hear a brief pause between two songs. This is a setting that can be turned off, but we recommend that you leave it on.
We were largely happy with Gaana's library, but oddly enough, some songs such as the ones from the Dil Chahta Hai album are only available via the website, and not through the mobile app, something which wasn't a problem with rival apps. A Gaana spokesperson told us that the company is working on a deal with record label T-Series to change this soon.
(Update: Gaana added T-series songs to its catalogue a day after this article was published, which brings its Hindi song library on par with competitors.)

The one real issue we have with Gaana is the way it handles playlists. Gaana stores saved songs and saved playlists separately, which means that if you've added songs from Gaana's playlist to your download queue, you can't quickly find them among your downloaded songs. Instead, you have to go to the playlists tab in downloads, and then find the songs you want. Switching between the different songs you've downloaded to listen to in this manner can be very annoying, and doesn't make sense.
Another issue with Gaana is that if you log into it via Facebook or Google to try the premium service, then it automatically follows Gaana users from your contact list, and starts spamming you with notifications about their activity. This can be turned off though after a little bit of digging around.
We still liked Gaana though, because its pricing is good - Rs. 120 per month for unlimited streaming and downloads. Gaana also offers a discount if you pay up front (Rs. 300 for 3 months and Rs. 1,100 per year). It is also available on all smartphone platforms.
PROS: Good looking UI; Available on all platforms
CONS: Buggy playlist system; App spams notifications
PRICE: Ad-supported streaming; remove ads and enable downloads for offline listening: Rs. 120 per month (iOS), Rs. 129 per month (Android)
AVAILABLE ON: iOS, Android, Windows Phone, BlackBerry, Web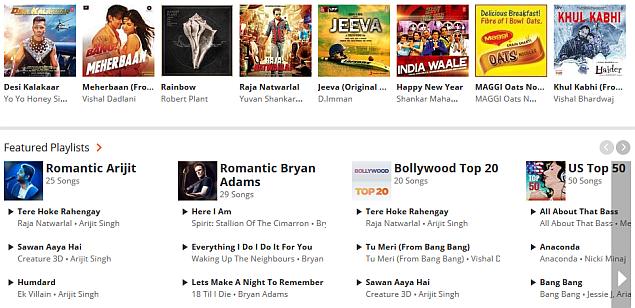 Saavn
Saavn's UI falls in the middle ground between Gaana and Wynk - it is clutter free though and strikes a good balance. The library is good, but you'll have to spend time searching for songs and making your own playlists, because most of the curated lists here seemed quite mediocre.
We like Saavn's design and found navigation to be easy in the app, but we wish Saavn's playlists were as good as those in Wynk, because we had to search for a lot of the songs we wanted to download. This is particularly the case when you're trying to listen to slightly older international music - Saavn's playlists for current Hindi and English music are fine, but there's little to recommend if you go back even a decade.
The app also crashed a couple of times, but it was an occasional problem only. The way the app handles its queue is a little strange - we added 150 songs to our queue one day, and then added another 100 songs the next day. Instead of creating a list with 250 songs, Saavn duplicated the first 150, giving us a queue of 400 songs.
The pricing is also on the higher side with respect to competition. Saavn Pro Lite charges Rs. 120 per month for up to 3GB of downloads on one device, and Saavn Pro costs Rs. 250 per month for unlimited downloads on up to five devices. With other providers offering unlimited downloads at the same or lower price, it's hard to live with this limit.
PROS: Simple UI; Big library
CONS: Occasional crashes; Expensive pro option
PRICE: Ad-supported streaming; remove ads and enable downloads for offline listening: Rs. 120 for Saavn Pro Lite and Rs. 250 per month for Saavn Pro.
AVAILABLE ON: iOS, Android, Web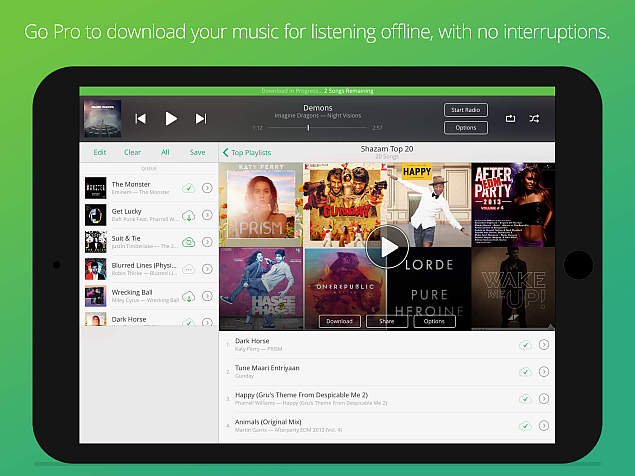 Hungama
Hungama is one of the most cluttered music streaming apps available right now, but it has some interesting features that can help make up for this. When you play any song, Hungama automatically downloads it for offline use as well (if you are a pro user). It also has a nice tool for discovering music - you select your mood, and Hungama recommends songs, which works pretty well, though the recommendations tend to be only recent songs. Unfortunately the library isn't very good with this service. We found that a lot of songs available in the other services were missing in Hungama.
Priced at Rs. 120 per month for unlimited downloads, Hungama is competitive with the other options, but overall, we preferred the other apps for their more intuitive interfaces.
Hungama has buried its mood recommendations feature in a stack of menus with really tiny font sizes not aiding its cause. In contrast, the other apps made their features apparent and easy to use, and considering that the music libraries and playback is similar across the apps, interface has to be given more attention.
PROS: Automatic downloading; Good song recommendations
CONS: Hard to use UI; Inferior library
PRICE: Ad-supported streaming; remove ads and enable downloads for offline listening at Rs. 120 per month (iOS)
AVAILABLE ON: iOS, Android, Windows Phone, BlackBerry, Web.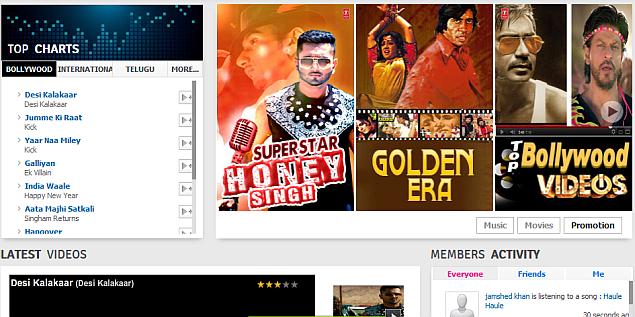 Conclusion
The most important feature for any such service is the music library. To check how good the library is, each member of the NDTV Gadgets team named two favourite albums, ranging from the old Hindi classic Guide to something more recent like Eminem's Hell: The Sequel. Of the 18 albums that we looked for, Wynk had 11, while Gaana and Saavn had 12. Unfortunately, we could find only 3 of 18 albums on Hungama.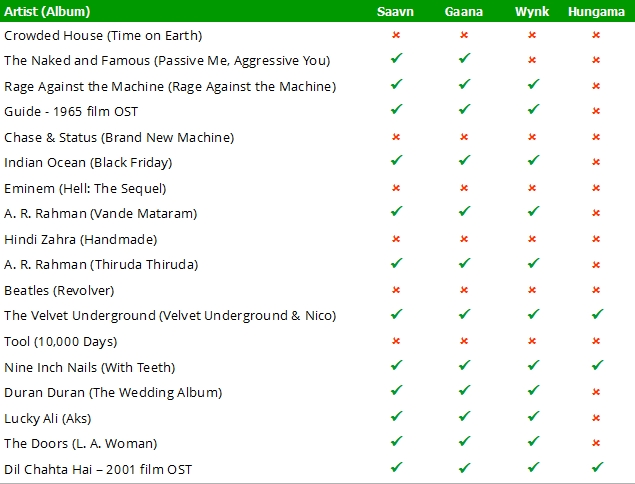 Having used all of these apps for a time, we found Wynk to be the best. While its feature set is more or less on par with Gaana and Saavn, curation and ease of discovery make it a very appealing proposition. It also is the cheapest service for listening to music and we don't see a good enough reason to be paying more for any of the other services. Wynk's available on Android, iOS and the Web (on mobile phones), which should be good enough for most people. You can't access Wynk on the Web, unless you are using a mobile phone, but most people are going to be accessing these services from mobile phones, so we feel this isn't a big miss.

However, if you want a music streaming service on other platforms, Gaana is the best option for you.