The journey of a thousand startups begins with solving a single pain point. Many Indian bus operators rely on DVD-powered television sets, which can be a bad experience if you're the unwilling recipient of some action blockbuster flick in a regional language you don't even understand. Mumbai-based startup Fropcorn, founded by Kartik Bansal and Kartik Poddar, wants to solve this pain point.
"We've ourselves had that experience when we're traveling on buses. That pain point is felt by millions of users every day, across the country," Poddar tells Gadgets 360, over a breakfast and coffee at a local Udupi restaurant in Bengaluru. "We've been thinking about this idea since June 2014. We pitched the idea to Reliance and Microsoft's GenNext Accelerator," says Poddar. "Fropcorn was selected to be part of the first batch of 11 from over 300 applicants."
The startup was also one of the Top 100 at the Nasscom Product Conclave, and in the top 32 in Nasscom's 'Get In The Ring' competition held in Bengaluru, which was referred to as India's first ever Product Olympics.
"Inflight entertainment needs to be there for other mass transport systems. That's how we hit upon the idea of starting something like Fropcorn," says Poddar. "The whole idea was how can we bring quality entertainment to people, when they're traveling."
"We've spoken to users and they've given a big thumbs-up to the idea. What we're doing is giving you a choice of movies, better content, and a choice of devices as well," he adds. "You can watch it on your own device, rather than a TV which is not visible from far away, the sound of which is not audible."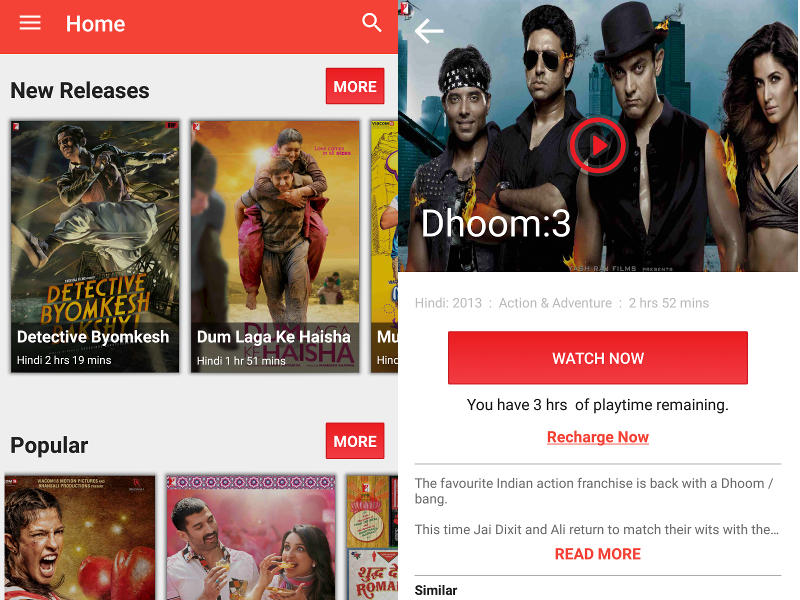 Fropcorn currently offers an app for Android, with iOS and Windows apps coming soon. The way it works is simple - Fropcorn has plugged media streaming servers in over 200 buses so far. These servers carry at least 100 movies at all times, and the catalogue is regularly updated. Users can then stream the video from the server on the bus using built-in Wi-Fi, instead of having to stream videos over the Internet, so your experience isn't affected by the 3G connectivity - or lack thereof.
The startup is presently experimenting with a tentative pricing model of Rs. 30 per user per journey, and is piloting cash payments, having integrated credit card, debit card, and telco billing on the app.
Fropcorn has taken a small seed funding round so far, and has a team of 20 people, with a majority of them working on engineering. The startup has dedicated teams in Mumbai, Hyderabad, Bengaluru to work with the bus operators and service them on a regular basis, says Ayush Ahuja, Business Head, Fropcorn.
"As a company there are three pillars that we operate on, one is technology, which is the core of the operation, second is our content partnerships, and the third is retail distribution, which includes some of the largest bus operators in the country," adds Ahuja. "The responsibility of keeping the hardware alive and updated is something which we take. The way we have built our hardware, it's really robust, scaleable and equipped to work flawlessly in harsh environments."
The popularity of apps like Hotstar has validated the use case of a free personal entertainment app. The Fropcorn team believes that users are willing to pay for high quality entertainment if it's provided to them in a fast, reliable, and convenient way.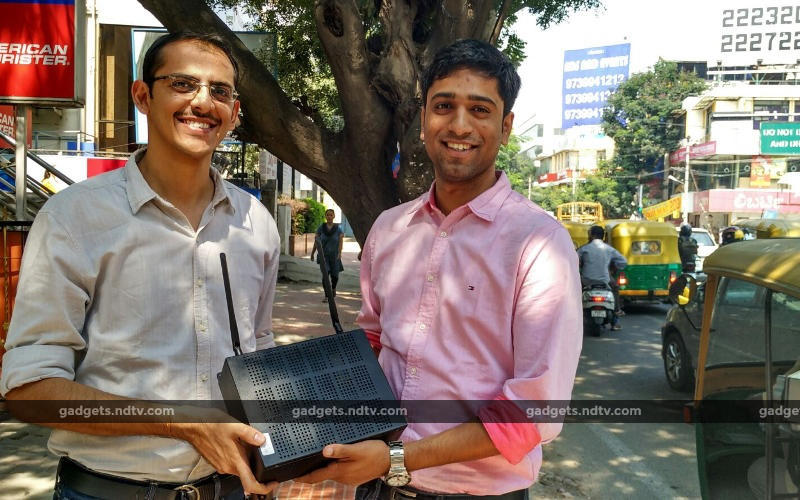 Equally interesting is the way the company will be updating its catalogue and the content on the servers on each individual bus. Each server runs a content analytics engine which informs the startup on the kind of content that's being watched. This is how they will account for local content viewing preferences and ensure the content on each bus is relevant and engaging. "At the heart, we are a tech company and we focus crazily on user experience," says Ahuja.
"We guarantee that any video on Fropcorn shall stream without any buffering and a user can download a complete movie in less than three minutes, while ensuring the highest standards of content security," he adds. "Fropcorn's robust DRM system is one of the reasons why some of the marquee content studios are working with us." The DRM means that you will not be able to download the movies and then copy them out of the Fropcorn system.
Of course, it's not the only player in this space. Last year, Delhi-based Press Play raised $500,000 (approximately Rs. 3.2 crore) from angel investors, though its model was a little different. Press Play was working by handing out tablets to people on buses, with content pre-loaded on them; you could watch any of the films or TV shows on the tablets, and then return them at the end of your journey, for a price of Rs. 100.Earlier this year, Press Play pivoted to a streaming model as well; there were issues with scaling, and also the company faced problems with the theft of some tablets. Now, the company has also started to roll out Wi-Fi servers which it is selling to buses, but also businesses such as coffee shops, hotels, or gyms; users have to connect to the Press Play Wi-Fi network, and install the app. Then, you can access movies, music or other content for Rs. 10. Backed by Sequoia capital, Press Play has now raised $2.2 million, which gives a glimpse at the potential this space might have.

According to market research provided by startup-data tracker Tracxn, other bootstrapped players in this space include Bengaluru-based Emadhyam, Dwingloo, Graspberry, TouringTalkies, Delhi-based Zonk, and Ludhiana-based MultimediaBus. Poddar for one is convinced Fropcorn has a sustainable business model, as India is an entertainment hungry country and has millions of people on the move each day. With an average movie being about 1-2 GB in size, it can take hours for a movie to download, provided the user can afford and has access to a reliable mobile Internet data plan."There's a large part of this country that is either no data blind, has patchy networks, or cannot afford any of the standard Internet plans," says Poddar. "This problem is aggravated a lot more when people are on the move. That's the audience we are catering to."