The new Star Wars movie, The Force Awakens is releasing on Friday. If you're living in India, you still have a week to wait before you can finally watch the movie, and it's going to be an excruciating time. There are some great Star Wars games you can play while you wait, and many there are some apps like Angry Birds Star Wars that are also a lot of fun. In case you're not a gamer, there's still plenty of fun Star Wars stuff you can do.
(Also see: Star Wars Movies, Ranked From the Worst to the Best)
Star Wars
The official app is actually a great place to start if you love Star Wars. Available on both iOS and Android, the app includes a lot of cool features. You can take Star Wars themed selfies and share them with friends, and there's an entire Star Wars VR experience that works with Google Cardboard.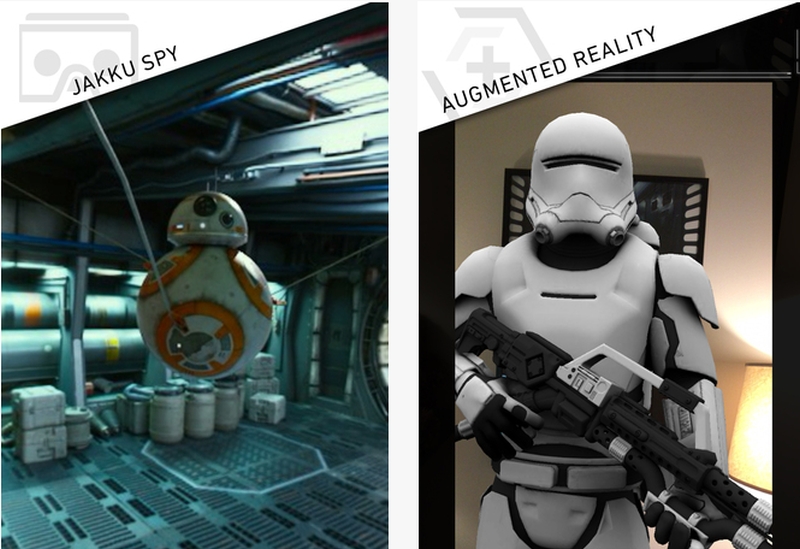 The app gives you trailers, and a soundboard to listen to classic quotes and sound effects from the movies, and there is a section to find gifs and emojis you can paste into messages. The whole package really has a lot for fans, so you should download this app.
Download Star Wars for iOS | Star Wars for Android
Giphy Cam
Giphy is a popular app that allows you to quickly shoot short clips and share them as gif files. It's a fun app that lets you add filters and special effects to the images you save as well, and allows you to share them across chat quite easily.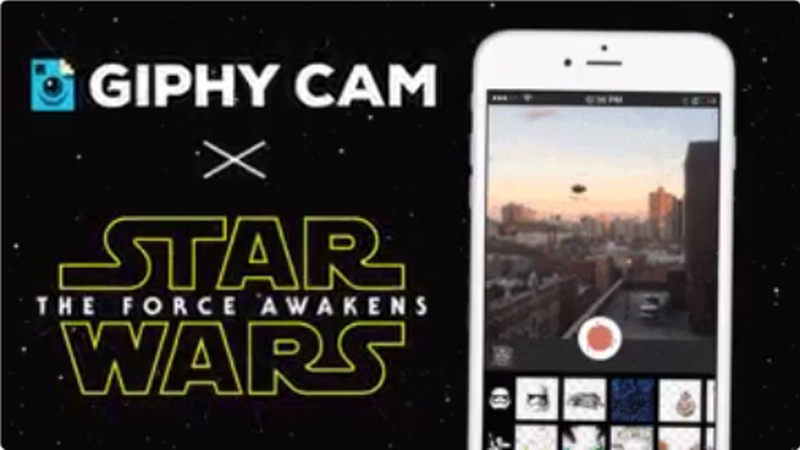 So a Star Wars overlay where you can add a stormtrooper helmet or lightsaber is a really nice touch, and allows you to quickly add the Star Wars flavour to your shares.
Download Giphy Cam for iOS
Lightsaber Escape
Google has also created a really cool experience for Chrome, where you can fight using a lightsaber, using your PC and smartphone.
You need Chrome on both devices, and the phone acts as the lightsaber. To do this, you need to visit the Lightsaber Escape website. There, you'll be shown a URL to enter in your phone's browser. The two connect automatically, and once you tap the initiate button on the phone, you're thrown into a hallway with a small army of stormtroopers trying to shoot you.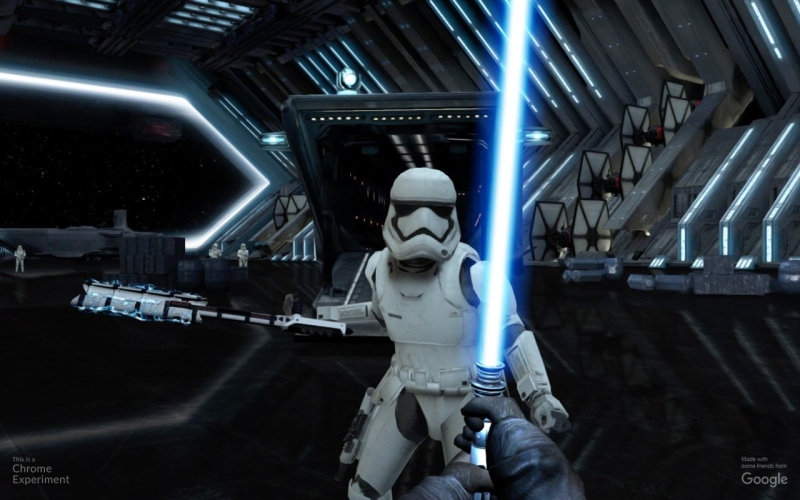 It's a little imprecise, but the page does warn that it is an experiment with Chrome. For a fun, free experiment, this is really amazing, and you can easily waste a lot of time deflecting blaster bolts back at stormtroopers and feeling unstoppable. Just, don't do this at work - people will stare.
Play Lightsaber Escape
Force Saber of Light
In case Lightsaber Escape seems like too much work, you could just download a lightsaber app. We tried a bunch of different ones, but our favourite is Force Saber of Light, available for free on both iOS and Android.
You can choose the colour of the blade and the hilt you're using, and set the background. These are pretty standard features. The cool thing about this app is that it plays the sound effects every single time you swing your phone about, and also uses the vibration and camera flash to shake the lightsaber, and throw "flashes" of light.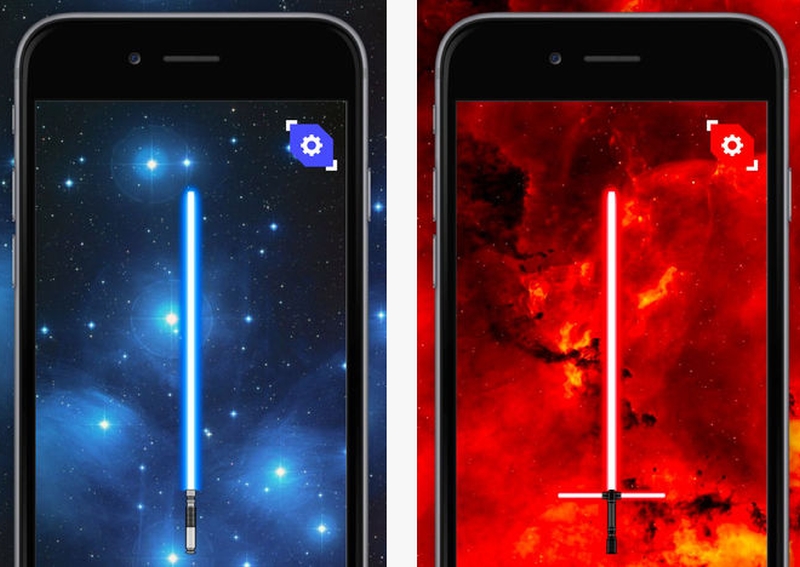 The overall experience is both very stupid, and incredibly cool, plus, it's free, so go for it.
Download Force Saber of Light for iOS | Force Saber of Light for Android
Yoda Speak
Want to turn your texts into the backward mess that is Yoda's syntax? Talk that way, a true fan should, yes? But in case it sounds like too much work, Android users can just download the Yoda speak app. Enter your text, and it will get rearranged to sound like Yoda said it. You can then copy and paste the text into your mails or messages and have fun messing with people. It's free and works quickly, so give the app a try.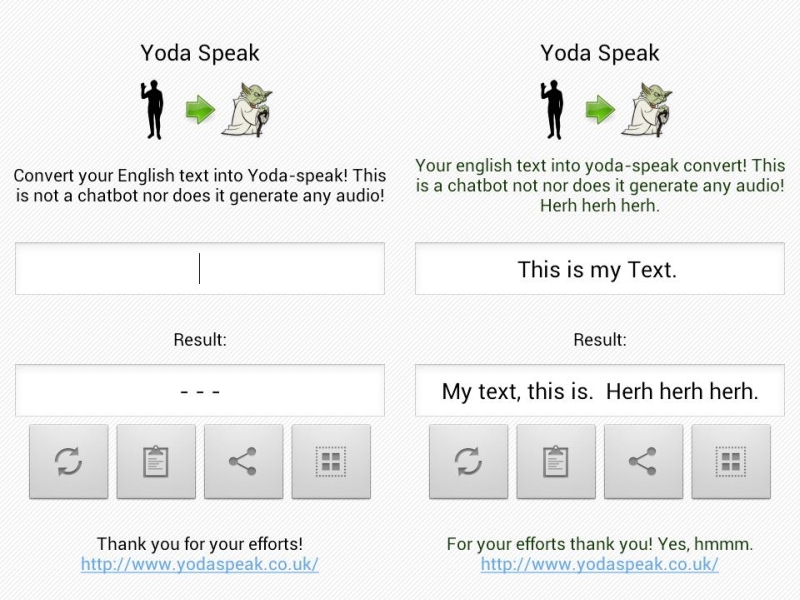 Download Yoda Speak for Android
Darth Vader Voice Changer
There are a number of apps that change the way you sound, and on Android, the best one we found was Darth Vader Voice Changer. The design of this free app is atrocious, but get beyond that and it does an excellent job of actually changing your voice, and works with both recordings, and "live" voice, where it immediately plays back whatever you say, in Vader's voice. It doesn't have a real time mode, so you can't use it together with a Darth Vader helmet, but otherwise, it's pretty cool.
On iOS, we couldn't find anything quite like this one, and the best we could get was Ultra Voice Changer. Also free, this app allows you to record your voice and allows you to apply different filters, which is pretty cool, and there is an impressive range of filters - from robots, to deep metallic Darth Vader tones, to helium, and more.
Download Darth Vader Voice Changer for Android | Ultra Voice Changer for iOS
Star Wars Wikia
Want to know everything there is to know about the Star Wars universe? Download the Star Wars Wikia app, and you'll be able to look up the shortest path through the Maw cluster, the many owners of C3PO and R2D2, and how royalty works on Naboo. Pictures, details, and quickly loading links can make you an authority on Star Wars, even if you haven't watched a single movie.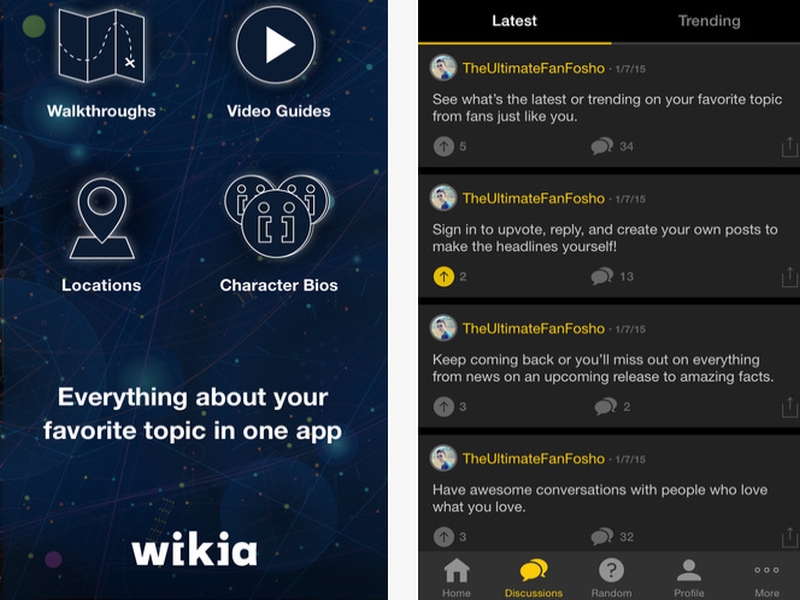 Download Star Wars Wikia for Android | Star Wars Wikia for iOS
Star Words
Love the opening scroll of Star Wars? Want to create your own scrolling text, for fun or even to add a little flair to your next presentation? Star Words displays any text with a perspective scrolling effect, just like the opening crawl of Star Wars. You can enter your own text, use a text file, a web site, a RSS news feed, and even display your SMS messages. You can also play any music from a file or the web. And once you've created a crawl, you can share a URL with friends who can see what you've created with this free app.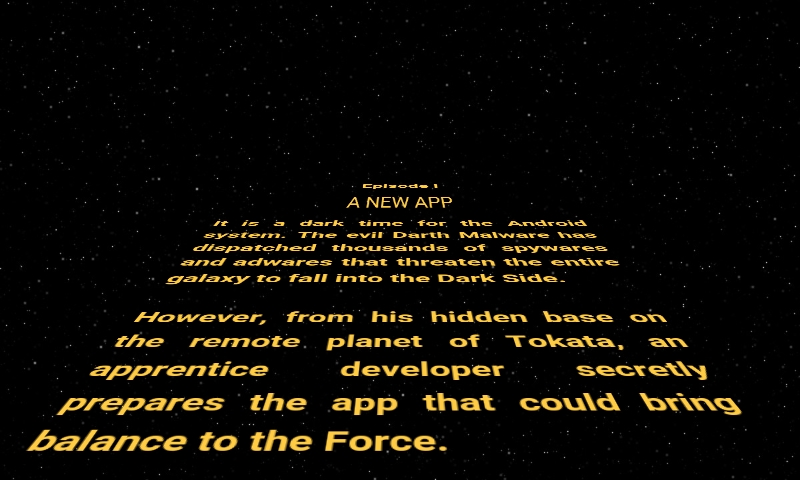 Download Star Words for Android
These are the coolest Star Wars apps we found. What are your favourites? Tell us, via the comments.